K-Tek now offers two new versions of the Stingray ERX Holder to better suit various applications. Designed especially to house the Zaxcom ERX audio and time code receiver, the new holders offer extra protection and more convenient carrying.
With an easy and secure slip-on design, the handsome black silicone sleeves feature K-Tek-style dimples for no-slip handling. A custom cutout allows ample access to the ERX menu and controls. And an oversized top lip safeguards against accidental bumping while allowing clear access to the ERX knob and switch. Both KSERX2 and KSERX3 are compatible with all versions of Zaxcom's ERX.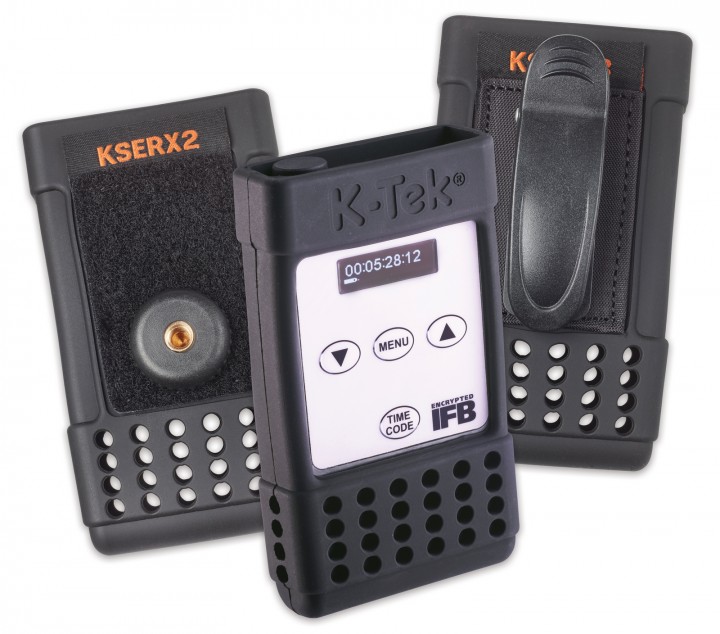 Ideal to mount on a camera, the KSERX2 features a removable ¼-20 threaded insert that accepts standard hardware like adjustable arms or various other mounting systems. Additionally, an integrated Velcro backing allows for flat mounting directly onto surfaces like the back of the camera monitor.
The KSERX3 comes with a sturdy non-removable belt clip that can rotate in different directions. This unit is handy to position the ERX on a belt, harness, or the Molle straps on various Stingray products.
Now shipping, with an MSRP of $40, both KSERX2 and KSERX3 are available through K-Tek's worldwide dealer network. For further information, please contact K-Tek, 1384-F Poinsettia Ave., Vista, CA 92081; Phone: (760) 727-0593; Fax: (760) 727-0693; www.ktekpro.com
About K-Tek:
Southern California's, K-Tek is known for making award-winning Klassic and Avalon graphite and aluminum boom poles, microphone and camera accessories; including Nautilus shock mounts, Shark Antenna mount, Zeppelins, Fuzzy and Topper windscreens, camera poles and camera shoe . K-Tek's growing line of Stingray, "Audio bags by Audio people" includes the Gizmo accessory carrier, sound mixer bags, and the Audio Harness with a rigid back-saving spine. www.ktekpro.com