From NAB 2014, an overview of upgrades to the Sachtler Ace product line.
Danna Kinsky has extensive knowledge in both documentary and cinematic techniques with over 15 years of experience in cinematography and still photography, shooting in multiple formats including film, HD, BetaCam, and RED. She has shot narrative and documentary features and shorts, music videos, live music, commercials, PSAs, reality TV, corporate events, and web series. We caught up with her at NAB 2014 in Vitec Village, where she cheerfully agreed to give us a run-down on the latest additions to the Sachtler Ace camera support package.
Here are the product descriptions mentioned in this interview:
Sachtler Ace L 75mm Head
With a load range from 0 to 6 kg and equipped with the typical practical Sachtler features such as the professional dampening, intuitive operation, or illuminated spirit level, Ace L is particularly versatile – regardless of whether you're filming with a video capable DSLR or HDV camcorder. Sachtler's lightest tripod systems are constructed with a combination of different carbon fibres which achieve an attractive price-performance ratio.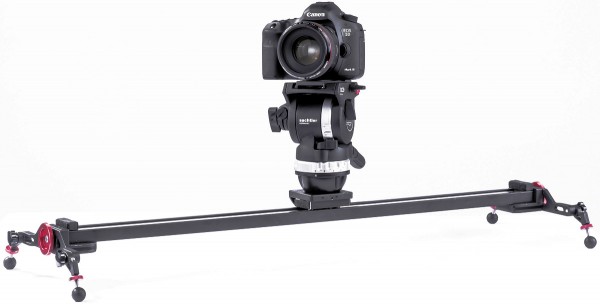 The Ace L 75 mm tripod head can now be conveniently converted to a flat base, through the removal of a bottom screw, and mounted on a range of sliders. All Ace L heads from 2014 onwards will have this feature included. Older heads can be re-worked with a service kit available through Sachtler's service department.
Ordering info coming soon.
· · ·
Sachtler Ace Accessories
The Ace Accessories, a new range of premium camera support gear, complement the established Sachtler Ace product range. Ace Accessories include the Ace Base Plate, Ace Follow Focus and Ace Matte Box, and can be bought individually or as a package.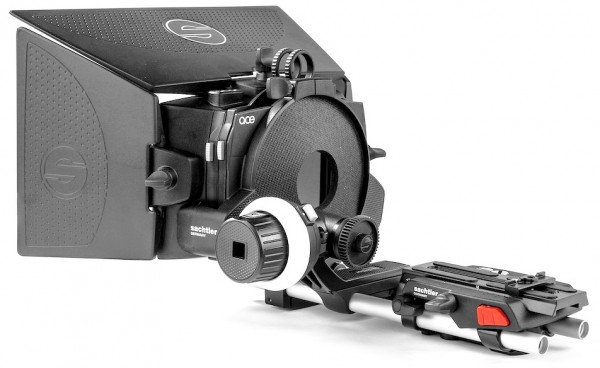 There is a height adjustable base plate that provides the platform for the other to accessories to be attached to a tripod using industry-standard 15 mm rods. The Ace Follow Focus enables camera operators to manipulate the focus point of photo or cine lenses without having to touch the lens barrel directly, bringing added accuracy and efficiency to shooting. The follow focus operates backlash free, and is characterised by its versatility, making it ideal for professional video applications. Operators can change the direction of the drive gear mechanism, as well as easily set the hard stops – merely by pressing one or two buttons. The Ace Matte Box can be used to minimize unwanted lens flare and provides housing for up to two standard-sized filters for the 4×4 and 4×4.56 variants. The matte box has been designed to support a range of DSLR and professional video cameras, such as the Canon 5D. It features an adjustable top and side flags, two filter stages (one rotating), four filter frames, two different sized donuts, one gear wheel and a friction drive wheel, as well as a rear clamping interface.
Oreder the Ace Follow Focus, Matte Box, and Baseplate with 15mm Rods from B&H Photo Video.
· · ·
Sachtler Ace Shoulder Support
The Ace Shoulder Rig includes a Shoulder Mount and hand grips to allow you a ready to shoot solution. The shoulder mount offers a solid point of contact and support for secure and smooth off-tripod shooting.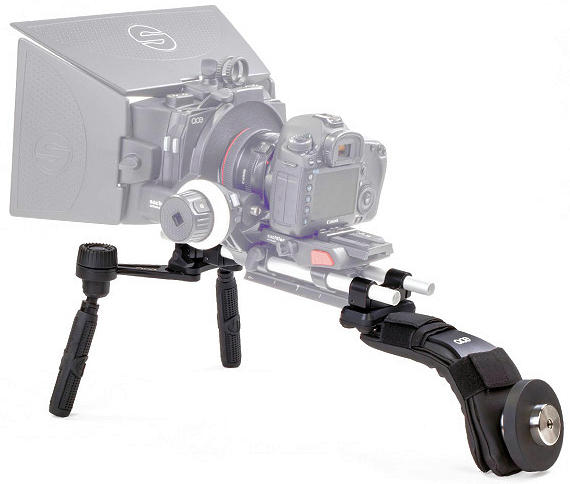 With adjustable handles the hand grips can be fitted on a universal mount. The two arms can be angled independently to bring the handles closer or set them farther apart. Mounted on a fluid head, the Ace Shoulder Rig can be used as double pan bars.
Ordering info coming soon.
· · ·
Sachtler V-Mount Batteries & Charger
Sachtler's V-Mount Digital Batteries eliminate the negative effects incurred when running digital technology with traditional battery circuitry. Powered by award-winning Anton/Bauer technology, the batteries contain a proprietary digital filter that increases run-time and lengthens life cycle, all while providing world-class levels of safety, performance and reliability. Delivered with a sleek, ergonomic, modern style, the series will include three battery sizes. The 90 Wh model is the ideal choice when weight is an issue, and it has no travel restrictions. The 150 Wh and 190 Wh versions are perfect for use by professional videographers with power-hungry cameras and a range of auxiliary equipment to support.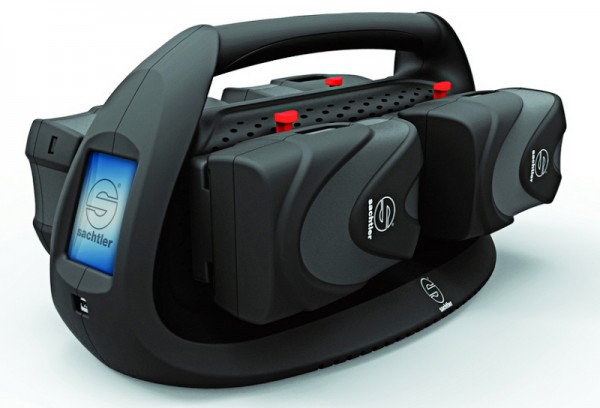 They feature an easy to read fuel gauge and utilizes constant calibration to deliver a power status that is truly accurate. When the battery is attached to a load, it conveniently reports the remaining run-time in hours and minutes, allowing the user to track usage effortlessly. When the load varies, the run-time will update accordingly. If the battery is not attached to a load, the gauge reflects the battery charge as a percentage of capacity. The digital batteries also have a convenient D-Tap plug, ideal for powering a range of 14V camera accessories, including monitors, lights, and wireless receivers.
The Fast Charger Series utilizes innovative technology to deliver the fastest possible charging sequence, while exceeding the high-efficiency standards required by today's rigorous shooting schedules. It features an efficient algorithm for multi-chemistry, simultaneous charging that ensures rapid charging of up to four batteries at a time. Software constantly monitors the charge/discharge process to ensure that each battery is charged to its peak performance. The Fast Charger series is nearly 40% more efficient than traditional chargers, conserving energy, rendering large power supplies virtually obsolete, and reducing cost of ownership.
Ordering info coming soon.
· · ·
Sachtler SpeedLevel Clamp
This innovative new bowl clamp is the perfect accessory for Sachtler's renowned range of 100 mm heads. The clamp incorporates the company's SpeedLevel technology making levelling the head faster and more convenient.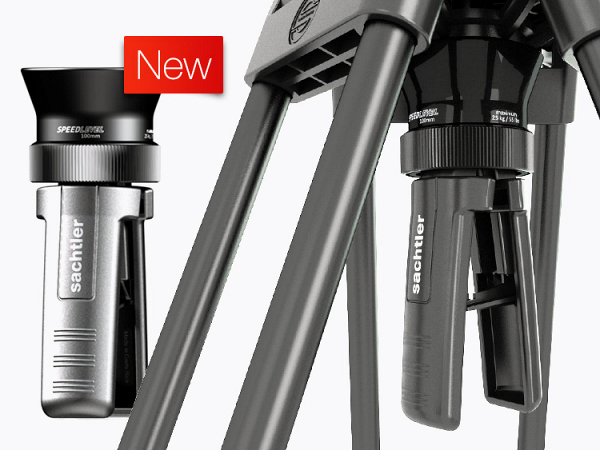 "Levelling a head on the move is no longer a time wasting task as the new SPEEDLEVEL Clamp allows operators to get the most out of their fluid heads, and will significantly reduce the set up time. Like all of our products, it is built for fast use to allow camera operators to focus on capturing the moment. There is nothing else like this on the market, it is a completely new design, and we're anticipating a high demand from all users of Sachtler 100mm heads," Barbara Jaumann, Product Manager, Sachtler.
Order the SpeedLevel Clamp for Sachtler 100mm Fluid Heads from B&H Photo Video.
· · ·