Barry Morrill from International Supplies, the US distributor for NextoDI, describes their new NSB25 Data Bridge at NAB2014.
Here are the product descriptions mentioned in this interview:
The NextoDI NSB-25 Data Bridge is an expandable backup solution, designed with the flexibility to create a backup from almost every memory card, with an interchangeable memory card module. The optional modules support SxS, XQD, AXSM, P2, express P2, AJA QUAD, CFast, REDMAG, or 2.5" SSD. The NSB-25 has two fixed memory card slots; one for a CompactFlash (CF) card and one for an SD (Secure Digital) card. Simultaneously Backup up to THREE drives (MCopy). After shooting footage, take the card out from your camera, and then insert it into the card slot on the NSB-25. You can easily and securely create up to three backups. (two hard drive modules, one external drive) simultaneously.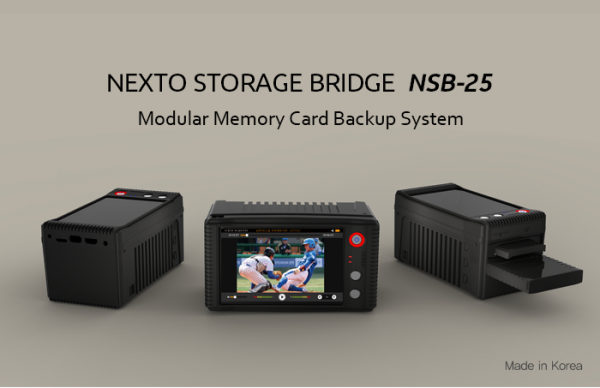 The NSB-25 supports incremental backup. Only those files that have changed since the last backup will be copied, to perform faster and consume minimum storage space. The NSB-25 ships with 2 removable hard drive modules (diskless). A module is easily swappable with another one to expand storage space. The hard drive modules are required to add your own hard drive or SSD. The NSB-25 plays back 2K or preview 4K clips on a 5" color TFT LCD monitor. You can also attach a bigger monitor through the HDMI interface for a better viewing experience. You can quickly and easily copy all files from an internal hard drive module (of the NSB-25) to another drive. Only those files that have changed since the last sync will be copied, to perform faster and save space.