Over the summer I wrote and directed a short film that was shot with the Sony FS-700, which is an outstanding higher end HD camera. We had so much fun that I decided to write and direct another short film for the fall.  One major problem was that I no longer had access to the 700. Fortunately, Canon USA provided me with a loan of their new XA25 HD professional camcorder. 
 
One might have a hard time buying the word "professional" when associated with a small camcorder that has a fixed lens and that uses a LCD touch screen with a menu based system for most manual functions.  Well, the XA25, which lists for $2,999.00, might be considered a lightweight when compared to a more expensive HD camera; however, there is nothing inferior about the image this mighty mouse can produce.  The XA25 can capture truly stunning professional quality images at 24p, 30p or 60i (our choice).  Indeed, I'd say this camera shoots video that is better than or at least equal to test footage I've seen from other cameras at this same level. No, the image does not have the filmic depth of field of the Sony FS-700 (with prime lens) or even a good DSLR, but then I do not see many filmmakers choosing this camera for a feature length narrative project.
The XA25 is loaded with bells and whistles. The camera offers dual simultaneous recording formats, which means it can record to AVCHD while simultaneously recording to MP4. Better yet, especially for my purposes, the camera has a relay recording function that will allow continuous recording by instantaneously switching from the first memory card to the second when it is full. There is a HD/SD-SDI port for uncompressed output, dual XLR ports and a 20x optical zoom with Canon's HD fixed lens. The long 20x optical zoom should make a lot of people happy. Personally, I rarely use the zoom because I feel it makes the film look amateurish.
A switch on top of the camera lets you select between three shooting modes: cinema/auto/manual. Cinema shoots at 24p to give you a film look; manual means you set all the manual functions while auto is the fully automatic mode. There is even an infrared button for shooting in low light situations (zombies at night?). A custom dial can help you adjust exposure while two zebra settings, 70 & 100 percent, can keep you from over exposing your footage.
My short film was about a corporate executive who, after being fired from her job, visits a local park to contemplate ending her life. While there she is forced into action when a man begins to choke to death.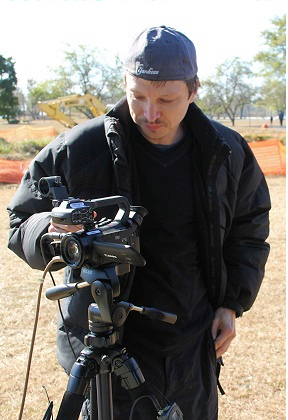 To realize this project I put together a skeleton crew with John Vincennes as director of photography, some actor friends and some students from the college where I teach filmmaking. Although everyone volunteered to work on the project for free, I did provide lunch and leftover Halloween candy. We shot in downtown Stamford, Connecticut, and at Cove Island Park, which is on the Long Island Sound.
Using the XA25 was a breeze. We found it easy to navigate the touch screen menus and, if we got stuck, a quick check of the manual resolved the problem. I do not like to record audio separately when I do not have a professional sound recordist on the job, so we recorded audio to the camera thanks to the two xlr ports located on the handle. It was easy to adjust the levels and monitor the sound quality while the camera was on the sticks at a stationary location. We did several interior tracking shots but they were video only.
After shooting with the cast and crew was completed, I found that there were still a few shots I wanted to pick up at Cove Island Park for a montage sequence I was planning. So I went back to the park to direct and shoot second unit all by myself. No one took notice of me, in fact, no one took notice anytime we were shooting this project simply because the camera is so small that it does not look like a professional camera. That is a very nice fringe benefit.
In just one weekend we were able to shoot all of the footage I needed for the short film. After we finish with post I'll be sending it off to several major film festivals to see if we can garner some awards. While I hope the audience responds to the story, I am certain they will be impressed by the cinematography.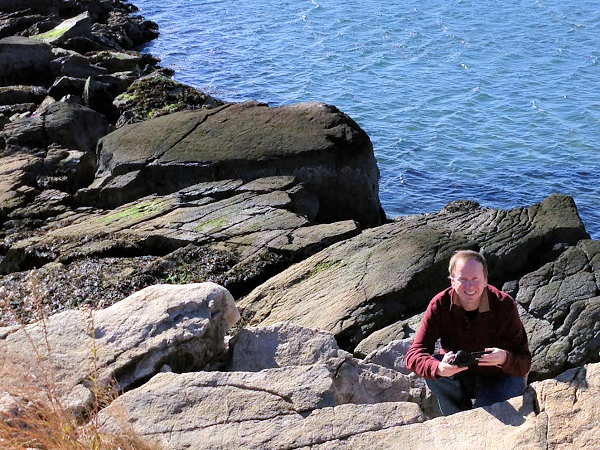 Bottom line: I recommend the Canon xa25. Based on my experience, I'd say that the xa25 is best suited to shooting in the field for commercial projects, such as an industrial or documentary film; and certainly it is ideal for a short film that can be uploaded to a website like Youtube or Vine.
About Christopher Ward, co-Producer/Director
Christopher Ward's work as an independent filmmaker and network television producer has been seen on HBO, Showtime, MTV, VH-1, CBS, PBS, CNBC, Sundance and The Movie Channel. Mr. Ward has received many accolades, including an EMMY, three New York Film Festival awards and five Cable ACE nominations. He has worked as a consultant for Canon Video and Apple Computer. His critically acclaimed documentary about holocaust survivor Marian Pretzel, Outwitting Hitler, has been distributed to television networks all over the world. His first independent feature, Person of Interest, is being distributed by Ariztical Entertainment. He recently completed work on Fog Warning which is his second feature length independent film, which is available on iTunes. Mr. Ward also taught filmmaking at Quinnipiac University, NYIT (Manhattan campus) and the Maine Media Workshops.