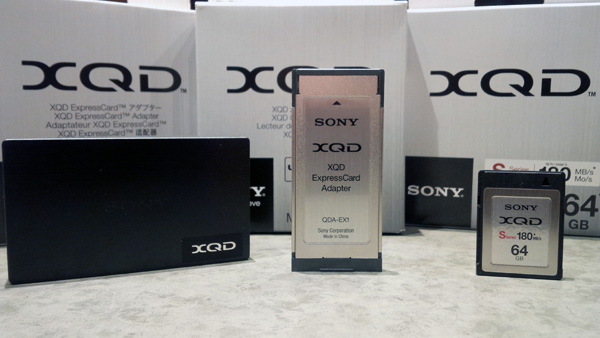 For those looking at alternative options to Sony's SXS Pro Plus cards (recommended for best performance on the F5/F55) fortunately as of the October version 2.0 firmware release Sony added support for the Sony XQD memory card format. Not only do the XQD cards outperform traditional Compact Flash cards for image capture, but with read/write speeds of up to 180MB/s they support stable workflows at XAVC 4k Intra 4:2:2 (4096×2160/60p, 600Mbps) and mean super speedy transfer rates to your computer via PCIe interface.
To make things slightly confusing there are three series of Sony XQD cards; S-Series, H-Series, and N-Series. The S-Series comes in two speeds (168MB/s and 180MB/s) and the new N-Series is 125MB/s. The H-Series is now discontinued (was 125MB/s). According to Sony; "the S-Series features a Wear Leveling Function, Error Correction Code, Data Refresh Function and other new features to enable secure and stable recording of 4K content, helping to meet the rigorous demands faced by professionals. The N-Series gives consumers an affordable entry-level option that supports consumer 4K shooting."
A Sony 64GB SXS Pro Plus card will set you back around $850 USD while a 64GB S-Series XQD card costs around $319 for the 180MB/s card and slightly less for the 168MB/s. For the F5 and F55 Sony has indicated that the XQD cards support all codecs: XAVC 4K, XAVC 2K, XAVC HD, HDCAM SR file, MPEG. An SxS to XQD card adapter ($33 USD) is needed to use the XQD card media in the cameras, and an optional USB3.0/2.0 XQD card reader can be purchased for around $38 USD.
Testing
I tested both the 168MB/s and 180MB/s XQD S-series on the Sony F55 using a resolution, codec and frame rate that would produce the absolute highest maximum data rate which is 600Mbps when recording 4096×2160/60p in XAVC. A quick look at the Sony F5/F55 data chart shows there is no other combination of resolution, codec and frame rate on the F5 or F55 that exceeds 600Mbps. So it would stand to reason that if the S-Series XQD cards can handle 4096×2160/60p that all other combinations of settings should also work flawlessly.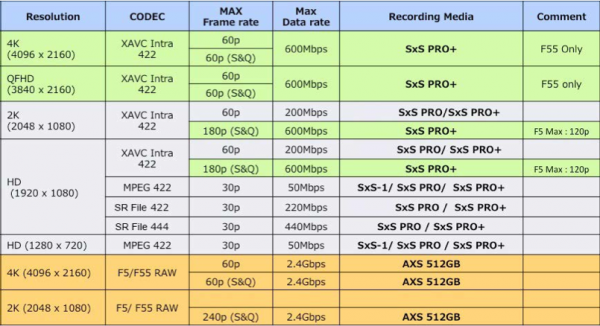 If there is still any doubt that these cards have adequate performance to work in various camera shooting modes I suggest that you ignore the codec, frame rate, and resolution, and strictly look at the bitrates you will be working with. For example 4k/60p and 180fps HD in HFR mode have the exact same bit-rate of 600Mbps which is the highest data rate possible on the cameras. Remember the SR codec maxes out at 440Mbps in 30p mode, and MPEG even lower.
When you look at just how fast these cards are in Mbps equivalence, the XQD cards are up and around near 1440Mbps and 1340 for the 180MB/s and 168MB/s respectively and although the data rates of the cameras don't come anywhere close to the max rates of the cards where you will find the benefit in speed is later during transfer of footage when off-loading your footage to your computer or storage network device.
Unfortunately at the time I performed my tests the N-Series were not available yet so I did not have an opportunity to test them. They should definitely be fine for MPEG on the F5/F55 but from what I read they are more geared for consumer use on the newer generation of Sony 4k cameras. During my testing I also did not have a chance to test 4k XAVC and HD MPEG proxy simultaneous recording on the F55.
All and all I think the XQD cards can be a great alternative for the Sony F5 and F55 cameras for personal projects or the budget conscious.