PD150 Custom XLR Audio Mic Cable
an article by Bob Stevers

If you own or are thinking of buying the Sony PD150, you'll need a short XLR cable to plug the mic into the camcorder… and you will find that all pre-made store-bought short XLR cables use straight XLR connectors. If you mount these connectors on your camcorder, it is difficult to grab the top camera handle. I ordered two custom cables, requesting that the top female XLR connector be a right-angle type. You can request silver or (as I did) the black connectors. They are the high quality Neutrik brand. Even with my thirteen-inch Beyer 86N shotgun mic attached and pushed forward, I can easily grab the camcorder's handle, and the mic is well out of the image "underscan". I found a cable length of 12″ to be perfect. Call Eric Perez at Professional Sound Services in N.Y. at 800-883-1033 or (212-586-1033) to order yours. The price is $27.95 and they take credit cards.
This same principle works for any camera with a top mountable microphone. I used it with my VX1000 and Canon XL1. The right-angle XLR is what makes it sing!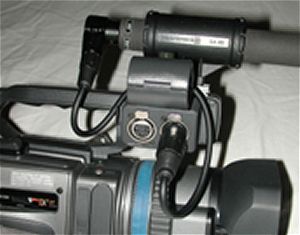 I am not associated with this company and am only passing on what I found to be a really neat accessory that has to be custom made, but in fact is now, at least for me, a necessity. I bought two, one as a backup. Ask for a 12″ cable length, Right-Angle Female to Male XLR audio cable, and chose silver or black as your connector color.
Check out the high-tech blue rubber band keeping the manual zoom dial on the lens from accidently being hit and moved while reaching for the focus dial when shooting. You can get these bands for free when you buy some asparagus at the grocery store. I wish these camera makers would allow us to turn off the manual zoom since it does not work that well in the first place!
The Companion notes: this article originally appears at bobstevers.com/Articles/xlrcable.html
Back to the VX2000 & PD150 Articles Menu
Written by Bob Stevers
Thrown together by Chris Hurd
Please direct questions to the DV Info Net Community Forums.