VS2 is a film school course taught in one day, with an easily affordable tuition.
Monte Zucker Education's latest traveling workshop "The Art of Visual Storytelling 2: Style and Subtext in Cinema" opened recently in Detroit, Michigan and DV Info Net was there to sit in. Alex Buono, Director of Photography for Saturday Night Live's film unit for the past fifteen years, reprises his role as instructor of this second-generation educational tour. The course is like a graduate-level film school class, distilled down and taught entirely in one day, at a much more affordable price than any college or university film course tuition ($299 for both the daytime workshop and the evening seminar, plus the HD download and other swag). If you've never taken a course on visual style, or did long ago and need a refresher, and if you're any sort of storyteller — and if you shoot moving images for any purpose, then you are a storyteller — you'll benefit heartily from this one-day workshop, taught by a knowledgeable and superbly amiable master of his craft.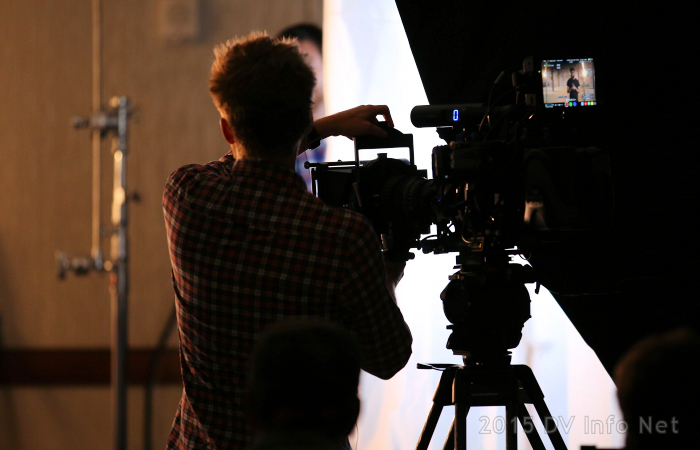 Buono drops in a Roscoe filter. The workshop involves a lot of practical applications; it's not just a slideshow.
As a contemporary filmmaker, Alex Buono is certainly in a unique and admirable position. The pieces he shoots for Saturday Night Live, now in its 40th year of production, are seen by millions of viewers live on national television each week during an SNL season and by millions more online at any given time. Most independent filmmakers can only dream of getting such an extensive reach, but it's a weekly reality for Buono. If you have ever watched an episode of SNL in the past 15 years, then most likely you've already seen his work.
Buono's high visibility is eclipsed only by his virtuosity. As the nature of any SNL film package is parody, Buono is commonly tasked with emulating a wide variety of genres… a car commercial one week, a pop music video the next, a trailer for a horror movie, a country & western music video, a trailer for a romantic comedy… or a mash-up of two genres mixed together, such as "The Hobbit" meets "The Office" (below).
SNL's Hobbit Office. One of the VS2 shooting demos reconstructs the lighting for this film.
Granted, the comedy in any SNL sketch comes from its writers. When it's successful (that is, when it's actually funny — some questionable SNL episodes aside, their film packages are most often consistently humorous due to the greater resources that go into them), it's because the high generic expectations brought by the audience are met by the entire production team… the writers, the actors, wardrobe, sets, and so on. We know what the Lord Of The Rings and The Hobbit movies are like, and we know what The Office is like (in this case, it's the original UK version). The mash-up consists of Hobbit characters, and the generic expectations we have of them, which are met by the writers, the actors, and wardrobe and makeup; deposited into the world of The Office, and the generic expectations we have of that, which are met by the set and how Buono lights it and by the way Buono mimics the floaty, hand-held camera work that the show is known for (and also by the way it's edited, a process in which Buono is usually tightly involved). Because these two wholly different worlds are convincingly represented — as far as a meager production budget allows — it's genuinely funny when they collide. And that's what Buono does for SNL's film unit as its Director of Photography: no matter which genre is being parodied any given week, he delivers the necessary visual style of whatever it is the writers are intending to skewer. For example, Jim Carrey channeling Matthew McConaughey in a spoof of a popular series of Lincoln car commercials (best watched with the sound muted, so you can concentrate on Buono's handiwork minus the distraction of Carrey's absurdly dead-on impersonation):
SNL's Lincoln Ads. The challenges of shooting in and around automobiles is another VS2 demo.
At the VS2 workshop there's a lot to get through in just a single day, which begins at 9am and continues into the evening. Not counting the lunch and dinner breaks, it's about eight and a half hours of material. After a lecture about visual style, Alex demonstrates some very cool in-camera effects used to create the SNL 40th season opening montage, including tricks he learned from wedding videographers and, believe it or not, Pablo Picasso. Following lunch, there are more hands-on shooting demos throughout the afternoon covering various methods used to achieve the results seen in a variety of Buono's SNL pieces. Color correction and other post-production concerns are discussed prior to dinner. Then, in the early evening, Buono presents an enlightening lecture on semiology in film. Here's the course outline for the day:
09:00 – 10:30 … Lecture: Visual Style
10:30 – 10:45 … Morning Break
10:45 – 12:00 … Shooting Demos
12:00 – 13:00 … Lunch Break
13:00 – 15:30 … More Shooting Demos
15:30 – 16:00 … Post & Color Correction
16:00 – 17:00 … Dinner Break
17:00 – 19:30 … Lecture: Visual Subtext
The shooting demonstrations involve plenty of hands-on time with the gear. There's also a few giveaways throughout the day via raffle tickets, and equipment vendors present, varying from city to city.
Demonstrating the "custom bokeh" effect used in the SNL 40th season opening montage.
Quite a few people who signed up for this workshop had attended the original Visual Storytelling tour that Alex presented last year. VS2 doesn't duplicate the first version; instead it compliments the previous VS workshop with a different approach and fresh material. The focus of the first VS tour had primarily been cinematography; that still figures heavily in VS2 but its emphasis is squarely on visual style, with a new set of shooting demos. Mzed wisely packages both versions together in a Visual Storytelling HD download bundle.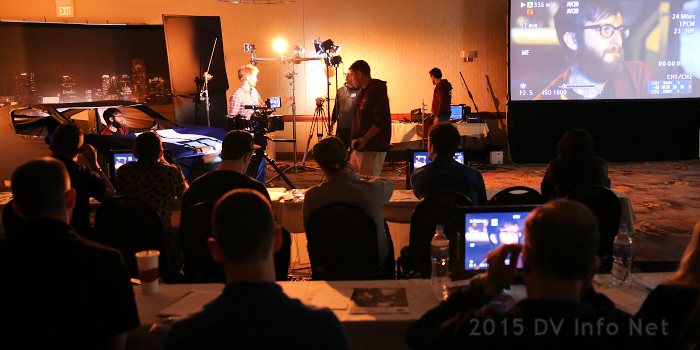 Students working through various shooting strategies with automobiles, as in "Lincoln Ads."
Sooner or later you'll have to shoot your way around a car. Buono devotes a hands-on session to demonstrate the various lighting techniques he and his crew used on SNL's "Lincoln Ads" spoof. Workshop participants take turns running camera, managing lights, etc. while the live feed goes to the main screen as well as individual desktop monitors throughout the room.
Participants get to go "hands-on" with the FreeFly Systems M5 during the music video production segment.
The production gear Alex chose to utilize for this workshop is accessible and, for the most part, affordable. He selected the Canon C100 Mark II as the primary demo camera, which is itself a reasonably priced HD cinema camera not out of reach for the serious yet budget-minded filmmaker. The lens on it is another story, though. Here it's the Canon Cinema EOS 30-105mm T2.8 compact zoom. It retails for about $20 grand, which is more than three times the cost of the camera (to be fair, that's what good glass costs… really good glass). For a production company like SNL's, that's an easily justifiable expense. But it's probably beyond the financial range of most VS2 course participants (it's certainly out of my range). It's pretty to look at, though. All the other gear is well-suited for the workshop program… SmallHD monitors, Teradek wireless HD transmitters, an EasyRig Vario-5, a FreeFly Systems Movi M5, and much more.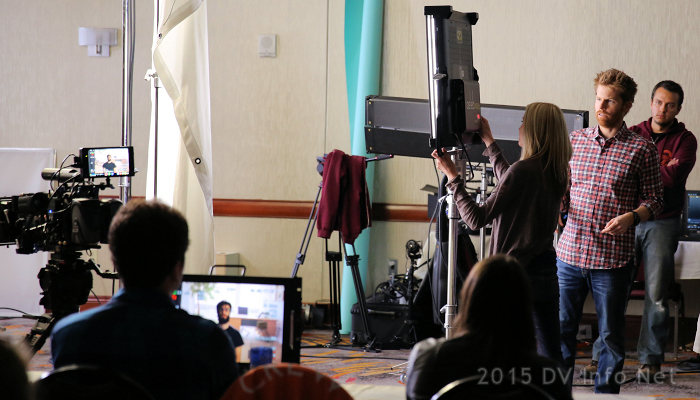 Buono (in checked shirt) guides a student through the operation of a Kino Celeb 400 soft LED lighting fixture.
Speaking of gear, Alex makes an excellent point about it later on in the day: don't make the mistake of spending too much of your budget on it. Instead, spend that money in your art department and on locations. Money spent there will pay off in the results on the screen, which is ultimately what it's all about. I've already mentioned some of the higher-end equipment used in this workshop, but it's also nice to see a number of low-budget and no-budget tricks and solutions for lighting and camera equipment that Alex is only too eager to share. To me, these expedients that anyone can do are more valuable to learn about than the expensive stuff is.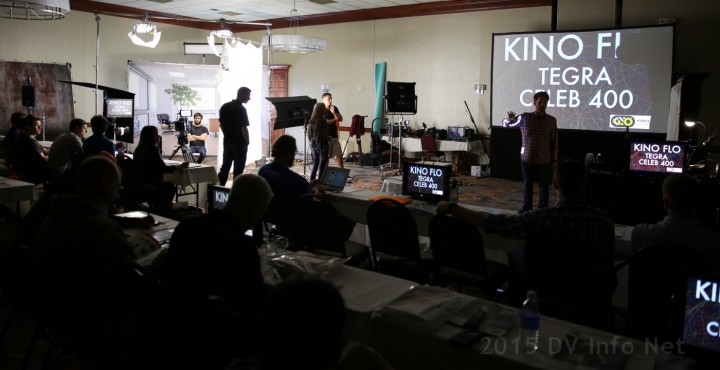 Managing mixed lighting, as encountered in "Hobbit Office," with VS2 course participants.
It doesn't matter if you're not a traditional narrative filmmaker. Event videographers and corporate / industrial / documentary shooters will have plenty to learn from the practical applications presented by Alex. For example, mixed-lighting situations where daylight through windows combines with fluorescent fixtures is a common challenge for nearly everyone shooting video today. Indeed, this was an issue on the set for SNL's "Hobbit Office" piece. In one of the afternoon shooting demos, Buono guides the workshop participants through various solutions to the mixed-lighting problem. He's even prepared a neat gimmick, the hideous "Wall O' Fluoro," which is a gaffer's nightmare of mixed color temperature fluorescent fixtures. Ever shot in an office? Then you've run into this problem.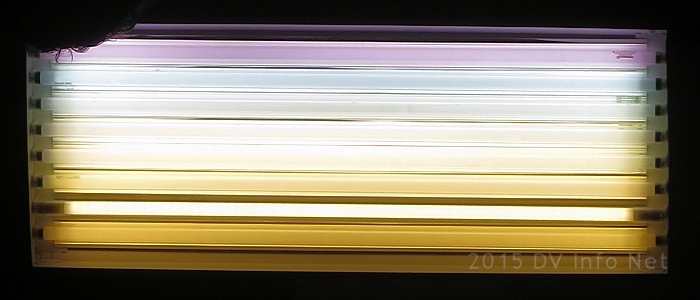 Buono's "Wall O' Fluoro" color balance nightmare. How to deal with this is covered in the VS2 course.
Here's one small example of the material presented in Visual Storytelling 2. For each of the bullet points listed below, Buono provides several examples and goes into considerable detail. He chooses sample clips from familiar films, which you won't look at it in the same way afterwards.
The Components of Visual Style:
Lens Choice
Editorial Rhythm
Camera Movement
Color Palette
Light Quality
Art Direction
For example, for their Halloween show, SNL wanted a trailer for "a new horror movie" parody in the style of Wes Anderson (now that's funny). Obviously, Wes Anderson's films have a very particular and consistent style, such that you know one when you see one. When you break them down into individual elements — color palette, art direction, etc. — you can emulate the Wes Anderson look well enough to fulfill the audience's expectations of what a familiar Wes Anderson film should look like. And that's exactly what Buono and his production crew did, in a very short amount of time (just one day to write and plan, one day for production, and barely one day for post, and then directly on to air live later that evening). Despite the pressure of the time crunch, the results can be highly amusing, especially when you have Ed Norton doing a spot-on impression of Owen Wilson, but check out the six components of style here:
"The Midnight Coterie of Sinister Intruders" pulls out all the stops to mimic Wes Anderson's unique visual style.
The result isn't just a delight to watch; the story behind its production and its last-minute rush to make airtime is fascinating, as Alex tells it.
There is one big secret, one big reveal that Alex makes, which is really the cornerstone of the entire workshop. It's the most valuable bit of advice that he offers during the course, but I'm sure he and MZed won't mind if I give it away and share it with you here, because it's not really a secret at all but it really is An Important Thing You Should Know. And it transcends any particular visual storytelling style, or what gear you choose, or how much you know about lighting.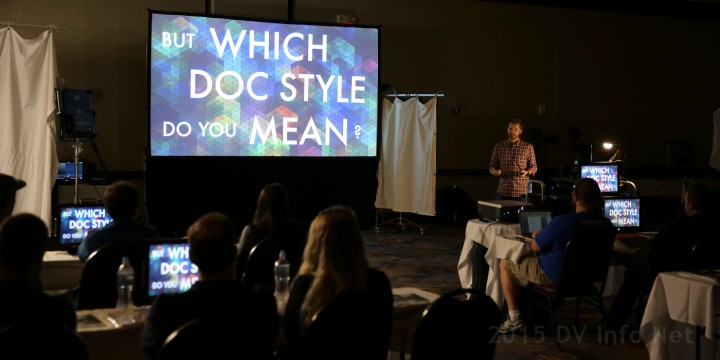 The secret is networking, building relationships with colleagues and developing mutual respect for the people you're working with. Back when I was in film school at UT-Austin, our faculty told us that the most important takeaway from the university experience is the friendships you make there. Alex Buono emphasizes that out in the real world this concept is even more important, in fact it's most important, on any production, big or small. Personal and professional success quite often depends on the people in your crew, and how you interact with them. This might sound like common sense — because it is — but too often, an ego or two can become inflated and get in the way. Don't let that happen. Above all the technical know-how and artistic aspirations, learn how to get along with people… because that's what will really make you or break you. Alex also says that your personal network is more important than your reel, or your agent. You should cultivate it constantly.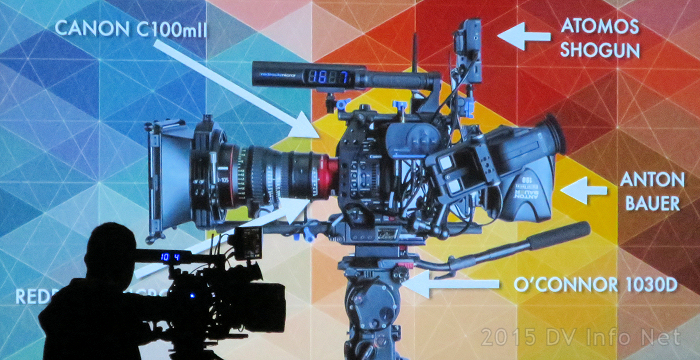 Some of the gear used in the workshop. There's a Canon Cinema EOS C100 Mark II in there, somewhere.
There's an awful lot to like about MZed, the company that produces this series of traveling workshops. First and foremost is the amazing talent that they draw upon for their course instructors. Alex Buono, for example. Here's a filmmaker with a dedicated weekly nationwide audience. He's also a filmmaker obviously well-versed in a broad diversity of separate visual styles, readily adapting from one to another on a weekly basis, like a chameleon. He's accessible through MZed's workshop to show you what he knows, to teach you how he does it, to work through practical production issues with you. He condenses about a semester's worth of college-level material and presents it in a single day with informative lectures and hands-on demonstrations. And on top of all that, he's a genuinely nice guy.
You couldn't make any of the VS2 tour dates, or it didn't pass through your area? No problem. MZed provides the VS2 course as an HD download. The way it works is, one of the early tour dates was shot on HD from the start of the class to the finish, so it's just like you're attending a show, except you can pause and review and repeat at your leisure. Indeed, the HD download option is MZed's ace in the hole, providing longevity and ease of access to any particular workshop series that they run (see MZed.com for a complete overview).
Be sure to catch Alex Buono's continuing foray into film parody, Documentary Now!, starring SNL alumni Bill Hader and Fred Armisen, on IFC at 10pm beginning August 20.
Visual Storytelling 2 hits Austin today. Here's a list of dates and registration info.