We recently spoke with director/cinematographer Alex Buono, most known for his work for 15 years as DP for the Saturday Night Live film unit. We talked about his unique career and what he is planning for Part 2 of his very popular MZed Workshop The Art of Visual Storytelling, Style and Subtext in Cinema. The Tour begins this week in Detroit, Minneapolis, and Kansas City.
Alex grew up in Portland and by high school knew he wanted to make movies. "I was so taken by them. I was one of those kids that fell in love with Star Wars and E.T. and wanted to just somehow be in the movie business." He enrolled in USC's School of Cinematic Arts regarded by many to be the world's premier film and television school.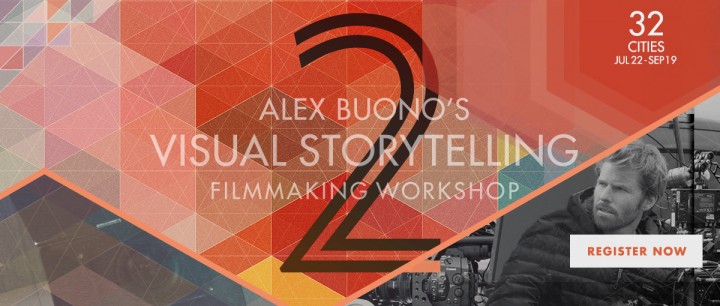 After graduating USC, Alex worked as a camera assistant for a number of top cinematographers. "They were excellent cinematographers and they were also very generous with what they knew," Alex said. "I was definitely inspired by how much they knew and how generous they were in sharing it with everybody," which Alex says, "is the reason I decided that if I were ever in the position to share what I've learned, I would — that's what we're doing in these MZed workshops." 
Alex' teaching style follows this mentoring approach. The all day, interactive workshop will immerse attendees in a hands-on filmmaking environment, with attendees working as crew through a range of challenging and exciting demonstrations. "I'm in a unique position at Saturday Night Live where we are constantly inventing and creating new styles," Alex says. "Every day is something different and so I'm in a position to teach those in this workshop a lot of different techniques, tools, and approaches. There's not going to be a lot of lecturing – it is going to be hands on the whole time."
While the workshop is open to all levels of experience, it is definitely aimed at the professional level. "My feeling is, even if you are very new to filmmaking, if you have the ambition to show up to this workshop then you're the type of person who will be able to keep up," Alex says. "And if you're a more advanced cinematographer, I don't want to talk down to you or tell you obvious things. You are going to see a lot of different styles of cinematography and there will be something that speaks to you. We will definitely enhance your ability to connect with your audience. And we'll be working with those affordable tools available to you locally."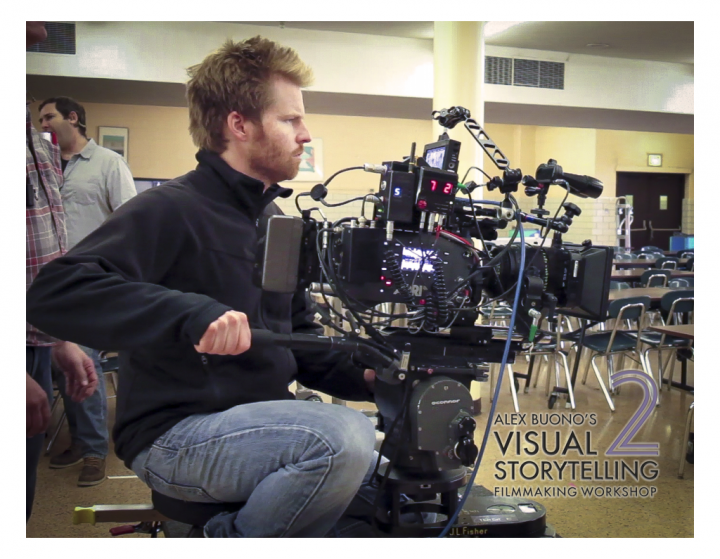 Alex Buono shooting on the set of HBO's The Sopranos.
Following the daytime workshop, there will be an evening multimedia exploration of "visual subtext" in cinema; and how to use it to strengthen your own work. 
About "visual subtext", Alex says, "It's using metaphors, motifs, and symbols to deepen the meaning of your images and as soon as you start to open your eyes to it, you're going to see it everywhere. It's an incredibly powerful tool that you have to think about when you're planning a shoot, but it will definitely deepen the power and meaning of your own storytelling." 
To Alex, the current Saturday Night Live title sequence, that he created, is a great demonstration of "visual subtext."
"There were no fancy visual effects shots," Alex says. "There was nothing that had to be done in a computer, and I really like the simplicity and the purity of that approach and it turned out really well. I really dig it, it is my favorite title sequence we have done over the last fifteen years so I am really proud of that." 
Alex Buono is also currently working on Documentary Now!, a comedic IFC Series directed by Buono and Rhy Thomas. Documentary Now! premiers on IFC August 20th at 10 p.m. A video sample of Alex Buono's work is presented below. Alex Buono is a member of the Cinematographer's Guild, the International Documentary Association, and the Writer's Guild of America.
More information about the MZed workshop, The Art of Visual Storytelling, Style and Visual Subtext in Cinema, including immediate enrollment, can be found at their website: www.mzed.com. The 32 city MZed Visual Storytelling Tour begins this week in Detroit, Minneapolis, and Kansas City.