Despite being a demo-dog for DSC Labs for most of NAB, I did manage to get around and see a few new toys and/or discuss things with those who did. Herewith, a slightly disjointed tour of timely topics, plus some interesting stuff I saw.
No, I didn't see it, Hardly anyone did, as Lytro had just one screening and a single meeting-room demo, but that didn't stop it from being the talk of the show. No wonder: refocus in post, reposition in post, set depth of field in post (even with different virtual apertures for different parts of the scene), depth-mapping on a per-pixel basis so no more need for greenscreens… what's not to like?
Consider: a camera "the size of a Prius", 755 million photosites on the sensor, 300 fps, 16 stops dynamic range, something like 300–400 GigaBytes per second of data — it boggles the mind. I wondered how long after wrap the poor DIT would spend backing up multiple Terabytes of data, but those I spoke to who were in the demo (one by means of attending the previous show in that meeting room, and simply not leaving afterwards) said that Lytro seemed to have that under control.
Lytro's still cameras, the original Lytro and the Illum, were similarly introduced with great hype, but have generally fallen short of the lofty expectations set for them and currently sell for a fraction of their list prices (they now appear to be orphaned, with uncertain future support). Image softness, poor low-light behavior, and limited dynamic range are the most common complaints.
The Cinema's 755 Megaphotosite sensor should — assuming the same light field sampling ratio used on the still cameras — give you something like a 70 Megapixel final image. Those I spoke to said the demo clips looked "sharp enough", and seemed to have good dynamic range. So maybe Lytro has those problems licked.
Even so, Lytro's intentionally limited visibility at NAB and the lack of practical information about their technology gives me pause. Light field imaging and computational photography have a lot of promise, but it's unclear that Lytro Cinema is ready to fulfill it. Lytro Cinema could be the next RED, but more likely it's another Dalsa Origin, just a little bit ahead of its time; or possibly a new 3D-One or ZCAM, soon to sink without a trace. It's just too early to tell; we'll need to see more public demos and more information. Stay tuned…
VR/AR
Virtual reality and augmented reality were the big buzzwords, but what was really in play was 360º video: an everted theater-in-the-round, the sort of thing you can view with a Cardboard or a Gear VR. (True VR requires independent motion and agency, such as you have in a videogame, but that's much easier rendered on-the-fly than shot as video.) Here are some rigs that the German research institute Fraunhofer has been experimenting with:
They had one 360º stereo demo of a symphony orchestra, playing in Gear VR headsets. I tried it, and was rewarded with a coarse, pixelated image with no apparent stereo separation. It echoed my Cardboard experiences to date: the coarseness of splitting the screen in half and rendering two distorted images for a wide-angle 3D view makes for a less immersive experience than simply holding my iPhone up with a 2D image and waving it around.
And, as Art Adams points out, VR storytelling, outside of gaming, is still very much an unsolved problem (not that people aren't trying, of course).
The Radiant Images Dark Corner 360º rig, built from Sony A7S cameras turned sideways (!), at the BandPro booth:
Billy Lynn's Long Halftime Walk
Ang Lee showed a demo clip of his upcoming film "Billy Lynn's Long Halftime Walk", in 120fps HFR (high frame rate), 4K, 3D stereo, HDR/WCG (high dynamic range with wide color gamut) using paired Christie laser projectors, yielding 28 foot-lamberts brightness (normal cinema projection is around 14 foot-lamberts). Here's one eyewitness report. Here's another. And, yes, another. Everyone I spoke to who say it was emotionally affected by its hyper-real presentation; the 120fps HFR apparently got past the "soap opera effect" that many people see in lower-rate HFR (Doug Trumbull previously put that tipping point around 60fps, but Lee and his crew saw 120fps as the rate at which artificialness fell away. Will this finally convince the 24fps die-hards? Only time will tell.)
One person at the demo asked Lee about applying this hyper-real production method to 360º VR. Lee's response was to the effect of, "this is my VR. All the realism is there, but I'm showing you what I want to show you. You look where I want you to look."
Video over IP
Video over IP is expanding from isolated islands of experimentation and early adoption and it's starting to make serious inroads on SDI routing. Panasonic and Canon had an AIMS interoperability demo:
Newtek's competing NDI initiative is gaining support, too, while Sony's NMI and ASPEN have their proponents, too. Will this lead to interoperability or splinter-operability? If you look closer, you'll see that many of the major players, like Evertz, Sony, and Panasonic, have fingers in most or all of these pies. I expect that we'll see the factions coalesce over the next few years, with translators/transcoders to bridge the gaps in the meantime.
Nonetheless, SDI over coax isn't dead yet. For one thing, as Bittree points out, SDI is immune to virus attacks. IP is great, but having all your content encrypted by ransomware could really put a crimp in your broadcast day.
HDR
High Dynamic Range display was everywhere. That it's early days yet was rammed home by the fact that in every demo I saw, there were clips that showed the true power of HDR to great advantage intermingled with clips that proved how wrong it can go, with garish colors and eye-frying brightness.
Workflow becomes critical: we can't just "expose to the right" and expect bright things to be clipped to a featureless white. We have to protect highlights a lot more conservatively; this may mean pushing our midgrays lower on the tonal scale to preserve headroom, which can lead to more noise in the shadows. Sony had an inadvertent demo of this, with HDR shots of a woman on horseback with a flowing red cape; the cape was saturated red shot through with noise.
Extended highlight headroom also results in very different appearance of things like lens flares, candle flames, and other bright elements. Here's an SDR still of an HDR demo:
In SDR video that flare wouldn't be a whole lot brighter than the girl's face; it would simply be an artifact indicating "there's a bright sun in the shot!" But in HDR, it completely overpowers the image, like a bright blue UFO demanding your attention.
HDR monitoring on-set can help. Canon had a good demo of an HDR monitor compared to SDR monitoring; it was interesting to see how the retention of both contrast and color separation in the highlights affected picture rendition:
Note the WFM in the corner of the set:
When you have information in the scene that's 800% or 1600% the brightness of nominal white — and might be reproduced that much brighter on the final display — it's important to track those levels, and a logarithmic WFM display seems to be the way to  do it.
Astro showed a rasterizing 'scope with just such a WFM on the right:
The lack of common standards hasn't stopped the consumer electronics folks from shipping sets nor has it stopped pro-gear vendors from pushing products. On the display side, look for sets with the "Ultra HD Premium" label… unless you prefer Dolby Vision. On the production side, Dolby Vision and HDR10 use the SMPTE 2084 tonal curve while the BBC and NHK offer HLG (Hybrid Log Gamma).
Worried about how it can all go pear-shaped? Samsung has you covered: they were showing an HDR-capable set that, according to the booth signage, analyses the scene and automatically remaps tonal values on a scene-by-scene basis (overriding the overall grade of the program) to "restore creative intent" (I think it's this line of TVs, with "Samsung's unique intelligent picture engine. It analyzes the brightness of the video source and remasters it for optimal contrast"). The mind boggles.
Jim Mathers of the Digital Cinema Society hosted a 44-minute discussion about many of these issues; it's well worth watching.
Anamorphic
As the 3D wave was cresting a couple of years ago, Jon Fauer told me to expect an anamorphic wave next. He was right. Vantage has been in the forefront with their Hawks, but this year we saw Cooke, Angénieux, and Zeiss with primes and zooms.
Hong Kong upstart SLR Magic has (comparatively) affordable 1.33x and 2.0x primes in MFT and PL versions, running from around $2600 — $6500.
8K
8K: it's not just for the NAB Futures Pavilion any more; it's on the show floor proper.
Drones
The west end of the Central Hall was literally abuzz with drones; you couldn't walk through the area without looking 'round for a swarm of angry bees. There were dozens of booths with caged or netted areas, where drones would take off, hover for a while, and then land… after a while it was "seen one, seen 'em all".
This was the most interesting design I saw: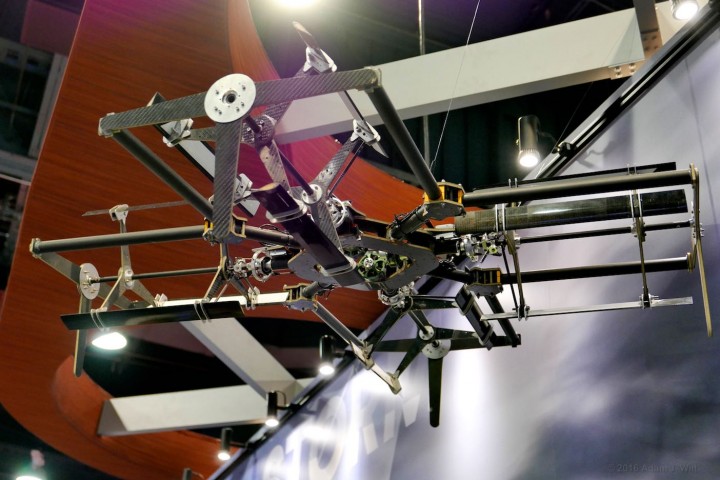 Sadly, I didn't get any details; I was late for booth duty (if anyone has more info, drop me a line and I'll update the article). Presumably it has agricultural applications as a combine harvester, too.
Canon 18-80mm T4.4
The $5500 CN-E 18-80mm T4.4 L IS KAS S is Canon's answer to Sony's FE 4/PZ 28-135 G OSS: an affordable, lightweight large-format zoom designed for run'n'gun operations.
It's an EF lens wrapped in CN-E cine trimmings, with a $500 optional side grip. It allows both servo and manual operations; has optical stabilization; offers both manual and automatic focus and iris. It weighs under three pounds. It has a nine-bladed iris for beautiful bokeh and it doesn't breathe appreciably. In the brief time I had to play with it the pictures looked sharp and undistorted.
Focus rotation is 180º, ideal for ENG or run'n'gun or docco, if perhaps a bit sensitive for cine-style focus pulling. While the 18-80 looks like a cine lens, complete with a focus gear, it has EF guts: its manual focus isn't hard-coupled, but is instead a "friction clutch" sort of ring that breaks free once you hit the endstops, just like the focus rings on most EF-L stills lenses. It's not a showstopper for the target audience; just something to be aware of if you're coming from the cine-style side of the world — you can always use a follow-focus with its own hard limits if you need to pull focus old-school.
I overheard grumbles at the show about its T4.4 speed. That's fine; grumble away. A T2.8 would be twice the size and weight and probably four times the cost, and good luck actually keeping anything in run'n'gun focus that wide open! Besides, if you're rocking a C300 / C500 / Varicam LT (see below), it's not like you're hurting for light in the first place (Blackmagic shooters may have more of a legitimate beef).
Panasonic Varicams
This was the first NAB for the Panasonic Varicam LT, the more affordable large-sensor Varicam. The LT shares many of the features of the Varicam 35, including its dual-sensitivity ISO 800/5000 sensor, but interestingly, the LT comes standard with an EF mount: PL mount is an extra-cost option.
True, Blackmagic has been offering EF mounts for some time, but I find it telling that Panasonic's Varicam division — not noted for their emphasis on low cost — chose an EF mount as standard equipment. Pairing the LT (which feels very nice on the shoulder; the LT has a smart grip like a Sony FS7 or an Aaton) with the Canon 18-80mm would make a most excellent handheld rig, complete with optical stabilization.
JVC Sports Cam
Here's something completely outta left field: a small, $2600 live-streaming camcorder with a 12x lens and a built-in scoreboard overlay:
The JVC GY-HM200SP is purpose-built for single-camera coverage of small, two-team sporting events, like high-school baseball, football, basketball, or soccer. The built-in CG scoreboard is kept up-to-date using a wireless app on a mobile device, or, using a third-party interface, it can take its data feed directly from the venue's scoreboard.
The HM200SP's three scoreboard types may not exactly offer a wide variety of styles, but the basic look is sufficiently elegant for the purpose it's intended for and flexible enough for most team sports short of 43-man squamish (or cricket, perhaps, but there's little danger of that in the 60Hz market <grin>).
Oh, and all that aside, it's a UHD / HD / SD camcorder with a 1/2.3" BSI CMOS sensor recording AVCHD, MOV, and low-bitrate proxy files to SD/SDHC cards. Optical image stabilization, EVF and LCD, XLR inputs, SDI and HDMI outputs. Not bad for $2600.
Everything Else
Well, OK, not everything else. Just a few things that caught my eye…
(I use Color Finale in FCPX myself; it's a great color-correction tool. Color Finale Pro, coming this summer, adds ACES compatibility, Tangent control surface integration, HDR grading modes, and more. CF is $100, CFPro will be $150, and there will be a $50 upgrade from CF to CFPro.)
BTS teaser: I caught up with DVInfo's Chris Hurd recording a demo with Cinema Devices and their Antigravity rig:
And, finally…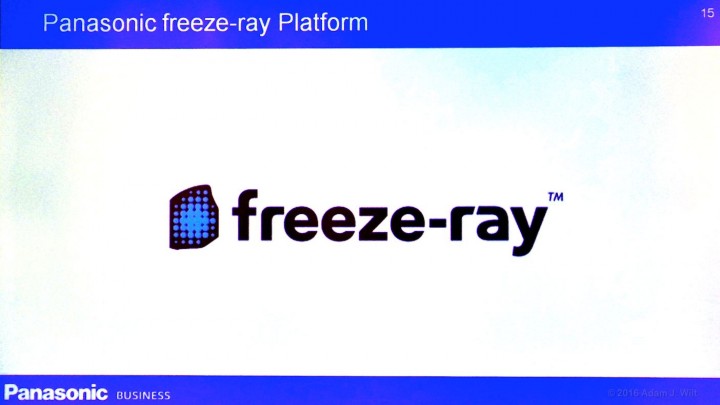 Panasonic's freeze-ray platform is an archival storage system using Blu-ray discs. It's 2016 already and we still don't have our flying cars… but at least we can get freeze-rays.
---
Disclosure: DSC Labs paid me to attend the show and work their booth, so I can't say the shot of Art Adams (similarly employed) was entirely accidental. Aside from that, the usual disclaimers: no material connections with, or payments from, any of the vendors whose products I've shown. Links to B&H for pricing info used because B&H is a good general reference, but that doesn't mean I'm suggesting you should use B&H in preference to other vendors.