The HPA Tech Retreat is an annual gathering where film and TV industry folks discuss all manner of technical and business issues. It's the sort of conference where the chap next to you spends his time editing a six-camera show in FCP 7 on his MacBook Air. I'm taking notes during the sessions and posting them; it's a very limited transcription of what's going on, but it should at least give you an idea of the breadth and depth of the topics. Wednesday was day three of the five-day event; I've also written up days one and two, and two more days are yet to come.
Welcome – Leon Silverman, HPA
Back when this started, everyone was opening post houses; there were perhaps 10 such in a 3-mile stretch in Hollywood. (As time went by, they all got bought by Liberty, which became Ascent, which became Deluxe…. or they became massage parlors. This is Hollywood, after all.) Then the ITS (International Teleproduction Society, HPS's predecessor) was founded, and it set up the "President's Retreat", boondoggles in posh locations with drinking, snacks, dinner and drinks, then more drinks. If presidents can have a feast, then engineers can have a picnic: thus the HPA Tech Retreat was born 20 years ago as the Engineer's Picnic (it's not a boondoggle if you have to pay for it).
Introduction & Technology Year in Review – Mark Schubin
[Opens with a song of tribute to HPA's Eileen Kramer, who is retiring from being Executive Director, but who will still put together the Tech Retreat. Also an update on Mark's famous Tech Retreat quizzes.]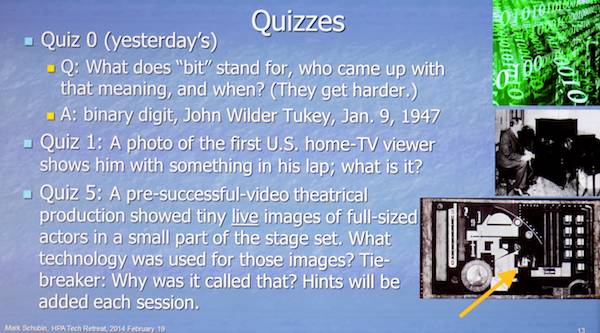 This is still the year of HDTV: 74% US households with HDTV, but still no HD press bridges (pool feeds): still mono audio, analog 4×3 NTSC. Still shoot-and-protect 4×3.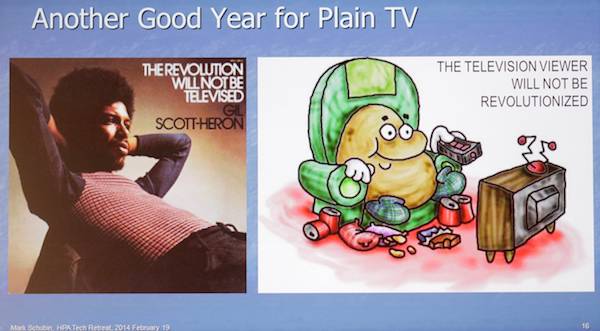 Another good year for TV: another record audience for the Super Bowl; record viewers for live 'net stream, but still < 0.5% of TV viewership. Verizon served 1.9TB in the stadium, with the live feed blacked out in the stadium lest the load crash the stream.
Nielsen figures on monthly media usage: 35+ hrs TV, 14 hrs radio, 5 hrs internet on a computer, 1.5 hrs internet video, 1.3 hrs video on mobile, etc. TV still leads.
Antennas coming back into vogue. 11.2 million households use OTA antennas, up from 2012; another figure puts antennas in 22.4 households.
Latest consumer tech: Samsung HW-F850 TV soundbar… using vacuum tubes!
Broadband is in 78% households (or, about 1/4 of people still don't have broadband).
Aereo is "sold out" in NYC, that's only 300,00 subs. Maybe they're trying to create scarcity?
IP-based production: SVS switcher shown at IBC, resources allocated dynamically over the 'net.
Arri/Ikegami camera; LEDs down to 15mm pitch; Fraunhofer's "EagleCam", repurposed cellphone camera strapped to an eagle, more…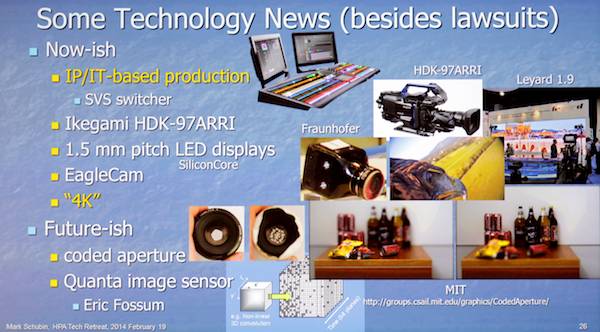 Washington Update – Jim Burger, Thompson Coburn LLP
Intellectual property: March: Registrar of Copyrights called for updates to copyright law; last update was 1976. Series of hearings, e.g., "Updating the Copyright Act for the Digital Age", May's "A Case Study for Consensus Building", another in July, in September "The Role of Voluntary Agreements in the US IP System", November, January "The Scope of Copyright Protection" (should a local broadcaster have a copyright over a broadcast of a content provider's content?) and "The Scope of Fair Use", March Section 512 (ISP Safe Harbor).
Unlock my phone! The DMCA exception for unlocking phones was turned down by the Copyright Office. Now there's a "We The People" petition, which the White House supports. Four bills introduced to allow it, the House bill is out of committee. Two bills in Senate, not moving. FCC Commish suggests that carriers allow it voluntarily.
Litigation: Aereo's tiny antennas found by law to receive individual signals, never mind that it makes no engineering sense: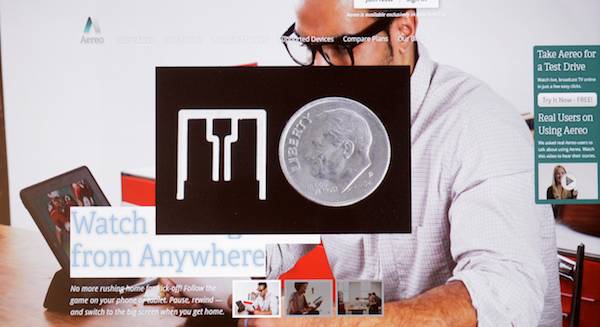 ABC vs Aereo & WNET vs Aereo. FilmOn mimics Aereo and gets sued as well. Aereo wins preliminary injunction, appealed to 2nd Circuit on "What is a Public Performance?"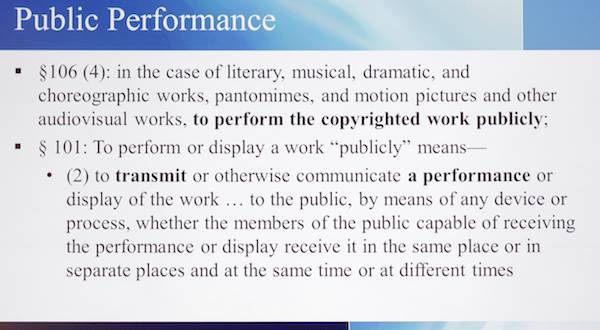 Aereo wins with a "scathing dissent" from a judge.
We last left FilmOn in CA Federal District Court, appealed to 9th Circuit; meanwhile sued in DC, granted injunction except for 2nd Circuit. Also suits against Aereo in DC, Utah; eventually Supreme Court decides to take the case; briefs due Feb 24 – March 26, oral arguments April 22.
Hopper (Dish's auto-hop commercial skipper): CBS / Fox / NBC lawsuits; nets win forum battle, dispute heard in CA courts. Sony (Betamax VCR) case revisited? Judge Dolly Gee denies Fox's prelim injunction request. 9th Circuit panel rules against broadcasters, says Sony ruling is applicable. Because the user pushes the button, the user is responsible, but it's fair use. Agreed Fox failed to demonstrate infringement. Dish can't be held responsible; broadcasters have no copyright interest in controlling skipping! Supreme Court case? (And this is the 30th anniversary of the Betamax!)
First Sale doctrine: fact: resale of textbooks bought abroad, sued by Wiley & Sons, 9th Circuit rejects. SCOTUS granted Cert: First Sale doctrine applies: when I buy a work, I can give it away or resell it. 109(a) distribution right, goods were "lawfully made" outside the USA, nothing bars resale in USA.
Authors Guild vs Google: MDP, 20 million books, gave database to research libraries. Researchers get "snippets", access to full print disabled. 4 Fair Use factors: 1: purpose: highly transformative. 2: nature of the work: fiction (protected) or fact (not so much) 3: amount: all, but little available. 4: affect on market: "a reasonable fact-finder" would say that this use actually enhances sales.
SOFA v. Dodger. seven-second Ed Sullivan clip, used in a stage play. Sued by SOFA (rights holder), thrown out and SOFA told to pay defendant's fees. Cariou v. Prince, appropriation artist, Prince loses because it's clear appropriation, 2nd Circuit reverses saying it's Fair Use (transformative, outweighed commercial value, no evidence of impact on market for original), vast expansion of Fair Use.
Faulkner quote in "Midnight in Paris"; Seltzer, "Screaming Icon"; Kienitz t-shirt image; Klinger, Sherlock Holmes characters; all cases ruled fair use.
Verizon v. FCC Net Neutrality: FCC rule, cites Telecom Act mandate to encourage deployment of broadband. DC Circuit Court says: even so, can't impose rules that contravene expressed statutory mandates: Internet service is not common carriage. [Breaking News via text message to Jim Burger: Tom Wheeler affirms sec 706, thus "The FCC will take care of us".]
Do They Like Me, Really Like Me? –
Program notes: "In today's rapidly evolving content landscape, entertainment companies are scrambling to understand how consumption of their product is changing. Customers are evolving to a content everywhere model on connected devices that can provide usage patterns and preferences. There are more sources than ever to extract this information that can be used to drive more responsive content development. Many companies offer solutions for social listening and analytics on customer likes, dislikes and overall conversation volume for media products."
Moderator: Steve Poehlein, HP Enterprise Services
Kurt Kyle, SAP
Christy King, Ultimate Fighting Championship Franchise
Paul Mears, Niesen
Jeff Caldwell, HP
[Sorry, didn't track who was speaking.]
Talking about analytics, what it means to entertainment industry. All this deluge of content, how do we handle it?
We have to make sure we can monetize this content.
UFC, being such a new sport, has held onto its own rights, 70% of audience is men, mostly young, they have a variety of devices. So we have to provide content via sales, subs, advertising, or it will get pirated.
In past 15 years mobile deployment is the big shift, now the next frontier is analytics and social aspects: how do you blend immediate social feedback into creative content supply chain, integrate instant feedback? Paul, how does that drive your customer interaction? Based on age, consumption is totally different. Youngsters watch on mobile devices. No longer everyone around the same TV, more personalized. One thing we see, interaction is changing, going more direct to consumer.
Having a presence on social media very important if we're starting a new franchise, new product. Starting the era of relationship, not just the era of transaction.
Big data is worthless unless you know what it means. Have to use it to increase value of brand. How is big data translated into actionable data that we can leverage? Not always actionable, but gives ability to make decisions. You have to have people and tools that turn big data into a story that helps you.
Using analytics based on 1-to-1 streams on mobile devices: you can see when someone is watching a stream, send personalized ads. Every element of a transaction is becoming a two-way street.
You need to understand who the influencers are; if someone watches your film and doesn't tell anyone, that person adds no value. And those social influences expect something back: they want to influence what we show.
The social content before, during and after the main content is important. The hard part is asking the right questions.
At some level, you're asking for data at every stage of production: why are you using the format? Why are you playing that? Is that a sales opportunity; should there be a hyperlink in that? The two million viewers watching a live event are participants with us in that event; respond to those social media conversations.
It's not just the tools, it's the ability to filter out the crap. What's signal, what's noise? We can build some really good tools, but at what point do you intrude on the creative process?
One of the big studios studied social media: a good influencer once the movie was out, but a poor predictor of a movie's success. Predictive analysis more of an art than a science; social input is just one of many factors. Dangerous to think we can predict things based on social media.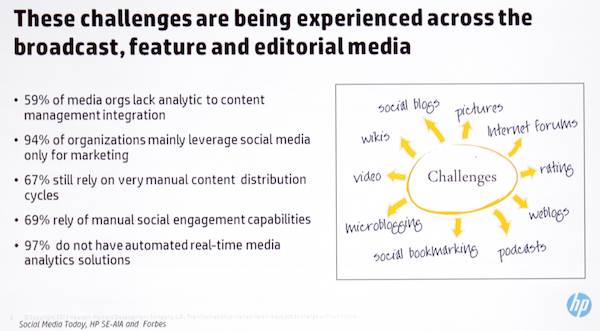 Beyond what we think of as social media, what about the other stuff: YouTube videos, blogs, posts; how do you get insight from that?
NASCAR project: changing fan base, demographics, how can we help? Media command center: look at Facebook, Twitter, YouTube, ESPN; 100,000 people posting photos and videos from a race. The tools let us mix that in, get better info.
Example: assumption for years in one particular arena that merchandise  should be at a certain place. When launched mobile app, could see where people went in arena, always a massive huge line at women's restroom that blocked the merchandise area. Unblocked the line, doubled merchandise take.
Right now monetization is based on commercials: how do you monetize UGC? A non-targeted ad isn't worth a lot of money. Targeted (e.g., 18-35 year old males, $40K/yr) can be worth 10x as much. Let's say we have a property on social media that people come to (community of interest), we target ads on that property, it funds the social media campaign. And can we make a $0.99 mobile app for this targeted audience, as another way to monetize it?
Many coupon printers in supermarkets scan SKUs, feed that back, so if we advertise in a market we see if people are buying based on it. How do you get in front of people who control everything they see? If my audience isn't on cable, how do we get our program in front of them?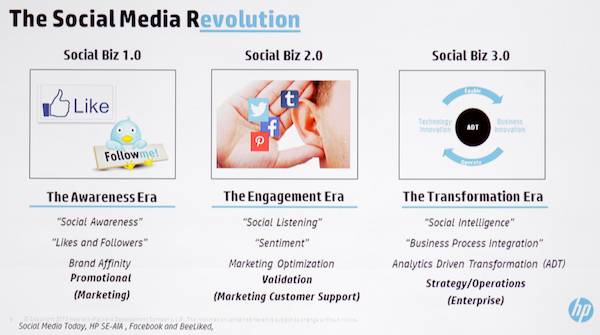 Premium Content Processing at Google/YouTube: Yes, Really – Anil Kokaram and Doug Stallard, YouTube/Google
YouTube started on 2005, 1st video "me at the zoo", seen 14 million times. Growth: > 1 billion people / month. More 18-34 year old viewers than any cable network . More than 100 hours of video uploaded per minute…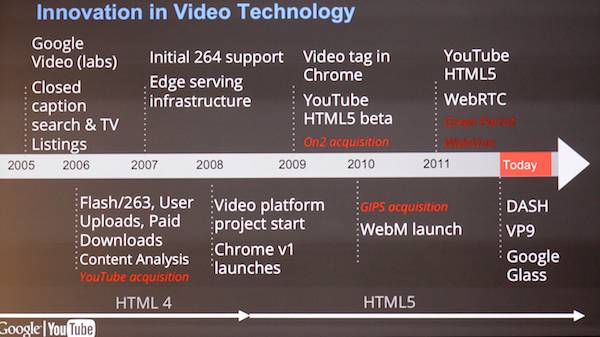 Emmys for video recommendations system, for Red Bull stratojump, primetime Emmy engineering award for Content ID, Viper (processing pipeline), Hydra (distributed processing at scale). Viper is the pipeline for all of Google's video processing. A massive parallel framework, spread across data centers across the world.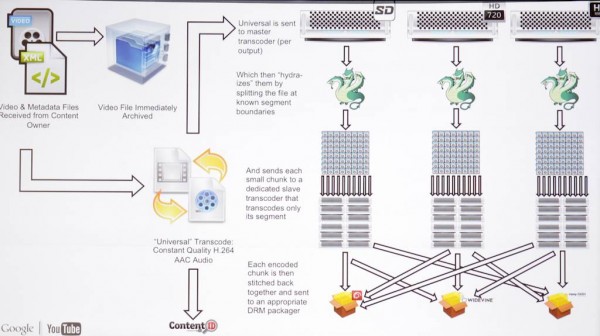 [click for larger version]
Under the hood: the best compromise between quality,  cost, bandwidth. Denoising: transcode to high-bitrate 24 Mbps, but at 1 Mbps the image grain gets lost, macroblocking comes in. Denoise before transcode reduces grain but allows higher quality low-bitrate. Saves 35% bandwidth on average. Measuring quality (over 15 million clips or 28 years of content), PSNR ratings vs SSIM. Enhancement tools: SloMo effect in http://www.youtube.com/editor [sample shown: conversion from 60p to 240p or 8x slo-mo; looked rather good]. Editor runs entirely on servers, so any web browser, even on low-powered devices, works.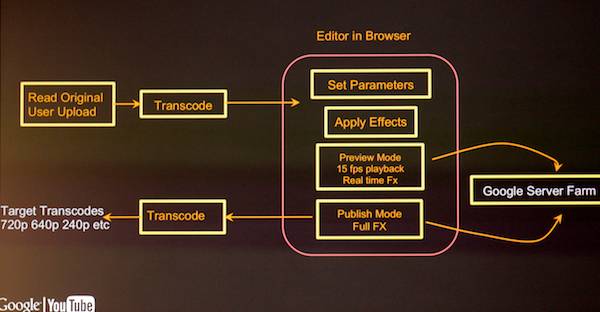 Motion is key for good interpolation. NextGen compression: h.265/HEVC; VP9 open source: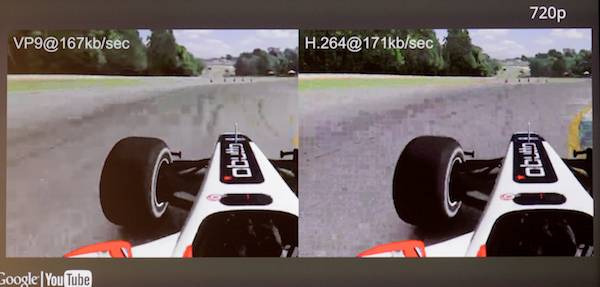 VP9 also has streaming and lossless modes. Both new codecs are much better than h.264 for low bitrates; which one of the two is better is arguable.
Q: which h.265 did you use? A: x.265. Q: You realize that x.265 is one of the worst implementations out there? A: Yes, we thought that would come up. Q: It would be good to see an independent evaluation.
Q: About the slo-mo… A: integer slowdowns from 2x to 8x, using motion estimation.
Q: Will VP9 allow 10-bit, 4:4:4, lossless, extended color, 4K? A: Yes, working on all that. And it's all open source.
Q: Will Viper be accessible to 3rd parties? A: No, not to my knowledge. Q: Why? A: It's been discussed, but right now the answer is no.
How Mobile Applications Are Enhancing the Fan Experience at Sporting Park Stadium –
James Stellpflug, EVS
Case study of a facility in Kansas City. The need to get fans to attend the game instead of staying at home. How do teams compete with connected fans at home, on Twitter, social, email, fantasy leagues, etc.? Fans don't have the same connectivity at the stadium. At home they can consume multiple media sources. We need to boost fan engagement. 74% want more HD content throughout the venue. 41% want to see the same stuff they'd see at home (replays, angles, etc.). 45% would pay more for a ticket if they had HD around the venue.
Devices in the venue: rental of custom devices hasn't proven successful; fans want to use their own devices (BYOD). They use the device before, during, after the event.
Sporting Park is a new 2011 venue, home to Sporting KC. Sold out beyond capacity (fans can still come in but may not have a seat). 18,500 seats. CISCO Stadium Vision, CISCO Stadium Vision Mobile. Team app called Uphoria. Sought a partner for VOD. Stadium WiFi enables the fan, but fan can still be distracted. Uphoria keeps the fan as the central aspect, increases reason to buy ticket and attend. Uses EVS C-Cast platform, allows multicam content to do VOD replay: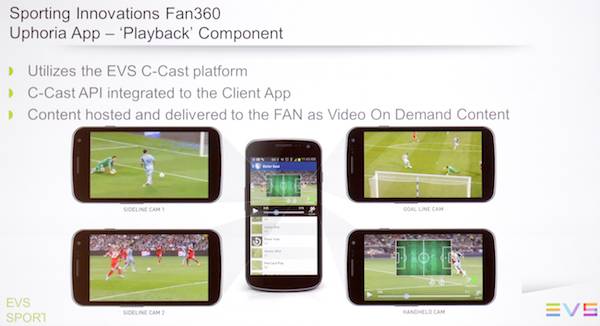 Draws video from EVS XT replay servers, broadcast trucks. An add-on to an existing XT server. Server records 4-6 cameras. Add a C-Cast Agent box, extracts content, transcodes to h.264, transfers to C-Cast storage. Metadata sent to C-Cast Central, which has an API communicating with the in-stadium CDN to provide access to specific shots. C-Cast Agent designed to work with multi-angle perspective. C-Cast Central has workflow management, used for further transcoding, supplying video to external CDNs for outside-the-venue distro (not used in this case study). Exposed API, an open API, XML/JSON, optimized for CDN distro. Third party ingest API (weather forecast, social content, etc.). Realtime web-based interface allowing admin user to do things like approve/disallow feeds, embellish metadata (better data, language tracks, etc.). First playback angles available in 20 seconds, remaining angles arrive just afterwards.
What does this enable? Someone offsite can browse into the event, generate out-of-venue material or contribute external content into the venue. B2B distro, multicam content can be sent offsite for distribution.
Q: How many megabit streams can you provide on the venue? A: depends on the app, the workflow, the WiFi infrastructure.
Q: What's the upper limit (in terms of numbers of users)? A: Can the WiFi support that density? Looking at other ways of moving the content to the app (pushed?), so we won't have WiFi liabilities. Multicast delivery, other means need to be investigated.
Q: Review and approval process: a can of worms. What about audio? What about releases? Blurring? How did you get this past your lawyers? A: That's why it's a web service, you can have multiple auditors checking and approving content. [Mark Schubin recommends a story in NYTimes about the Barclays Center in New York, with a similar system.]
Q: Can the apps carry ads? A: Yes. Depends on the app; this one was an in-venue app and didn't need it.
Broadcasters Panel
Moderator: Matthew Goldman, Ericsson
Anthony Caruso, CBC
Robert Seidel, CBS
Dave Siegler, Cox Media Group
Richard Friedel, FOX
Eric Wolf, PBS
Mark Aitken, Sinclair Broadcast Group
All Q&A this year:
Q: Channel sharing trial?
Eric Wolf: PBS is not involved, it's the local channel doing this. We don't see PBS stations rushing out to get rid of spectrum. Typical station has 3.5 streams on the air, some specialized content; using spectrum well and want to keep on using it. Sharing good  if you want to participate in spectrum option if you don't have too many streams. Management has to say we'll take a one-time infusion of capital and forever give up options.
Dave, Cox: It might be a solution for some companies, not for our group. Too limiting. We're looking at new services, 4K, ATSC 3.0, we don't want to give up the options.
Tony: good initiative to push people to do things.
Mark: many regulatory issues, no guarantee what's going to be in the rules. Many things are not doable, like taking spectrum and having b'caster have rights on cable. Who is licensed, who is the controlling party? If you do this with ATSC 1.0 and current MPEG, you're half a broadcaster. Any consideration of channel sharing has to include a move to an advanced broadcasting platform that allows them to stay whole.
Q: Multiple channels with good quality?
Bob: encoders have advanced so we get same PSNR on main channel with multicasting as we used to have with a single channel.
Q: HFR, 4K, wide-gamut, etc. may start affecting delivery requirements. Which will be first,and when?
Mark: First we need next-gen b'cast, and all-IP-based transport. 4K's not gonna happen until ESPN says so!
Bob: Current specs have acquisition and delivery specs. Highest possible quality on acquisition, in early days "why are you requiring HD?" To preserve value. For past 2 years we've allowed acquisition in 4K, it adds to future asset value. For sports, using 4K at 2013 Super Bowl, 6 cameras, extracted 2K window @300fps. For delivery, depends in next-gen specs.
???: 4K will be driven by sports fans; they'll buy the sets.
Deborah McAdams: News flash: Utah judge grants prelim injunction against Aereo. Q: How do you feel about that?
Mark: Bob and I would agree, good for the industry.
Q: in demo room, Fox statmuxing MPEG-2, AVC, and HEVC in same bandwidth. So what's preventing us from moving to modern codecs?
Mark, Richard: consumer TV sets. Matthew: many modern TVs have AVC decoders inside. How does this impact b'cast services?
Dave: notion of TVs having receivers needs to stay, but we're used to hanging adapters off their sets. Be it a Roku or a DVR or an STB, all acceptable. If we get data in via external adapter, that's fine.
Q: Can we get aspect ratio correction and 16×9 delivery working first, like the rest of the world? (integer frame rates?) [chuckles]
Q: When do we stop referring to 3840 as 4K? [applause]
Matthew: A terminology issue: "4K" can be either 4096 or 3840, but the proper term is UltraHD (also called QuadHD).
Q: Integer frame rates only above 60P?
Matthew: P60 or P30 is really 30 / 1.001 or 60 / 1.001. Are we going to do this at HFR?Anyone wanna comment?
Bob: I think we're stuck in the 59.94 world for a long time [boos, hisses]. If you look at how often you'll need to frame-rate convert signals, it's very expensive; millions of hours in the archive to be converted is huge; expensive.
Matthew: what if you left existing at 59.94, but new stuff was integer-only at 120fps?
Bob: Bandwidth for transmitting 120fps is so huge…
Mark: Think that were still generating in fractional or integer. Look at logarithmic growth, so in a few years we'll have more new stuff than old stuff. Move forward, don't preclude legacy rates, but we should only generate integer rates for material in the future.
Richard: (We do need to get that AFD thing fixed.) We advocate new formats like 120fps should be integer based.
Matthew: for true higher def we do need HFR, so we seem to agree on integer rates.
Q: 3D-enabled TVs, not being used. How will you assess the value of 4K when 4K sets are the only things in the shops?
Richard: we've done a bunch of testing. Clyde said, "we have a bunch of those 4K sets for testing and they show us the best HD we've ever seen." [confirms what Poynton & Watkinson were saying on Monday].
Dave: Disappointed in the downgraded signals that cable over-compresses. [applause].
Matthew: discussion in standards committee about subsampled 4K; I said, "isn't that HD?"
Q: Cable bundles: none of us like it, we want a la carte. Do b'casters like bundles, or a la carte?
???: The cost of TV will go up if it's unbundled. Models show this repeatedly: consumer advocates disagree, but there's no way the popular stuff will get out there at the same price if unbundled.
Mark: Bundling over time will become unbundled in a convergence of content on multiple platforms.
Q: How long until facilities and b'casters start using IP stacks, agile networks, software-defined networks (moving away from SDI routing)?
Eric: we're building a disaster recovery facility, all IP-based, not yet cloud or SDN, but a step along the way, very little traditional b'cast gear. For our next big system, can you go all-IP? We think the answer is yes.
Richard: it's well along the way, we do have an IP-based router in our plant. It's just going to proliferate. Hardly any traditional b'cast vendors in our plant, it's all HP and Cisco, not GVG. In 5 years no one will build a plant that isn't IP-based.
Matthew: hitless IP -based switching, SMPTE standard.
Q: Cord-cutting. Gone OTA, much better pictures. For me to get a full NFL package, I'm kinda screwed. Same with Game of Thrones, etc.: local b'caster doesn't have the rights for everything. When will we get all this stuff OTA from b'casters?
Fox: You'll be able to see football games on the web due to an NFL deal.
Mark: economics have been squeezed out of local b'casting by various means. Economics are part of rolling out new b'casting platform, with much better metrics, not random guessing. So there's a desire to retain high-value things like sports, but the content folks limit via retransmission consent; without money flowing back it'll go elsewhere where monetization can occur. We need that direct data / monetization via b'cast to make this happen.
Matthew: spectrum reallocation: it's scarce overall. For CBC is it such a hot button? How about C-band?
Tony: spectrum not such an issue for HD, 95%-97% are using cable or OTT delivery. We use C-band to link the country, so loss of C-band spectrum would be a big problem.
Richard: Government is trying to help us, allowing use of C-band for mobile radio transmissions. All of TV (aside from NBC), all of cable distros via C-Band, what happens when your picture goes away because someone's using a walkie-talkie. Wireless mike spectrum is  a problem. We had to use a bigger wireless hand mic for Super Bowl to avoid the crowded parts of the spectrum.
Matthew: UHD, OTT, mobile handheld services, but we have a b'casts system designed 20 years ago. ATSC 3.0, not backwards-compatible. Mark is published as saying it may not be what b'casters need. Comments?
Mark: I made that comment because the focus is on UHD level 1 for fixed services. Virtually all activity is focused on that. Great, but we at Sinclair have fought for mobile capability for years. Some proposals focused on mobility, and there's resistance against taking bits from fixed services to provide for mobile services. There may need to be a parallel path outside ATSC led by broadcasters. Are all the needs for all b'casters being met in ATSC, or is it "just television"?
Matthew: I consider anything with a screen on it a "television".
Mark: every b'caster wants to be on every device. A chasm between those focused on local 'casting and folks like Bob who are nationwide O&Os. B'casters should be their own gatekeepers, so it's a matter of setting off warning bells that we're not going to be passive while mistakes are made.
Bob: ATSC 3.0 effort has 13 proposals being whittled down. Many include mobile LTE, DVB-2, even 8K from Japan. Long way to go.
Dave: We're like a goldfish jumping from one bowl to the next. If we don't make it, we're dead.
Matthew: The way ATSC standards are made, may not make most commercial sense. What problem are we trying to solve? B'casters need to get involved.
Tony: Now is the time to get involved, if not now, it'll be too late.
Bob: ATSC is technology, not business.
Next-Generation Digital Broadcasting: What Really Matters? – Andy Setos, Blackstar Engineering, and Jim DeFilippis, TMS Consulting
Jim is in Sochi, 12 time zones away; it's 2am for him: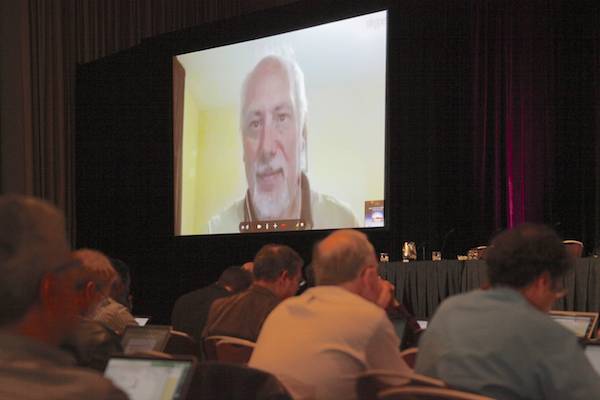 I had a Corvette; went back to the dealer and it was a huge empty lot. Dealer had been offered so much money for the land, he sold out and made more money off the bond interest. That's like b'casting: you have the "land rights" to some spectrum, but it's expensive; it's never the "free spectrum" people talk about.
Two paths to innovation: evaluation at system level (ATSC), and at component level (MPEG). "For success transparency is necessary." Two fundamental components:
Services (not just TV) (HD was sold as a fount of profit, but basically HD has profited very few; it's just a cost of doing business. Yes, nice, but not a source of revenue.) Transition plan (isn't that a policy issue?). Once of the successes of A/53 or ATSC 1.0 was the transition plan was baked in, a modulation scheme that allowed new emissions to occur in same band as existing NTSC emissions without interference. Did very well. Without transition plan, you're outta luck, you can't flash-cut millions of devices to the new standard. One example: A/53 backwards-compatible (6 MHz channels, same demod, etc.), MPEG-2 main channel, in addition to new services inaccessible to legacy receivers. Last time the driving force was HD, not this time. Beyond HD. HEVC or AVC? The codec is every bit as important as anything else in ATSC 3.0. Portable. Sinclair isn't the only one interested. Assuming megabit-class streams, carriers don't want you using your mobile connection to use it up watching video, so it's a perfect thing for b'casters to do. Radios in appliances. Without the radio built in, it's not gonna happen. Appliances? Who knows what the next cool device will be? More of a generic, non-limiting statement. Having the radios built in is a game-changer. And if there's a disaster? B'cast wins over 1-to-1 comms every time. M-EAS (emergency alert system). Interactive second screen. For live events, like sports or American Idol, very powerful mechanism to keep people connected with the show.
Payload  (Link budget, planning factors). Tower density. Here in the USA we use one main tower to reach everywhere, works for fixed receive antennas on high masts. Flux density: need greater power delivered to the device, given small antennas nearer pocket-level or head-level. Cell towers max spacing is about 2km. Modulation method. All meet Shannon limits, more about spectrum use. Error correction schemes are needed, only baseband SDI assumes no errors. LDPC
Today, 3 bit/Hz fixed, 1 bit/Hz mobile. Tomorrow?
Conclusions: Transparency is crucial. Transition plan needed. Portable is crucial element to keep b'casting relevant.
Q: Transition plan might be to allow next-gen standard to come in on market-driven schedule, not mandated. Let one station in a market be designated legacy. let others transition. LDPC as error-correction already used, need consideration of turbo codes. Just a few comments.
A: We need to have a transition plan.
CES Review – Peter Putman, ROAM Consulting
How did we ever live without a robotic window cleaner?
CES claimed 150K attendance, but east coasters delayed by weather. Greatly expanded Chinese brands; Samsung & LG huge, Japanese booths smaller. South Hall overrun by gadgets.
Panasonic emphasis was on commercial AV (even at consumer show). Toshiba has 4K concept screens for computing; may be next vendor to get out of TV. Samsung, LG had curved screens, so did the Chinese. LG had 3D, also Dolby, but not a big deal. Still trying to push "smart" TVs. Cold tech: TVs, Blu-ray, STBs, Google TV, 3D. Hot tech: digital health, 4K wireless, smart appliances, gesture & voice control.
The 800-pound gorilla: CNC, a Chinese vendor.
Bigger, brighter pixels: Sharp is struggling, but focusing on big screens: 2K, 3K, and 4K TVs UHDTV was everywhere, from 20" to 120". Vizio 55" 4K for $1300. Vizio has the 120" TV. Samsung 110" 4K LCD for $150K. "Anything Japan can do, China can do better… and bigger… and cheaper…" The players: TCL, with curved TVs, Roku built in, 110" with PointGrab gesture control. LG motorized bendy curved-screen TV!
Lots of cool things in cars, display everywhere. BMW i3 has a 3D LCD center screen. Nvidia built it.
Sharp 7" MEMS display (image shuttering tech).
LG & Samsung had bendable displays with OLED or LCD matrix. Small amount of flex won't break it, great for mobile. LG G-Flex 6" curved-screen smartphone / phablet.
Panasonic showed beauty products, 4K media players, but no consumer TVs.
Moving beyond HDTV: 3M and QD Vision had quantum-dot screens, red and green dots along with blue LEDs. Exceeds Rec.709, well into P3 / 2020 color spaces. Use for backlights, each color in a 20nm band (blue LED's photons excite the red and green quantum dots). Gives OLED a run for its money. Sharp Quattron Plus: allows subpixel addressing, basically it's "3K TV". Extra Wide 5120×2160 = 5K by Toshiba's count. Samsung 85" 8K TV, 7680×4320, edge illuminated. LG passive 3D videowall.
How do we connect to these displays? DockPort = DisplayPort 2.1 + USB 3.0. Phantom power, all four lanes of DP retained, Axcell has breakout boxes. Silicon Image 60GHz wireless HD (WiHD), range to 30 feet with multipath, beam steering; looking for vendor / manufacturer.
HDMI 2.0 demos. Showing 4K @ 60p, but limited to 8-bit color. Dual view: 2x 1080p through one interface. MHL (mobile HD Link), 5-pin connector, display signal, USB, power.
UHDTV player, 16Gigs memory, about the size of Apple TV, Tegra 3 quad-core CPU, about $300.
PointGrab showed fingertip gesture control Fingers to lips mutes TV. Point and grasp to launch apps. Raise / lower fist to change volume; side to side to change channels. All the really clever gesture stuff is coming out of Israel.
Tobii eye tracking control; don't need a mouse, just need to look at something.
Digital health was very big: LG, Garmin, United Health, etc. Sensors in earpieces and wristbands, wristbands double as displays.
Google isn't the only one with glasses: Seiko Epson Moverio. 960×540 display.
Things to ponder: is UHTV already passé? Are TVs just not important anymore? Will all large screens be 4K (yes)? And real benefit to curved screens? Will QDs stall OLEDs? How fast can copper interconnects get? When will wireless HD really take off?
"It Slices! It Dices!" New Display Connections – Peter Putman, ROAM Consulting
Today's connectors are multipurpose because phones and tablets have limited real estate, and the trend is migrating to notebooks and ultrabooks.
Smartphones 4"-6", tablets 7"-20", displays at high resolutions.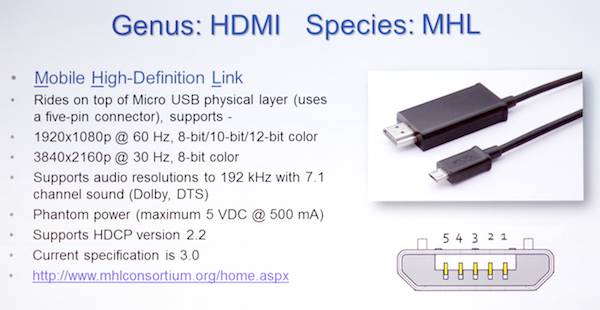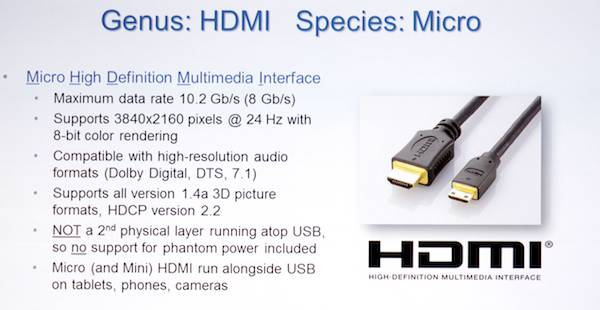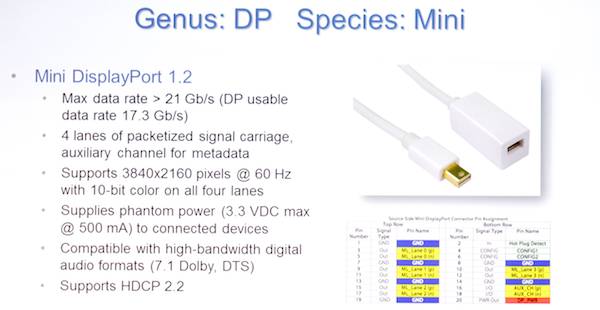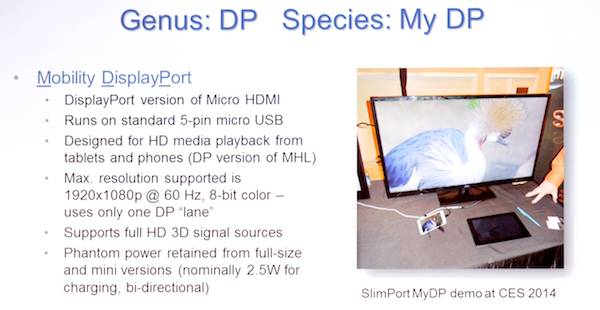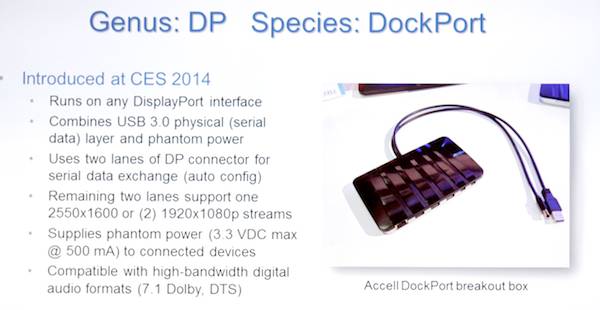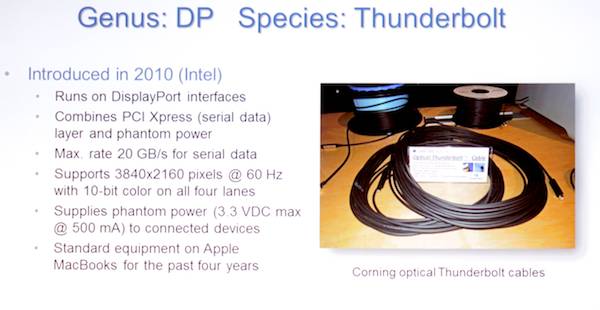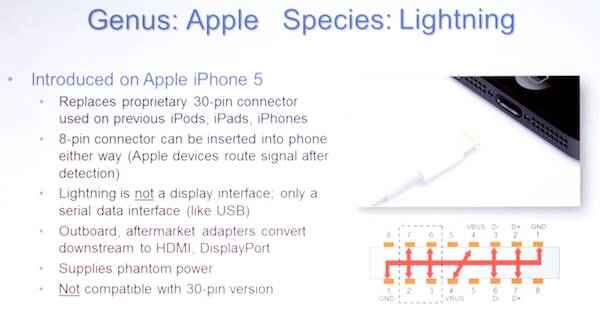 HDBaseT taking off in commercial AV. Combines HDMI 1.4, digital audio, RS-232 command strings, 100BaseT Ethernet, IR command strings, uses STP Cat6 cable to 100 meters. 
EDID and HDCP. All next-gen connectors read EDID (extended display ID). Most BYODs default to 1080/60P, Apple devices often output 1600×900/60p natively. HDCP keys exchange automatically.
Helpful things to know: the mini and micro versions do the same thing as the full-size connectors. When HDMI has 20 pins and MHL has 5 pins, think about it.
[Shows clip of Sony Xperia Z smartphone connected to Samsung TV via MHL; the Sony presents a CE-style smart-TV UI, and you can control the phone's UI using the TV's remote control.]
Analog is sunsetting, VGA to be totally gone by 2015, display connectors changing faster than you realize. Often daisy-chaining capability, too.
Q: Mirrorcast?
A: It and several other wireless systems based on 802.11. Very difficult to stream video unless using real time protocol (RTP). Plenty out there, they're cheap, but not robust.
LIPA Laserama
Program notes: "Laser Illuminated projectors will enable superb images for cinema. But what does this mean for mastering and distribution? While this new class of projector can be designed to replicate the status quo with Xenon light sources, lasers make much more possible. This session will explain the results of using laser illumination on color gamut, speckle, metamerism, brightness, and power efficiency – with consideration of the trade-offs involved."
Pete Ludé, Mission Rock Digital
Bill Beck, BTM Consulting
Matt Cowan, Entertainment Technology Consultants
Regulatory Update: we think they behave the same as Xenon, but needed a scientific study to prove it.  Dr. David Sliney tested 8 projectors over 7 months, just published in the Journal of Health Physics. Why are lasers dangerous? The focal spot is microscopic; highly concentrated, unlike diffused incoherent light focused with a lens. 5mW laser pointer is 10x as intense on the retina as the sun is! But the light from a laser projector is no worse than the light from a traditional lamp projector; they emit almost identical radiance. Regulation? Standard IEC 60825-1 Ed. 2 (2007), new version, Ed 3, has exceptions for most laser projector, regulated under 62471 (1006), safety of lamps and lamp systems, not as Class 1 laser products. 62471-5 will cover projectors specifically. FDA needs to accept this, and several states have their own standards, that need to conform to IEC.
Speckle: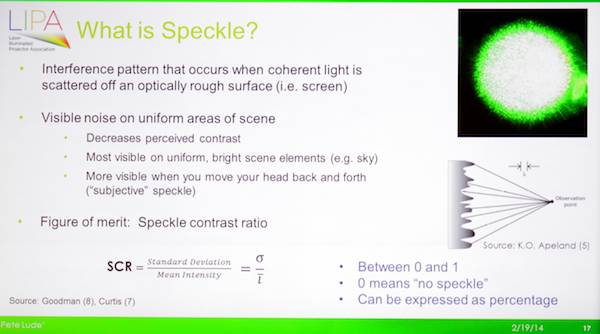 Many methods to reduce speckle; in practice, multiple emitters at different phases, rotating / vibrating / holographic diffusers, and so on. Speckle measurement considerations: compare to a reference light source. Use a camera with an iris opening comparable to that of the human eye's aperture. Concerns about gamma, exposure, compression, etc. Screen: gain, total integrated scatter. Room geometry and environment. LIPA has formed a Speckle Metrology Working Group in SMPTE, updated report will be at NAB. https://www.smpte.org/tsc2014
Laser color primary selection: efficacy curves: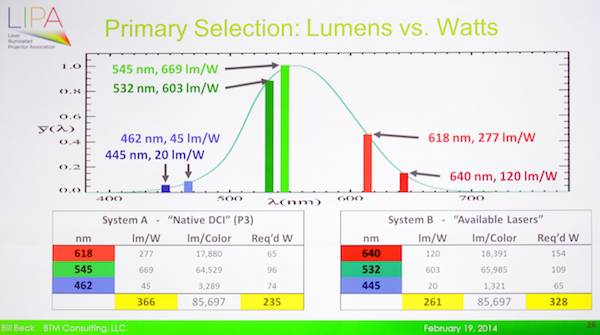 The P3 lasers needs 366 lumens per RGB watt (assuming a 30kW equivalent output). The available lasers aren't on the P3 primaries, so will need more power.
Design tradeoffs needed: design for the native primaries, or use available lasers and color-correct in the projector.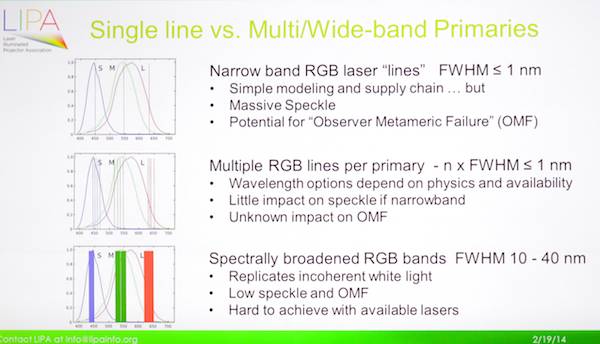 Wide bands are ideal, but very difficult to obtain. Looking at tradeoffs in gamut: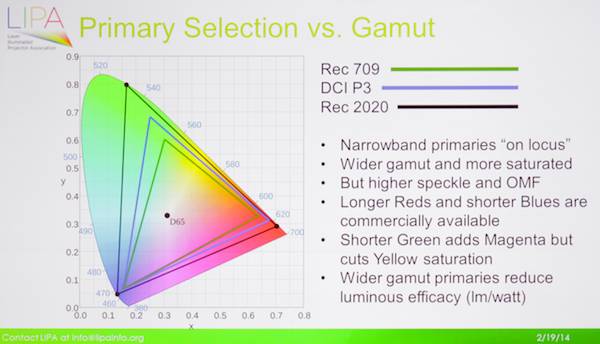 Benchmark is Xenon: incoherent and Lambertian. Speckle Contrast Ratio (SCR) 1%. Narrowband single lasers about 20% SCR, unusable.
Observer Metameric Failure (OMF): wider bands are better for both OMF and Speckle. Smooth is better than peaky, but wide bands reduces saturation. Wavelength is important; we need more computational / observational work.
Luminous efficacy: for Rec.709, 362 lm/W, P3 366 lm/W, Rec.2020 288 lm/W. Readily available lasers 240-260 lm/W. Wall-plug efficacy (WPE) depends on RGB wavelengths, delivery efficiency, speckle contrast reduction power requirements, etc.
There are a wide range of laser sources available, lots of device types: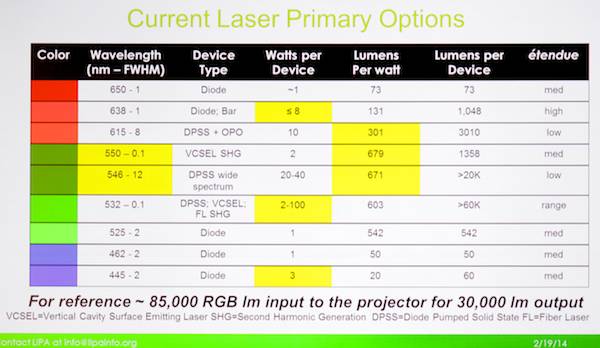 Optical Fiber Delivery: best case with high power per color, smallest diameter fibers (cheaper). Don't worry about power; single fiber cables can deliver kilowatts of power.
Conclusions: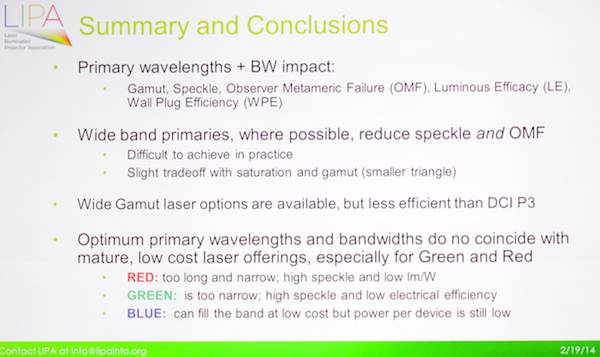 Color Matching and the Single Observer: Observer Metameric Failure (OMF). Metamerism is the matching of apparent colors of objects with different spectral power distributions. Failure occurs when one person sees a color differently from someone else.
With color science we should be able to calculate two different spectral distributions that should give an "exact" average color, but the population of observers will differ in their sensitivity to that color.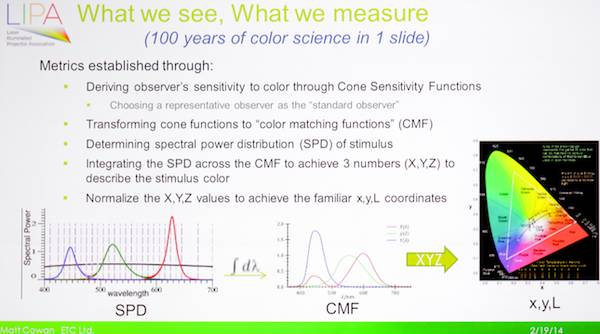 Color Matching Functions: cone functions are fundamental to the human visual system, CMF is a linear transform of cone functions. In theory we have  a standard observer, but in reality they differ quite a bit: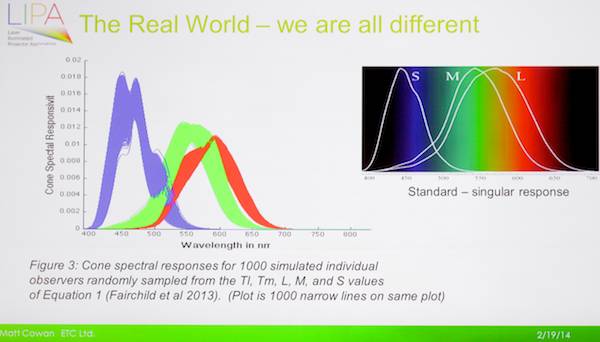 Thus people have derived a number of different color matching functions since the CIE 1931 standard observer: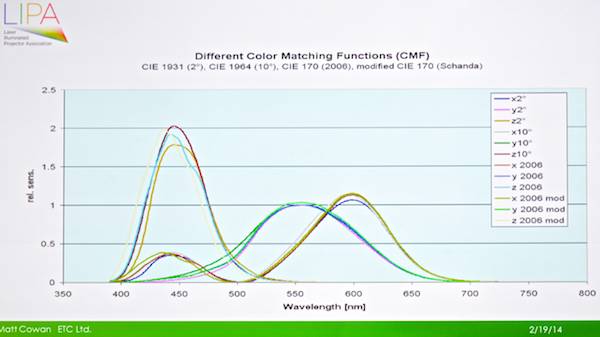 Sony found, when trying to match OLED to CRT, that there was a systematic offset between their results and the CIE 1931. Once they used a newer CMF they got values that matched better.
How significant is the difference between observers? Differences occur under all light sources, even daylight.
Conclusions: color matching with instruments will be better if we use an updated CMF; OMF is a fact of life.
Q: in color correction, will be have more OMF with a young director and an older colorist?
A: The older eye has more lens yellowing, etc. so there will be differences. The highest pay grade will win.
Q: there are two human genes with differing green sensitivity. Some people wind up with both, and actually have quad-color sensitivity. Have you looked at the genetics?
A: No, not yet.
What Just Happened? – A Review of the Day by Jerry Pierce & Leon Silverman
4×3 is not dead. When can we kill 4×3? When can we kill interlace? [applause]Broadcast panel? The best we've had. Google does porn detection, but hasn't realized they can turn it into a premium channel. Who has a UHDTV? [one hand goes up]. Who wants a bendy TV? (One person. Why? "Because it's f_cking cool!") Who wants a window-cleaning robot? [lots of hands go up]Go to Amazon and look at the customer comments on the 85" Samsung 4K TV. Disappointing that we couldn't push harder on the fractional frame rate issue. Will we have 27 years of "this is the year of 4K"? In 2-3 years, all 60"+ TVs will be 4K TVs. On 4K delivery, if you saw Charles's preso on Monday, have 4K cameras and 4K displays, but use something less in the middle. At CES, HD on 4K displays was clearly better than on HD displays. The size of HD TV pixels may be hiding details.
---
HPA Tech retreat 2014 full coverage: Day 1, Day 2, Day 3, Day 4, Day 5, wrap-up
---
Disclosure: HPA is letting me attend the conference on a press pass, but I'm paying for my travel, hotel, and meals out of my my own pocket. No company or individual mentioned in my coverage has offered any compensation or other material consideration for a write-up.