The HPA Tech Retreat is an annual gathering where film and TV industry folks discuss all manner of technical and business issues. The first full day is a "supersession"; this year the topic is:
THE NEW NORMAL IS ANYTHING BUT –
HOW DIGITAL TECHNOLOGY FROM CREATION TO CONSUMPTION IMPACTS EVERYTHING
[As always, my stream-of-consciousness notes capture the framework of the discussion, but not the details or the richness; you really have to attend a Tech Retreat to get the full impact. With that caveat in mind, let's proceed…]
HPA's Jerry Pierce: the supersession always addresses current topics. This year: The New Normal. Binge viewing! Bad movies shot on iPhones! Hence our three acts, plus an encore.
Introduction – Leon Silverman, HPA: welcome to the 20th annual Tech Retreat! Looking at media archaeology…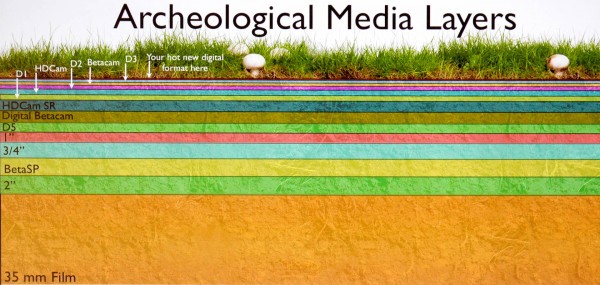 [click for larger image]
Film: Paramount announced the end of film prints, then Chris Nolan said he wanted to shoot something on film, so Paramount un-announced it, but we can agree that the end is near. In 1984, the start of NLE, most everything shot on film, all but one show cut on film. By 1999, all but one show cut electronically. 1993, Disney scans Snow White in 4K. … 2010, ProRes becomes the predominant industry codec,with Alexa's use of it, …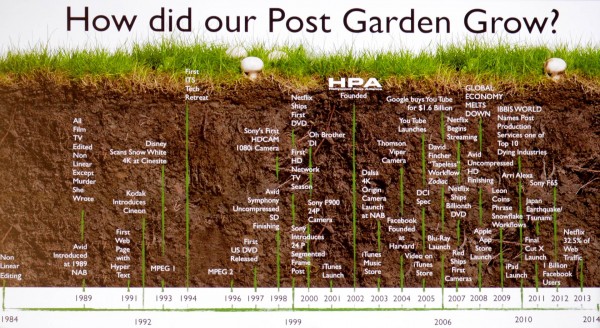 [click for larger image]
Top challenges: pressures and opportunities for digital distro and consumption. The digital; ecosystem broadens availability and distro options.. Media consumers want to see media anywhere, any time, on any platform. 80% of watchers are also doing something else at the same time.
Act I: What's Happening to Distribution/Consumers?
Keynote: Satisfying the Digital Addiction: Quenching Consumer's Thirst for Creative Content – Michael Frey, Sony DADC New Media Solutions
It's an exciting time; there's so much appetite for media. On talk radio coming out here, people getting beaten up for only watching 8 episodes of House of Cards on release day. A few other examples: my baby can navigate an iPad better than I can. Concerning a bit, but indicative of where today's kids are coming from. In music, Napster appeared 12 years ago. There was an end-to-end shift in the consumption model. Did an experiment with the band Linkin Park, crowdsourcing a song competition on Facebook. They sold more music via that promotion…  Beyonce's latest album released a music video for every song, furthering engagement. Global is key for music (at least 50% of revenue from overseas); global simultaneous release is critical. TV has the same dance: the need to "fill in the gaps" between traditional channels. 3.8 million paying viewers for Game of Thrones, but 4.8 million pirates: gotta give people what they want, otherwise they'll go elsewhere. American Idol changed the way A&R is done. Traditional TV show, then released into iTunes, on DVD, etc. Simon Cowell wanted to create a digital ecosystem, empower audience, create online fan base. Worked, but added confusion, complexity. 2.4 billion social activations for X-Factor. Completely different audiences for TV vs apps. Top 5 winners never the same between the two audiences.  People voted on everything… but they purchased, too. It changes how you monetize your content. It's always happened (that's why we have the term "soap opera"). Dove commercial, with sketch artist drawing a woman from her own description, then as described by a friend; the 2nd image is always more lifelike; a very emotional commercial. Music: when we used to release an album, about 6 assets had to be released; now, 600 assets worldwide. Thinking about post, how to leverage all these assets to get 'em out to consumers pronto so they won't have to rip it from elsewhere.
Games: FIFA 2014 tuned for each platforms; average fan engagement is 2.5 hrs/day. Immersive; dynamic stats, interactive replays, puts the viewer in the driver's seat.
Why go to a game in a stadium when you have so much tech at home? Stadiums reworking box seats to allow Playstation integration (let the fans direct the cameras).
Bands on tour: how to maximize revenue? Professional production + user-generated content (UGC) + social + commerce: an app that follows a performer on tour. You can see what's happening on the tour bus, doing sound checks, backstage; both pro-grade and prosumer-grade video, plus UGC; it drives purchases: there are buy buttons on many screens; buy directly, through iTunes, Amazon. Changes marketing to engagement and activation. The key is freshness of content. Can't just let the UGC stuff dominate, have to have professional curation and pro content, dynamically updated to keep it fresh.
The possible: How to bring it all together, to activate fans, to make it global? How to navigate rights issues? 50-60% of purchases come from international, regardless of where the asset originated. Global has potential. Marketing and production materials co-exist.
Q: How do you see the future for Blu-Ray and other packaged media? A: the majority of our purchases are still physical goods. We bundle digital rights with discs. Average purchase on iTunes $3.50. Average through our stores: $90, because it's mostly physical. Physical will be around for a while!
Q: If we don't have HBO, how do we get "Game of Thrones" without pirating it? A: Syndication rights are a tough dance. Netflix and other push the envelope (House of Cards), but there's no simple answer; it's probably better to balance restricted access against piracy to maximize revenue.
Q: How can we make it easier to get media legally? A: Apple's done a good job; iTunes Store is very easy to use. But as things get more sophisticated, it's getting less so. Ultraviolet is coming along. Until it's easy, it's not going to be what it can be. Unless it's radically easy, people will just pirate it.
Case Study: Big Data Influencing Content – Ultimate Fighting Championship Franchise – Christy King, Ultimate Fighting Championship Franchise and Deborah McAdams of TV Technology
Using big data to optimize content production, What makes bifg data big? So big to can't be processed by traditional means. The scale is from 1MB to multiple exabytes, depending on perspective. Mostly unstructured. IBM's 4 parameters: volume, variety, velocity, veracity.
UFC moves 1 TB of content / day to 250 distro points. We own all our own content, we are on every continent except Africa. Mixed martial Arts 2nd only to soccer in popularity. We use big data to determine how best to produce for different markets; do we need to shoot, edit differently for different audiences? Huge success in social media marketing.  7-9 million Twitter followers for UFC's boss, millions of Facebook followers (as the fighters also have).  Trying to understand the difference in cultures and languages following this sport; how do we analyze this info? Key to understanding when / where to put on shows, how much to charge, what people might become our audience. Figuring out what's relevant is a challenge. A video editor does this for video; the same thing has to happen for the "raw media" of big data: pulling meaning from social media, where and why do people buy tickets (happens when we're on radio, or when a fighter takes to social media; newspaper ads don't sell tix because our audience doesn't read newspapers). Audience behavioral data, how does it differ from ratings? Ratings are a mere sample of the audience; social media combined with other data (what did they buy? download? etc.) . How do we collect this data? Many ways to do this, only a couple of companies have the ability to take in the entire firehose: every tweet on a day that might be relevant. We're just at the beginning because there's so much going on out there that the hard part is filtering down; asking the right question is the hard part. Do you know what you're looking for when you go in? Absolutely not! When we've tried, we're almost always wrong; learning why we're wrong is valuable, too. Theres so much data coming in that we're still not asking good questions. Like the Sony guy said: you'd think physical media were going away, but that's not the case, the thing is to understand why folks still want physical media. Q: Have you been able to manipulate audience behavior through big data? Not so much manipulate, but we've changed our shows based on what we see, changes how we produce, edit and release the UFC shows in different countries. When we produced UFC in China, we knew it would be different, but we didn't want to radically change it (it was working in China already as an import). We looked at as much info about Chinese fans as we could. Do we follow the Netflix model and release all 12 episodes at once, to avoid piracy, or do we release on a schedule to allow word to spread?  Chinese network also had a say. Choices made on all these factors. How to choose a database? You get a sliver of big data today, if you're using in a live show, because analytics is still relatively slow, so you have to show as a dashboard display. It's really hard to represent this on a dashboard for live show direction. When recutting a show, you can take the time to look deeper, and change the edit as appropriate, or change distro. A ton of effort right now to improve live-production analytics and display. Previously, this was a gut reaction by the producer. Now, there's info coming in, so you're not guessing so much as reacting and taking action. I can see production trucks with analytics screens alongside the video displays. We're very much at the beginning of things. If you're not afraid of data and using it to drive your shows, … there's also good analytics on where the shows are being stolen; why? what's going on? You can follow social media and purchases to see why a particular show was being stolen, e.g., a fighter in the show won a fight in a different country that day. You immediately try to find out where the content is stolen and take it down; tell folks in social media where to buy stuff legally; even threaten the pirates. But young people assume that if it's there and available, it must be OK to take it. Guys will edit together fan clips of fights; we're torn, because it's great marketing, but it had copyrighted video, music, etc. all stolen. What do we do? It we let 'em go, it looks like we're not defending our rights. Still trying to figure this out.
Over the Top TV: That Was Not Digital, This Is Digital – Michel Proulx, Ski Bum, Media Industry Enthusiast and Advisor
We never told our kids about TV; they watched through tapes, DVDs, and a curated list on the PVR. When my daughter asked about why an episode wasn't available, I showed her the broadcast schedule. Her reaction: "who does this work for???"
Our evolving TV ecosystem: 20 years ago: content creators -> broadcasters -> TV sets (OTA or cable, etc.). Revenue was 60% ads, 40% subscription. 10-15 years ago we digitized, but same viewership, distro, revenue models. Then, ~2005, Internet video arrives, UGC, pirated content, all this OTT via ISPs, viewed on computers, bypassing previous distro channels. ~2007 pro content, original content OTT; today, 78% of US has broadband, 80% in Canada (comparable to pay-TV penetration). Total traditional 2013 TV revenue: $514bn. For OTT professional content: $9bn. Traditional growth: 4%. OTT growth: 25%. It'll take time, but the OTT disruptors will overtake the traditional incumbents: 20 years more?
A new definition of "digital":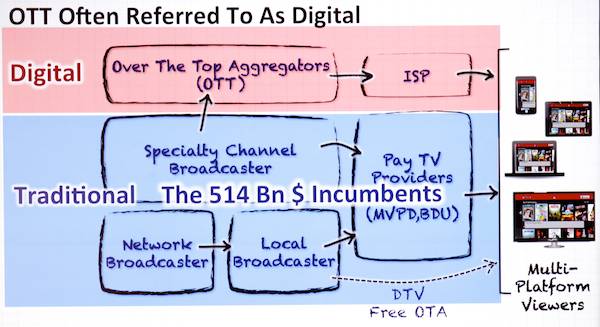 Traditional: linear/live broadcast streams. Digital: non-linear/on-demand, plus linear/live, unicast streams (unicast is 1:1, that's the big difference). 3 advantages for digital: 1: enables non-linear, on-demand, cross-platform; natural and desirable: iPad only existed 4 years, but it's the natural portable viewing platform. 2: Unicast provides precise measurement, targeting. 3: possibility of global footprints without having to build infrastructure.
3 challenges: 1: access to desirable content (not a problem any more; Netflix & Hulu have solved it); both content owners and Netflix original programs. 2: Internet can't scale and replicate the power of broadcast (oh, really? Felix Baumgartner's stratojump; NBC / BBC / CBC Olympics coverage); modern CDNs are solving this, video is arguably one of the most important Internet apps. 3: Net Neutrality: relying on networks owned by the incumbents.
"Digital" is not exclusive to emerging OTT players. Pay-TV providers can do their own nonlinear content and unicast streams (TV Everywhere, U-Verse, Xfinity, but not as quickly as they should):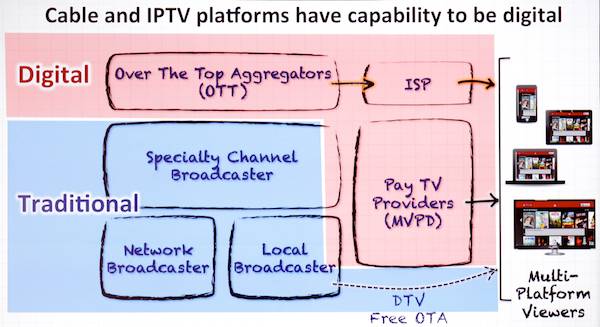 Measuring and targeting ads: Nielsen et al are imprecise; people are skipping ads on PVRs. The ad model needs to be digitized. Example. Sky TV (satcaster in UK), receiver / PVR cones with deal, includes storage, plus some dedicated to ads. Sky's box comes with Tesco (supermarket) loyalty card which tracks your purchases, helps determine which ads get shown you. Dish and DirecTV are doing the same, with political ads. Measured and targeted ads are the premium fuel of content provision.
Netflix: the 44m hour/month gorilla: get content from others, create their own, get some from broadcasters. Bulk of 'net traffic is video, bulk of that is Netflix.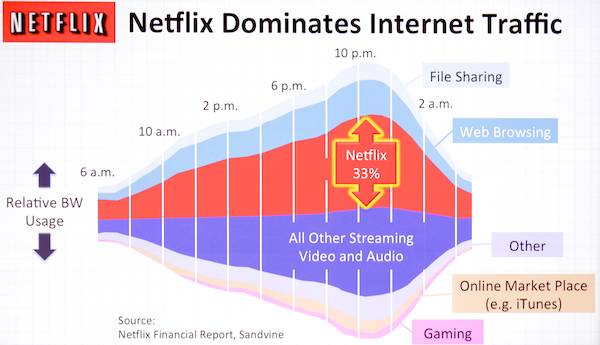 Netflix subs growing; Comcast subs are flat / declining, Netflix overtook Comcast on 2012. Even if Comcast buys TWC, Netflix will still be larger (US numbers; global is even bigger). 5 important things: creating own content; Netflix is international and growing (41 countries; developing both global and local content, est 90m ); changed consumption model to on-demand all-you-can-eat view-anywhere, a model people love; they have no infrastructure (run entirely on Amazon cloud, can scale up very quickly; depends on viewers' own devices instead of own STBs).
The Evolving Industry Value Chain – Blake I. White, PwC
The value chain is no longer linear, but fluid and multi-dimensional. What's driving this? Global entertainment & media market growing about 5.6% / yr. Digital content is 87% of growth, with more digital distro direct to viewer. Digital transformation: mobile, multitasking consumers, want it now, on their own devices, on their terms. Surveys of focus groups, 21-34 and 35-49 age brackets, listening to social media campaigns. 70% have cable. 40% have Netflix. Basic household utility. 66% access content online (mostly younger demographic). 73% want custom subs package (believe they'll save in subs by doing so). 35% of respondents don't think Internet availability doesn't affect value of traditional video subs; similar percentage disagree. 2nd screen? 56% say mobile device use while watching relates to the show; 45% rarely / never use 2nd screen. Content discovery: 64% use automated online recommendations, while only 6% seek friends' suggestions: "We trust the tech because the tech knows the truth of what we watch!" 63% value original programming for picking a subscription (72% in younger viewers). Convenience: most only watch news in real-time, most record other shows to view at desired times, not watching them on a broadcaster's schedules.
76% of viewers will give up personal info in return for freebies; 80% willing to share if company lets 'em know how it'll be used; 87% want to manage personal info.
It's not a traditional value chain any more, it's an ecosystem of collaborators and participants. More real-time creative processes, globally distributed. More storage and monetization at all stages, more collaboration, more forms of analytics, more versioning and differentiation by market. Consumer-driven global market. Flex and grow.
Trends In the Future Consumer – Guy Finley, MESA (Media & Entertainment Services Alliance)
MESA is a service provider organization. Consumers as catalysts: disrupting everything from books to big box retail to records to telephones… none have gone away, but we've changed how we interact with these businesses. The $2.2 trillion entertainment industry is changing and the consumer is leading the way. New challenge:

The greatest threat to newspapers was the popularity of their own content. People wanted more of it, and they wanted it everywhere and now. Oh, and they want to do it themselves. Sound familiar?
We all agree that the 'net is still transforming our lives (e.g., iPad). Understanding threats/opportunities requires imagination. Three-year focus group in the impact of digital entertainment, experimenting with delivery, devices, ecosystems. Focus group: my kids. My ecosystem: TVs, Rokus, Xboxes, Blu-Ray, PS 2, iPods, iPads, iPhones, MacBooks, PC, cable, TiVo, Netflix, Amazon Prime. Tried cord-cutting; went back to cable. Dad is the only one that watches Blu-Rays, the only one who cares about HD quality (!). Digital services per month: Internet $65, cable $40, TiVo $20, Xbox live $5, Netflix $12, Amazon Prime $8. Consumption: Vudu, Ultraviolet, iTunes for music, Xbox for games.
Constant consumption (if Dad allows). Internet ubiquitous, even at remote cabin. Kids are "cord-nevers" (don't use cable, never have). Wall between TV and 'net is blurred. IWWIWAIWIN ("I want what I want and I want it now!") in full effect. 2nd screen ever-present. Kids recognize ecosystems and brands and related permissions. UGC increasing on multiple levels (education, entertainment, passions): we really restrict the kids' YouTube time, but if I had a nickel for every time they watched a Minecraft walkthrough…
Trends to consider: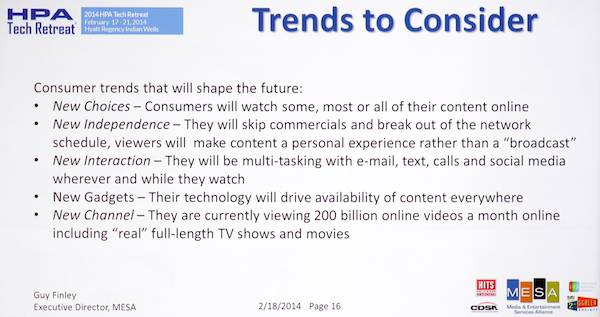 Act II: What's Happening to Production? – Case Studies
Part 1 – Movie Production – Telling a Story in a Digital World: The democratization of filmmaking – Glenn Gainor, Screen Gems
Film is a 19th century invention. It's a far as it's ever going to go. It's served us well for a century. The digital transformation is happening on a global basis, a welcome change. For a century we were at the mercy of what the photochemical process would do; now we capture even the film digitally.
Producers, directors, and cast have strong opinions.  With change comes education. Many colleagues question change. Just because it's shot on video doesn't make it a soap. Not everyone is comfortable going beyond HD to 4K and HDR. I was prejudiced towards film until 4K capture came out. Digital capture and workflow are so much greater than what the film lab could offer. We were attracted to film's "organic accidents", but now we're amazed what we can capture with the new tech. Film is analog, log format; digital is linear; but we now have cameras with 14 stops, so the delta is zero. It's like capturing with a fat negative. Raw is a true camera negative. Now we have cameras with 16 bits, we now have 65K shades of a given color, not mere 100s. (F55, F65, more coming.) Digital handles low light much better than film; lower noise threshold. Low light sensitivity is a game-changer. Back to realism in lighting, thanks to digital's sensitivity.
Theaters: remember the fears about digital projection, not having that 48Hz flicker?  Not a problem, is it?
As in post, same in production: the users have to understand the medium. You can argue vinyl vs digital. Paul McCartney says vinyl has better high end, but digital hasn't interrupted my enjoyment of the music – and it's portable. We don't have gate weave in digital, but that doesn't make the story worse. I believe I've told better stories in 4K raw digital than in film. "Digital" is so ubiquitous that it doesn't define a level of image quality; vast differences between an F65 and plain HDTV. Kurt Vonnegut: "New knowledge is the most valuable commodity on earth. The more truth we have to work with, the richer we become." Real detail is better than edge enhancement. For past two years we've only used 4K cameras, naturally sharp (no enhancement), raw 4K; the chip is our film stock. Camera are not identical, they are as different as film stocks. The camera is the tool that allows the lens to do what it does. 70mm sized digital (Panavision), 6K, 8K… we need to be ready for this; we're just getting started. At 4K or larger, film vs digital is moot; it's all about the lens. New tech coming out faster and faster; never has Hollywood seen such change. In the last decade, went from film to digital. How long from B&W to color? (30 years.) We should be looking for ways to be more economical, more practical.  No longer need to compromise the story because "the camera is too big". As an audience, we're past "the film look", it's time to embrace the new paradigm, the new tools that aren't limited to what's on the set. Post can help tell the story. 14 bits lets us use existing light, shoot in practical rooms and keep detail in highlights and shadows, and recover it all. It all depends on good communication in the production team. The power of image manipulation is infinite. It would be irresponsible to shoot anything now in anything less than 4K raw. The only thing that should be baked in: the lens: soft or sharp, flarey or crisp. Cameras houses have morphed into optics houses. The DP has to understand lenses, to break down and build up images with lenses.  At Screen Gems we use LUTs for on-set looks, while the raw data remains untouched: we give post all the raw captures. The great post people understand how to enhance without using a heavy hand.
Real life applications: "Deliver Us From Evil", F55s and F65s allowed us to enter into darkness like never before. Shooting through rain, using single light source 1/4 mile away to highlight a building, stuff we could never do in film. Without F65 / F55, we could never have done this. Another film, entirely shot in Las Vegas (every frame), using practical light in casinos, as well as exteriors. Great low-light, accurate colors, even with mixed lighting. "About Last Night" downtown LA, practical locations, city lights in backgrounds. More time for evening shooting than film would allow; more subtractive lighting. Same DP shot "Kiss Kiss Bang Bang" 10 years ago; on KKBB had to get multiple Condors, heavy power cables; fastest film and lenses, yet background still disappeared in darkness. ALN shot on F65 with no gennies, every light plugged into a wall socket. Night shots had depth. We'd still shape light, often by turning off / blocking lights – subtractive lighting. In fact, we shot in the exact same place as KKBB, shot in 20 minutes with no pre-light, camera saw for miles. Another production: camera allowed choices, locations not possible with film.  Shooting in a condo: instead of bringing a gennie, just used a tie-in. Only had 100 amps, but wanted the skyline and windows. Confident we could hold the exposure. Biggest light was a 4K HMI area light. We can still make actors look like stars with proper lenses and lighting.
Never be afraid of new tech. We owe it as storytellers to improve our abilities to make people laugh, cry. 100 year from now, they'll say this was the time when it all changed.
Act III: What's Happening to Production? – Case Studies
Part 2 – TV Production – Phil Squyres, SVP at Sony Pictures TV
OTT distro vs Cable: Netflix specifies a 4K master. OTT support binge-viewing subscribers (so all have to deliver at once), streaming 24/7. OTT vs: TV/cable: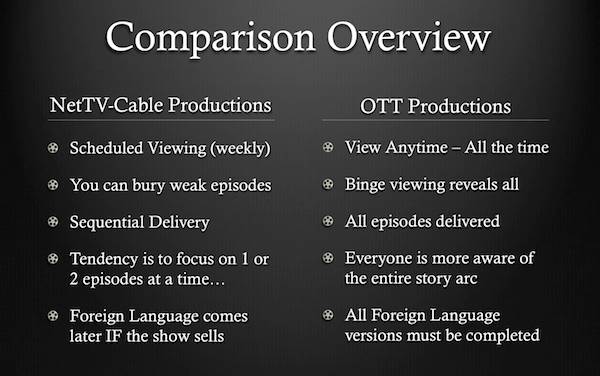 Dubbing: Spanish, Portuguese, French, German, plus 10 subtitle languages; takes 21 days more to do all this, and these need to happen up-front, not a year down the road.
Overall, an OTT series of shows gets crafted more like a movie than like traditional episodic TV.
"The Blacklist", 4K series, evolved to take advantage of F55's capabilities. Last year's pilot used R5 recorder to capture 4K, HD internally on SxS. 4K cards to LA for post, HD held on set as safeties. Shoot NYC, edit LA: OCN (cam orig) sent by courier, breakoff late afternoon to make next-to-last flight to LA.  Later stuff goes the next morning / next afternoon. Editorial gets stuff in 1/2 day increments, much later than with local production. "Blacklist" followed similar workflow, sending to LA, releasing SxS cards for re-use only when 4K was confirmed in LA. Not ideal, due to adjustments in scripts. Needed footage next day in editorial. Push HD proxy to LA via Aspera, so dailies happen immediately: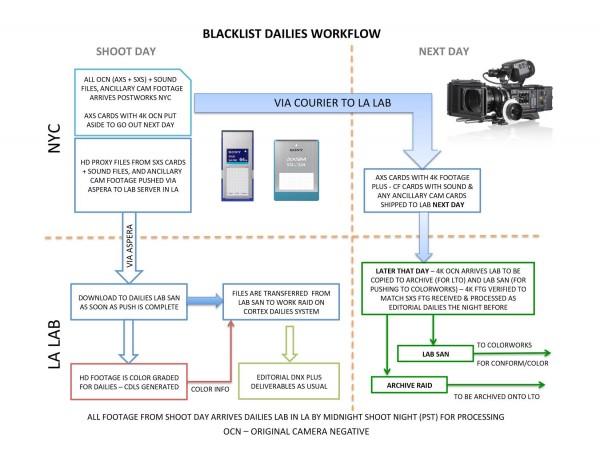 [click for larger]
The plan, soon (next week), is to move from physically transferring cards to lab to an upload via 10GigE. Data checked by sending Finder screenshot showing card directory: see if filenames match, file sizes look right. HD proxies are about 1/15 the size of the 4K masters. A day's HD proxies can push in about half an hour.
4K raw vs XAVC (10-bit 4:2:2m 80 mbps on SxS): drama uses raw for comfort with challenging exposure issues. Half-hour comedies, shot in controlled setups on stages with limited location work, use XAVC: a little less money, a little more speed.
Similar concept for a multicam sitcom pilot, "Bad Teacher", for CBS. 12 eps shot, not aired yet. SPT wanted to protect for 4K, used XAVC.
"The McCarthy's" Pilot #2, multicam, live audience, protect for 4K. 4x F55 set up for traditional multicam, with remote iris and video control. Recorded 4K XAVC + HD proxies for Avid, captured side-by-side on the same card. Edited in HD, if picked up, will remaster from the 4K. Likely to continue this approach in the future; works well, allows all the existing HD studio infrastructure to be used. 1 hr ProRes is 128 GB, 45 min XAVC 4K + HD about 120 GB.
Could also use this dual-format workflow on other kinds of shows.
Long-distance collaborative editing: NYC shoot, LA post. Talent and EP in NYC, but NYC has limited # of comedy editors, and they're busy. So cut in LA, using tech to connect to NYC: PCOIP, PC Over Internet Protocol. A SATA card in the Avid, a "zero client" in a PC in NYC with a couple of HD monitors. 100-120 Mbps, plus an h.264 feed of "client viewing monitor feed".  Uses SPE's 10GigE links.
Remote editing / GigE file transfer avoid weather-related shipping delays, too.
Q: On-set data protection? A: made decision to move cards directly to labs ASAP. Would take 4x the effort to back up on set. For years, we sent cam orig film to lab without backups, same with tape, and we survived. Also, with F55's dual recording, the HD card acts as an emergency backup just in case something happens. Even if insurance covers the loss of the 4K footage, we have a schedule to make – the HD proxy protects our schedule, too. Besides, our experience was any time we had a corrupted file, it was corrupted in the process of transferring to the shuttle drive. The courier service has been very reliable; once in a while a package gets lost for a few hours, but it normally gets recovered and delivered eventually.
QVF – Quo Vadis (Wither Thou Goest) Facilites?
Program copy: "As the very definition of post production changes as production, editorial, and post finishing increasingly evolves, what are the characteristics of the modern "lab" and post facility? What impact does the trend to do some of the work that was formerly done in facilities on and near set and in editorial rooms have on traditional post houses? How is the modern facility evolving to meet the creative needs of filmmakers and their requirements? What do filmmakers really need to support their efforts?" Panel session with Leon Silverman and…
Craig German, Paramount
Michael Cioni, Light Iron
Mark Lemmons, T3 (Formerly Thought Equity)
John Vickery, Sony Media Cloud Services
Josh Haynie, EFILM
Steven Rosenberg, Premiere Digital Services

[I wasn't always able to track who was saying what; apologies.]
LS: Is post dead? One of the supposed top 10 dying industries: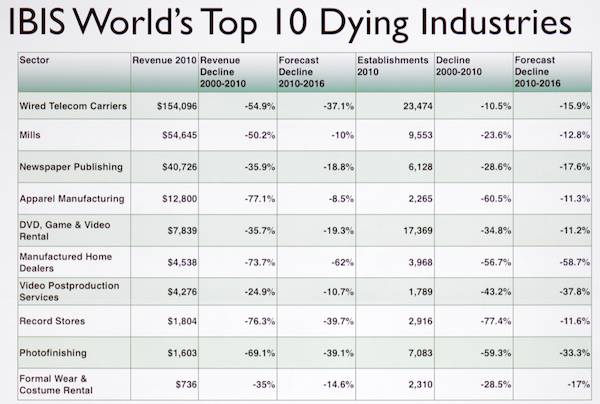 Josh, how do you see things evolving?
JH, EFILM: Feature work. We try to leverage all the locations we have (NYC, Atlanta, Chicago, London, etc.) for remote services, getting data safely back to LA or secured on location. Studios are in LA, educating folks to go on location. Challenges, but we're still growing. Getting involved earlier, even before greenlight. Really, production is the new post. Not a day shift any more; 24/7, always working from beginning to end. Those are the big changes.
MC, LightIron Digital: "LightIron" isn't poking fun at "heavy iron", more the fusion of light tools and iron tools. We bought a Mac Pro and a Quantel: that's the fusion. You need both toolsets. Not afraid of traditional competitors. The biggest threat is our customers; they're learning to compete with us. We had to make sure we weren't in a bad position. You have to be indoctrinated in software development, that's where we focus (half of us are SW engineers). Cars are built well because their engineers drive 'em every day. Important that post folks design their own tools, because they have their fingers in the mix.
CG, Paramount: post-theatrical post production: encoding, graphics, simple editorial; digital servicing (content transcoding / delivery). We need vendors in QC, for an independent eye; 4K for mastering done with vendor partners; for scale and backup. Sometimes for tighter turnarounds, sometimes for budgets. Looking for new things that we need to get involved in.
ML, T3: T3 started as a "mining operation", repurposing content for others at a low cost. The reason stock footage credits are at the end of a film? They're cheap! Metadata management; approaching a billion metadata records, especially in sports, timeframes are truncating, and we need to get involved early. Now we have a truck at sports events, capturing video and [meta]data directly, so within minutes of an event we've got the metadata and the archiving done, so material is ready for exploitation while it's still fresh.
JV, Sony Media Cloud: Media Cloud Services started 3 years ago. Today, have funding from Sony HQ, so it's strategic, a cloud infrastructure. Core is solve simple problem: people in multiple locations need to collaborate seamlessly and quickly. Lives on AWS, allows upload/share/organize anywhere in world. Browser-based tools. Launched Feb 2013, LLC, reporting to Sony HQ, If you have a computer and an internet connection, you can use it.
Steve Rosenberg, Premiere Digital [sic]: Content normalization, packaging.  Developing SW tools (scalable, cost-effective) to do things like track the Swedish subtitles for a film you made 47 years ago, while the metadata standards change frequently. Toolsets to manage metadata and licensing data, thousands of digital licenses across multiple changing platforms. If you don't keep track of licensing data, your content can just fall off the various digital stores. Also enabling people to use the metadata / licensing platform themselves (e.g., indie producers in multiple markets).
LS: I'm hearing a lot of software as a service, collapsing pre/production/post, metadata, solving the pain points. Talk about what these pain points are that you're solving.
CG: Metadata is the bane of our existence. Unclean archives, metadata through multiple uncontrolled entry points. Need business rules to clean the archives. We like just-in-time creation of elements for catalogs (vs. pre-creation of elements). Centralized metadata from a single entry point ideal. Sometimes data comes in from a phone call to a remote territory. Basic transformation of metadata from one source to another format.
ML: Why is metadata such a pain point? In the old days we didn't have to worry as much. As authoring gets more sophisticated, we need better metadata. We had to build systems for stock footage metadata. Most apps now are metadata powered (a metadata arms race!), so we see ourselves connecting with clients' metadata systems, whatever they are, and integrating for provisioning and production.
MC: Metadata is like taking Russian and German and French rocket parts and mating them. Metadata attached to itself (Sony camera to Sony VTR to Sony Xpri NLE) is OK; mixing and matching vendors is the new problem, unavoidable. Outpost Profiler is our software to allow each department to ask for what metadata assets they want, how it's formatted (even details of window dubs). Then we stamp out an XML, plug into wherever it needs to go to generate the assets the user wants. We have to make sure we educate folks on how to use this stuff so we don't have to keep on repeating ourselves.
JH [I think]: we jump in as soon as possible, understand the filmmakers (director, DP, VFX, editor), ask questions. May have 7 different aspect ratios, color spaces, etc.; educate the filmmakers and studios so we can start from a common file format / color space / etc. So we can provide people, trailers, etc., be the DITs, be the "human checksum". We have services where clients log in, do their own thing; it has to work every time. Working to improve this (educating internal folks too; weekly meetings to try new processes).
LH: How to you make sure your own people are up to speed?
JH: We just do it. Once we have the recipes built, the show LUTs, that's what we go with. If there's something new, boom! we jump on it.
JV: We learn from the customers, what's working, what's not. They suss out ways to use our services we never thought of. One customer used our services to upload footage via satellite from a boat! We'll have 2-hr conference calls with clients to understand what they're doing, what they'll need next. We don't have the luxury of educating: if they try it and don't like it, they leave.
LS: Is 4K the right number? HDR? color depth? Screen brightness? Needs a heavy infrastructure; how are you getting ready?
JV: Yes, there's demand for 4K. We need to be on the cutting edge. It's all moving to HDR, enhanced color. It's all demand-driven. The big difference is image res is more of what's already there, improved color means going back to the talent and getting their approval. Improved color really makes things pop.
JH: UHD is now just part of the pipeline, just another deliverable. Involved in 4K for a long time; it's all old-hat 16-bit EXR workflow. No open spec yet. Big question: Rec.709 vs Rec.2020 color. We have to maintain pricing structure when we deliver these new formats and services (studios don't want to hear it!).
??: Making 4K packages for delivery. It's encoding tools that need to be delivered. Matching subtitles to 4K, for example.
ML: We've never been in a position to dictate to clients. Storing/delivering 4K for years as clients require. Whenever you add something to a pipeline, it backs up. That's where the cloud matters, we do 50K transcodes per day (just keeping up), using the cloud as an encoder facility to take load off local transcoders. Moving backlog stuff to cloud freed up local resources for priority jobs.
JV: Using cloud as a means to refine the remote-collaborative workflow, to help with the stuff Phil was talking about. Leveraging proxies to get workflows started sooner. 4K cameras using wireless transmitters to automatically send proxies to the cloud makes things even quicker and easier.
MC: The inefficiencies of HD are well known. I wasn't impressed with HD. Made it obvious there must be something better. My business is about 30% 4K (always has been: in early days, no competition, but also not many customers!). Testing new MacPro. UHD monitor, a couple of computer monitors, played 9 streams of 4K. To see how much this is beginning to crest… we have an obligation to deliver these possibilities to customers; we have to get comfortable with being uncomfortable, year after year.
LS: none of you guys sound like you're in a dying industry! For those who'll be retired in 20 years, where do you think it's going in this service business?
??: When are we done spending money? Well, no, we won't be done. There'll be a firm foundation we'll incrementally add to, it'll be more of an on-demand pull. There's still the need for talent to make the content sing.
JV: I don't know what it's going to be, but we'll always need creativity. DPs like specific colorists, for example. Remote teams will be out there. Internal creativity – coming up with solutions immediately – always in demand. Here's the new normal of working on set, working different days; not everyone likes that. We're always moving forward with new tech, listening to staff for interesting questions.
Steve, Premiere: content is everywhere. Somewhere we'll need to move to a centralized store of media and assets; it's too expensive to keep doing it the way we're doing it today, with multiple separate back-ends. But they still need to ensure safety and security. In 20 years, we'll have to evolve in the handling all those assets and managing it, in a world that's essentially online.
ML: I used to work in print. The same sort of thing is happening now to our industry. Increasingly scale out platforms. A mature cloud will be secure. Explosion of available talent, taking advantage of an explosion of powerful tools. The more that content can be in a safe, secure, easy to access platform, the better. A marketplace of people around the world.
MC:  Who will be around? It's a long way away… I plan 4-6 years out. The ones who will make it are the ones who take control of the tools. Figure out how to make post perpetual motion. We're like gold miners, we have infrastructure, we're looking for users…. we build the picks and shovels, then we go out mining with our customers. What we learn in the gold mines lets us design new picks and shovels to sell back to our customers again.
LS: Thanks everyone, I think post is alive!
Q: In the age of NSA everywhere, how can we ensure asset security? A: Sony has never been hacked [laughter]. We take it seriously, are regularly audited (like everyone else). We don't look at your content; we don't even know where your stuff lives on Amazon's servers.
Q: Media asset management? A: As it becomes more clear that we're authoring content, the metadata core is a piece of that. We need standardization. It'll need to get sorted out; 85% open source commonality in major tools already. Needs more automation. Financing for software teams is a challenge.
SMPTE standard Archive Exchange Format (AXF) coming up to help with this.
HPA-Extreme – Fun and Short Presentations
1. Through the 4K Microscope, Richard Weinberg, USC School of Cinematic Arts
A monarch butterfly egg, microscopic sea creatures too small to see, mineral crystals…  [Google "4K Microscope, Richard Weinberg, USC School of Cinematic Arts" for stills and clips] When RED came out, I got one and started connecting it to microscopes.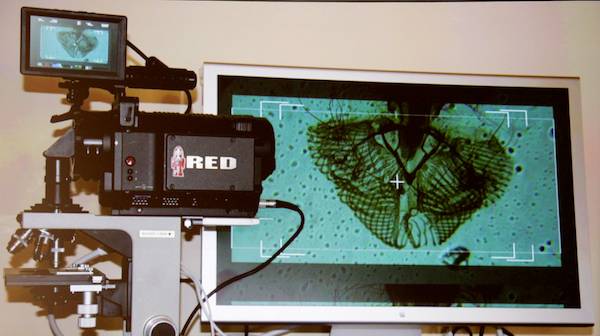 USC was third organization to join CineGrid; what would it be like to play one of these movies on a CineGrid wall? It's like being in a giant aquarium. Used RED's HD streaming, a 4K JVC camera, a RED EPIC.
What if 4K isn't enough? You can take 4K images of non-moving subjects, step and repeat; get a 32K image! Where do you watch a 32K movie?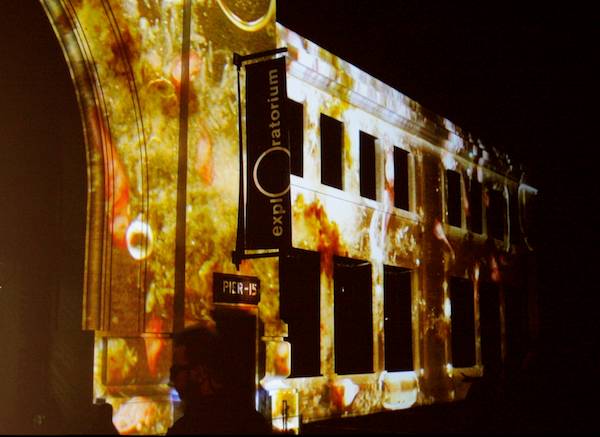 More will be on the feed "Hidden Worlds", on www.sci2.tv.
2. Creating Something From Nothing – Alien Sound Design, Mark Binder
Sound designer and re-recording mixer: I make noise. The past 25 years of my life has been making music, or sounds for movies.
Typical indie film: great idea, here's $2M: go make a movie. So you get an 18-day shoot, not enough time. How do we make that watchable?
Here's a shot from such a film: protagonist has lost his wife in an accident, questions God, seeks help from demons… here's the thing: the camera is possessed by a demon! But we don't have the budget for VFX; you make it work!
The director didn't want any music. What I was able to do creatively, was created from the practical sounds from the location, and crazy demonic chants I found on the web.
[demo clip shown, with scary acid-trip / demonic-visitation noises]
I'm Mark, and I make noise.
[These two talks will be posted on the web at some point, according to HPA.]
Wrap Up With Jerry Pierce & Leon Silverman
What have we learned? Amazon will take over the world. Through-the-middle, over-the-top: Comcast is already a middleman and is also going OTT. 1/3 of Internet traffic in peak hours is Netflix. UFC: the big focus is localization.
Q: What about stereo 4K microscopy? A: I think about it all the time; haven't done it yet; I'm working on it.
Sky and DirecTV etc targeting ads through the STB.
Piracy is the relief valve when things aren't going well.
Traditional vs disruptive: will the traditional providers adopt OTT? They're going at it too slowly, so people will pirate their stuff instead. UFC is also pursuing its own OTT strategy.
Distributed post is a very powerful idea.
4K, UHD: what's More important, 4K, HDR, HFR, or extended color? HD is fine, we just need better HD. Better audio! At SMPTE the answer was better pixels: HDR, better color. Until we put together a format that shows the consumer a better picture, "ultra" doesn't mean anything.
Do facilities go away? Film labs developed film, and took the blame when things went wrong. As long as we spend a lot of money on production, we need something like a film lab to take the blame when things go wrong: "one throat to choke"!
---
HPA Tech retreat 2014 full coverage: Day 1, Day 2, Day 3, Day 4, Day 5, wrap-up
---
Disclosure: HPA is letting me attend the conference on a press pass, but I'm paying for my travel, hotel, and meals out of my my own pocket. No company or individual mentioned in my coverage has offered any compensation or other material consideration for a write-up.