Our Latest Feature Articles & Reviews...
Canon EOS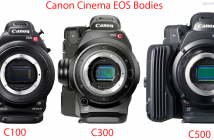 Last autumn and winter I had the opportunity to shoot with both the Canon C100 and 300 cameras. Not surprisingly,…
Monitors
Bob Shaw's 1966 short story "Light of Other Days" and 1972 novel "Other Days, Other Eyes" are built around the…
Monitors
Monitors can be contentious things on set. Here's how I make them work for me, rather than the other way…
NAB Show Reports...
More Articles & Reviews from DV Info Net...