Page Two of DV Info Net's coverage of CES2014 continues here, or you can go back to Page One.
On this page: Crosley | GoPro | TCL | Misc. — click on any pic to see a 4x larger version.
Crosley's been a mainstay of CES for as long as I can remember. They were doing retro before retro became cool. These days it seems like retro is red hot, and a visit to CES isn't complete without dropping by the Crosley booth to check out the latest in retro-tronics.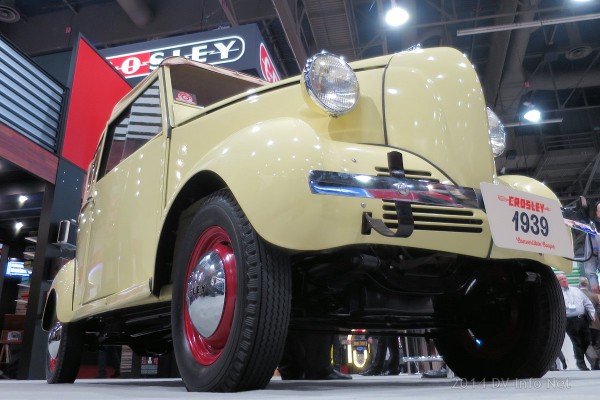 Every year they bring this beautiful 1939 Crosley convertible coupe. Always nice to see it again. It's kind of a CES tradition for me.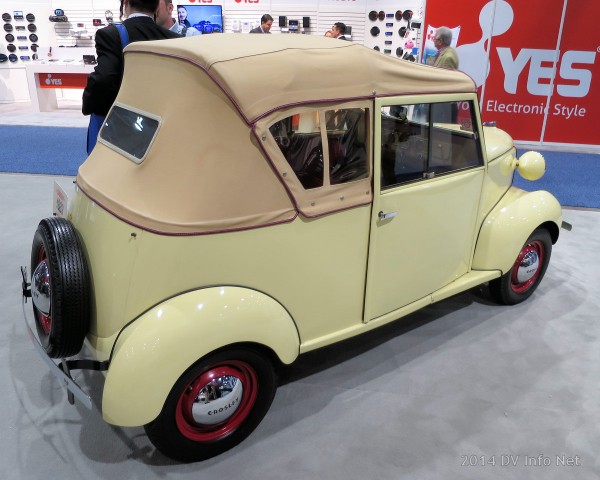 Crosley sold about 2,000 of these cars with a sticker price of around $350. Those 1939 dollars would equal just under $6,000 today. These cute little things had a two-cylinder motor, averaged around 60 miles per gallon for fuel economy, and came equipped with a Crosley "Roamio" radio. Another big feature was the Top Forty air conditioning… top down, forty miles per hour.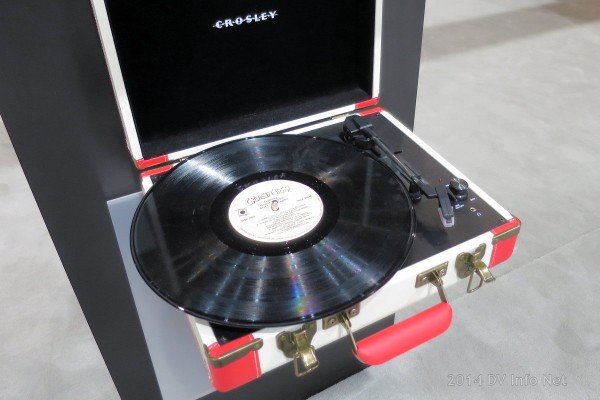 Yes, I had one of these when I was a kid. Nice to see that some things still endure in 2014.
This company is unstoppable. Every time around at CES and NAB, they like to go at least "one louder" than the time before.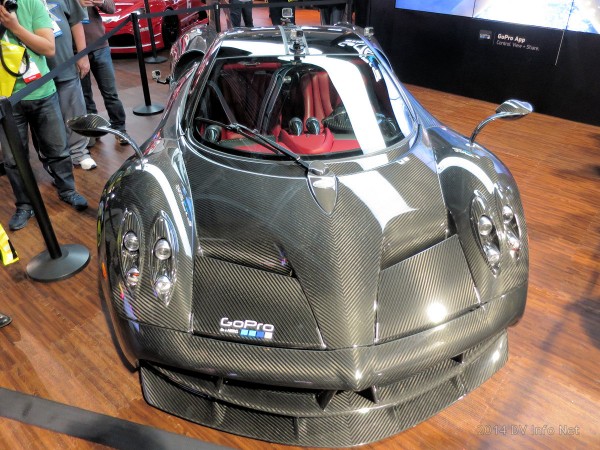 I have no idea what this thing is. I probably couldn't even pronounce it. Or be able to handle it. I know I can't afford it. But it sure looks cool and it's covered in GoPro Hero 3 cameras. Yowza.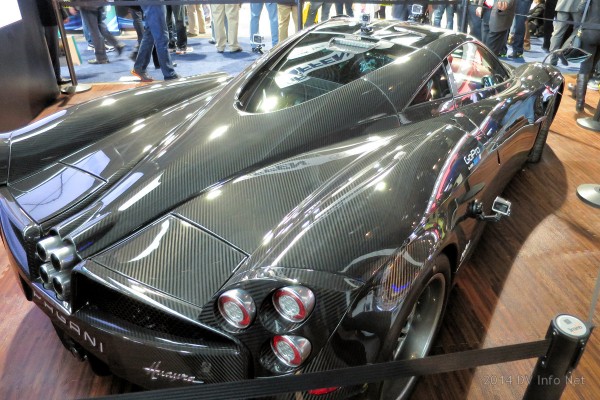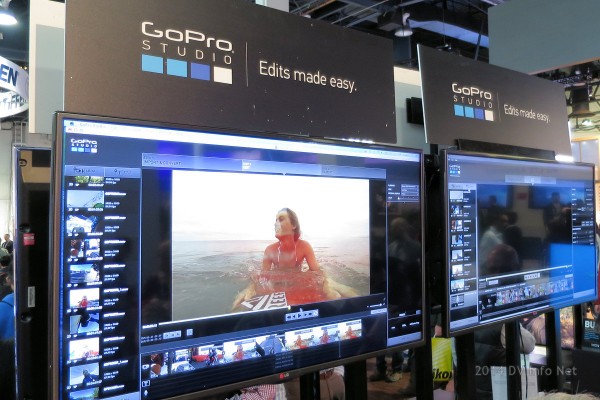 They put considerable effort into showing off their GoPro Studio Edit Software in the booth. Plenty of reps were on hand to talk about it and walk you through a demo.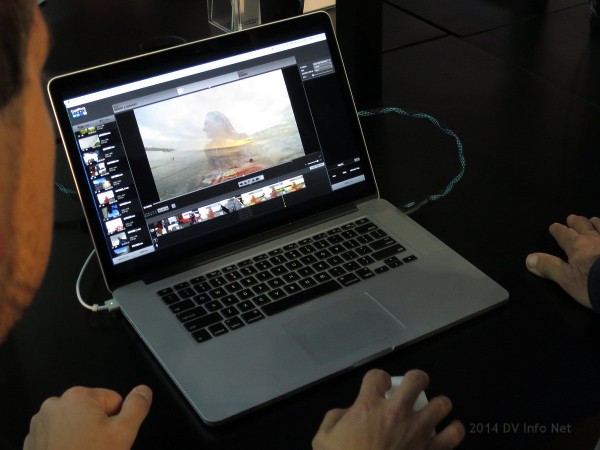 You can use their supplied templates, or take full control of your project, with the mobility of a laptop. GoPro symbolizes the highly desirable "movie studio in a backpack" concept.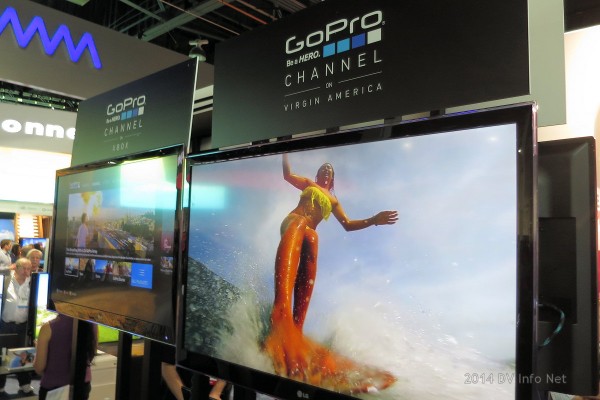 GoPro does their own user-submitted content distribution as well, with GoPro Channels.
TCL stands for The Creative Life. It's the Chinese company that bought the naming rights last year to Grauman's Chinese Theater in Hollywood. They had an interesting booth at CES.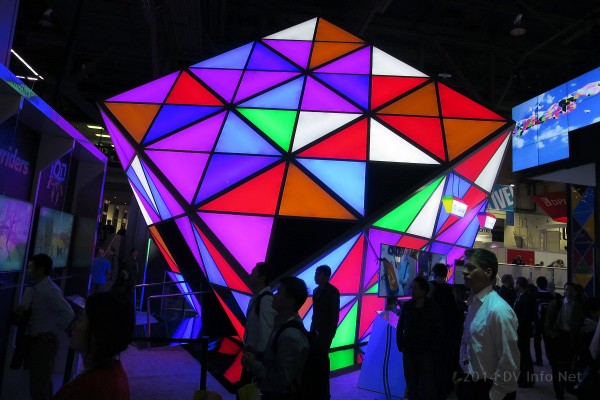 You could walk up inside of this big cube. It didn't teleport you anywhere though.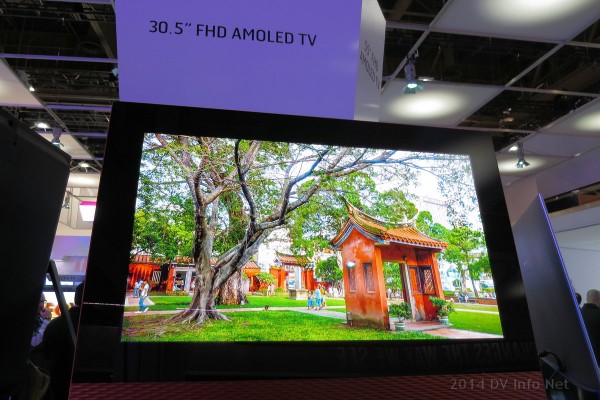 Not all displays at CES this year were 4K. This Full HD monitor looks very pretty.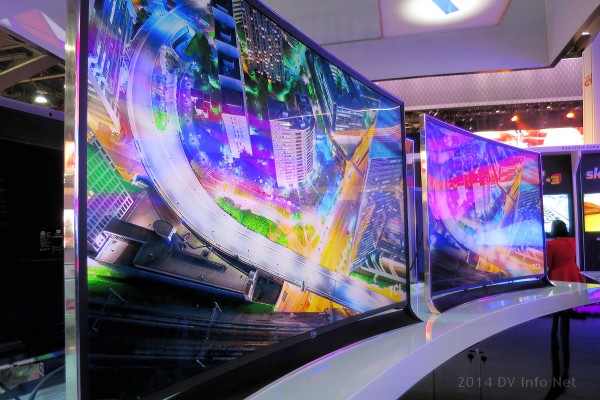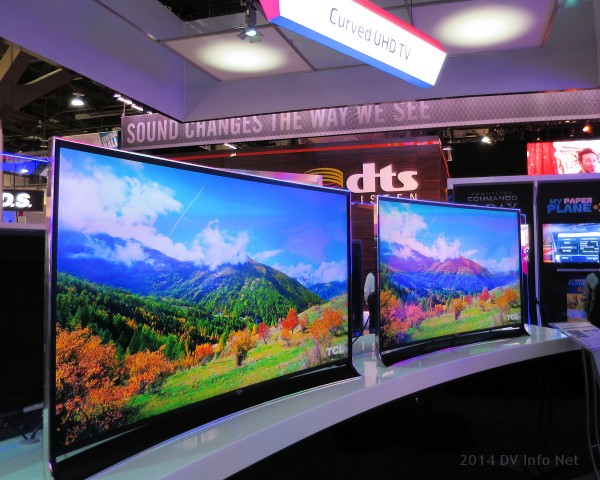 Their curved UHD monitors looked so stylish that I had to take two photos of them.
Various Booths
In my limited time on the show floor at CES this year, I didn't have the time to see hardly ten per cent of all the exhibits, and the photos I'm sharing here are barely ten per cent of all that I shot. The miscellaneous group of images below is just a taste of what was there at the show.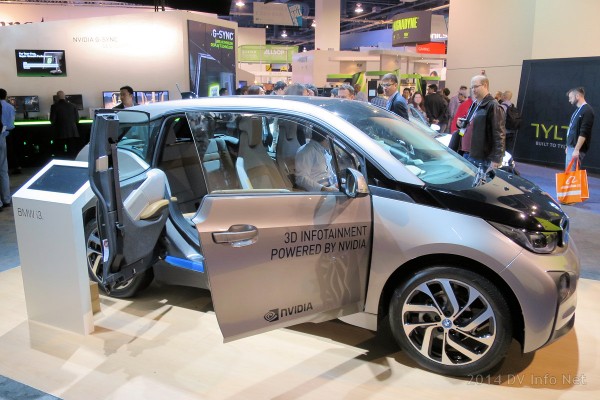 Brand new high-end cars were everywhere, such as this BMW i3 at the Nvidia booth.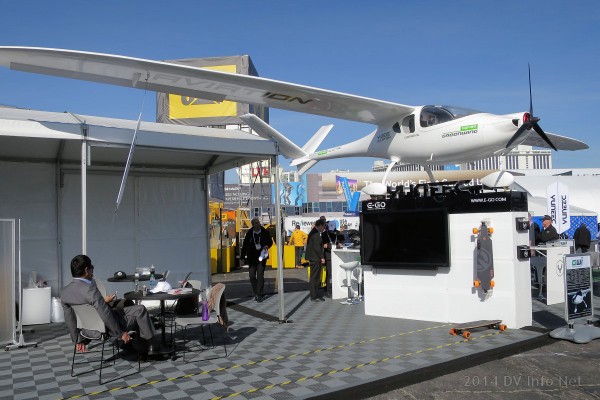 There's always at least one airplane at CES. This is a Yuneec Greenwing GW430 electric aircraft at the E-Go outdoor exhibit.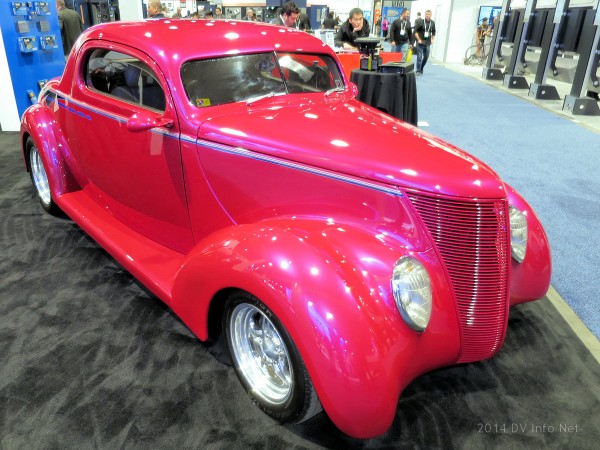 As I hinted earlier, Retro Rules…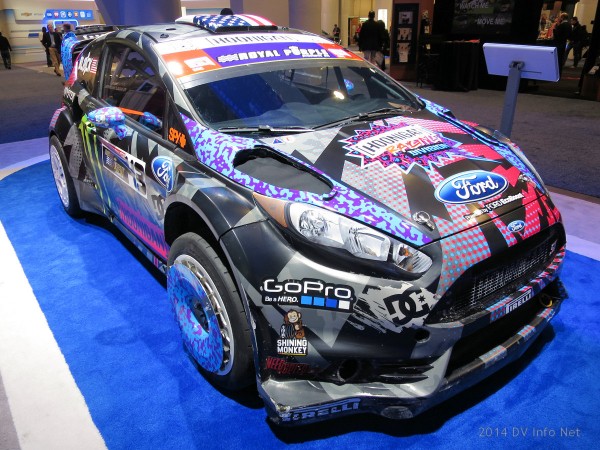 …but the new wheels are pretty cool too. Talk about branding!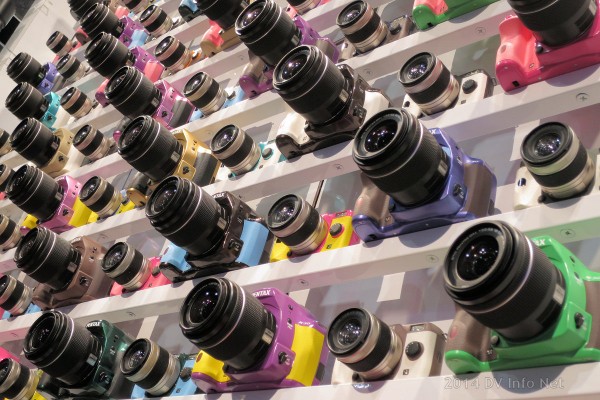 A wall of candy-colored cams at the Pentax booth, a very nice display.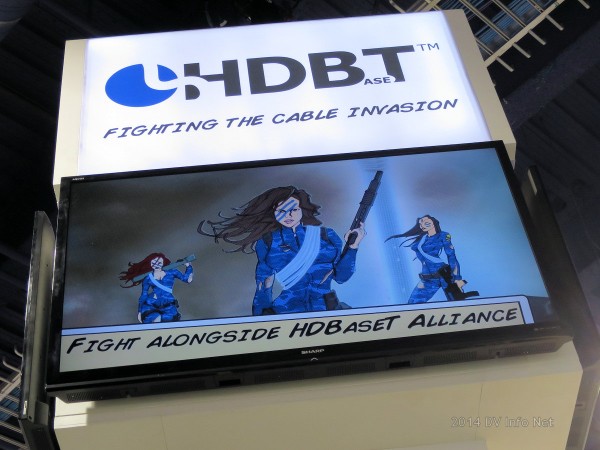 The HDBaseT Alliance was founded in 2010 by LG, Samsung, Sony and other partners to promote and standardize the concept of a single LAN cable to replace multiple cables and connectors for consumer and commercial distribution of uncompressed HD media.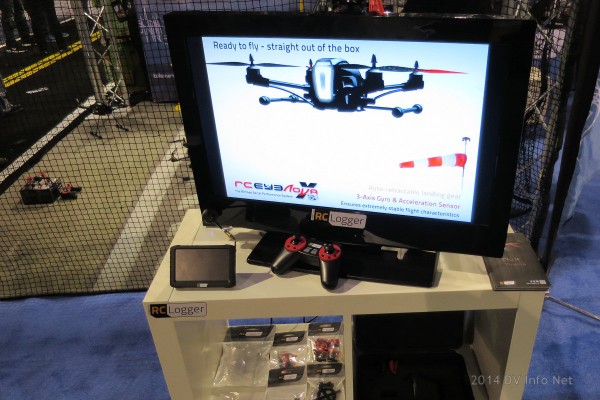 There were lots of drones at the show. RC Logger was one of the more interesting companies. They have a full line of modular video and telemetry components with built-in GPS, slow motion video, Full HD recording, and much more.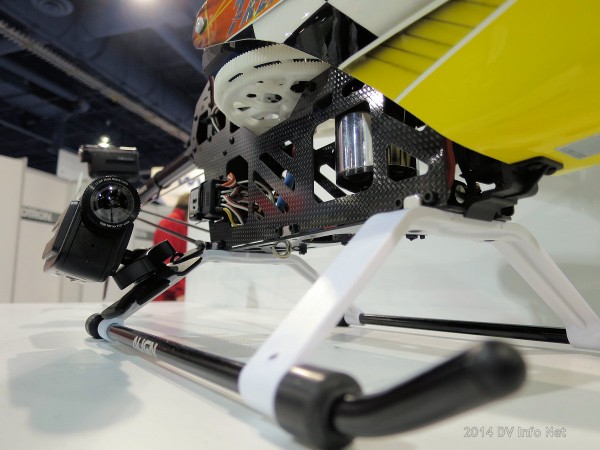 Aerial photography copter from Taiwan's Align. Definitely not a toy.
Much more to see on the following pages…