Page Eight of DV Info Net's coverage of CES2014 continues here, or you can go back to Page One.
On this page: 3D Printers | Pelican | Garmin | Razer — click on any pic to see a 4x larger version.
3D Printers Pavillion at CES2014
This section of the LVCC South Hall was jam-packed when I walked through it on the third day of the show. No doubt about it, there's a huge buzz going on right now about stereolithography. After all of the 4K display technology that I saw, the 3D printing vibe was the most popular aspect of CES this year.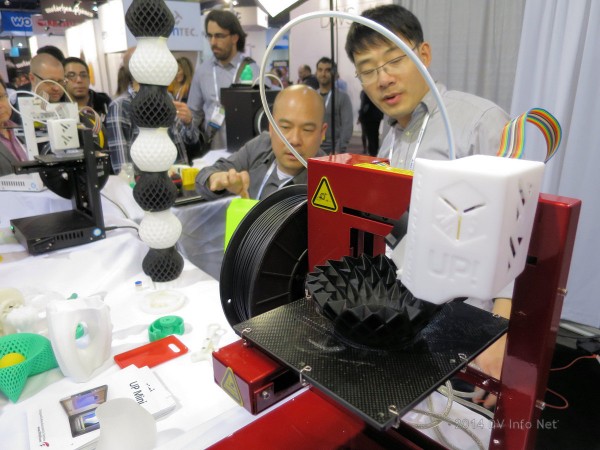 All shapes and sizes of 3D printers were up and running in this area, and they all drew a lot of attention.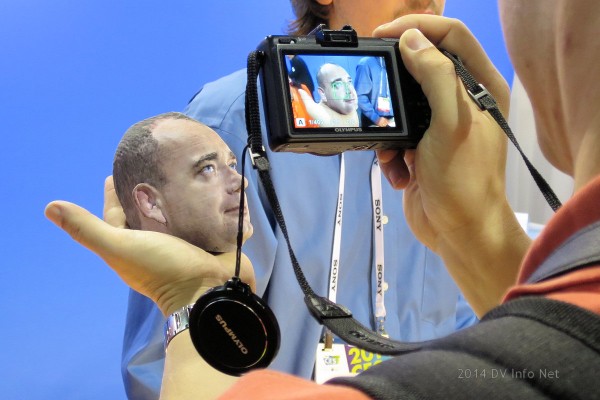 Yes, yes, I agree… that's just freaky.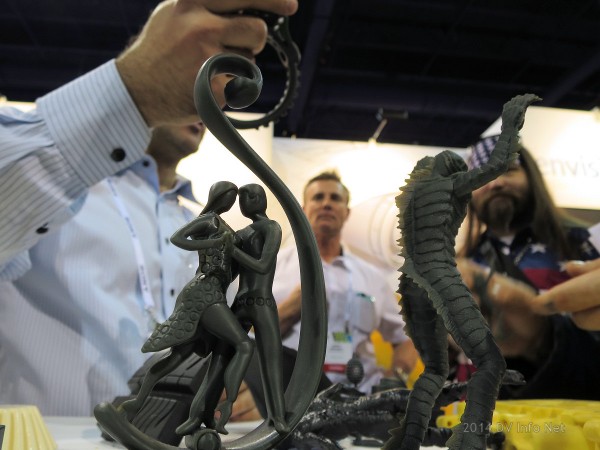 That could be a wedding cake topper, on the left, I guess. But then again, you could use the Creature from the Black Lagoon there on the right for the same purpose.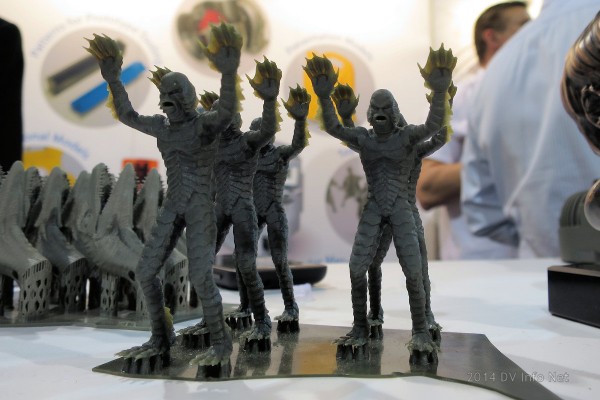 Why not make your own chorus line of Gill Men from the Black Lagoon… it's easy with a 3D printer.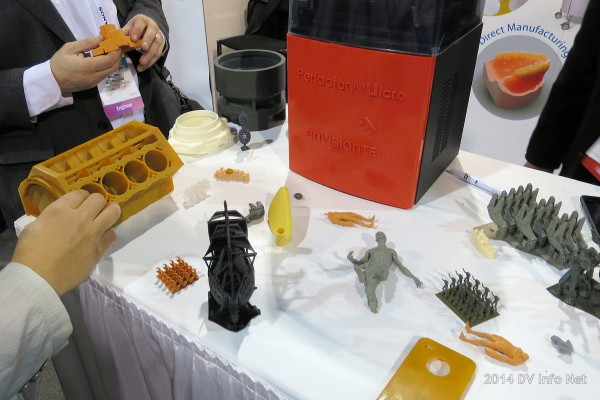 Here's a variety of printed samples. I suppose you're limited only to the size of the machine.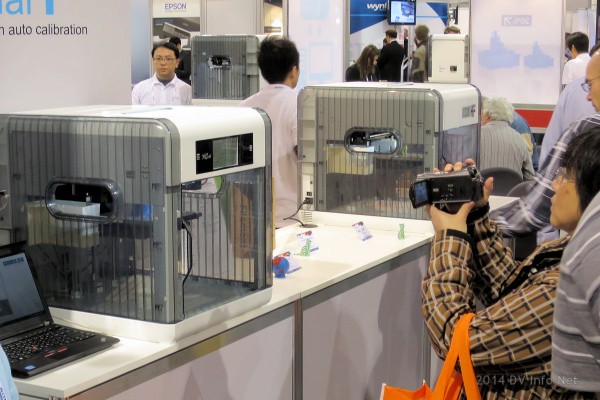 Some printers had a better looking exterior housing than others — a few were just bare-bones components — but the daVinci from XYZPrinting Inc. above was the nicest one I saw. It's plug and play, and it'll cost around $500 when it's released later this year.
Most of us in the pro video world know Pelican for its line of tough hardshell camera and equipment cases. Now their new ProGear Vault product line brings that same degree of protection to the iPad.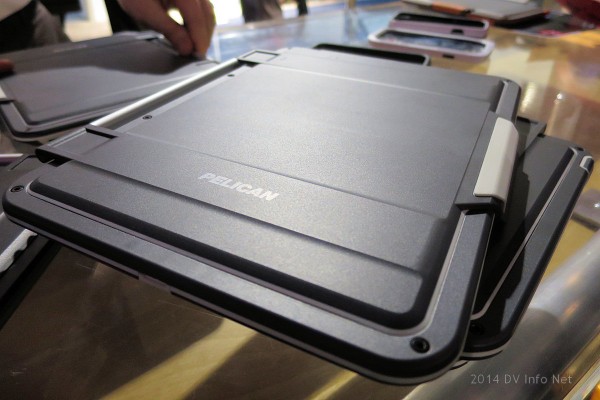 The Pelican ProGear Vault is available for the iPad Air and iPad Mini. It meerts military spec test standard to survive a drop from four feet. It's water resistant and it can handle momentary immersion.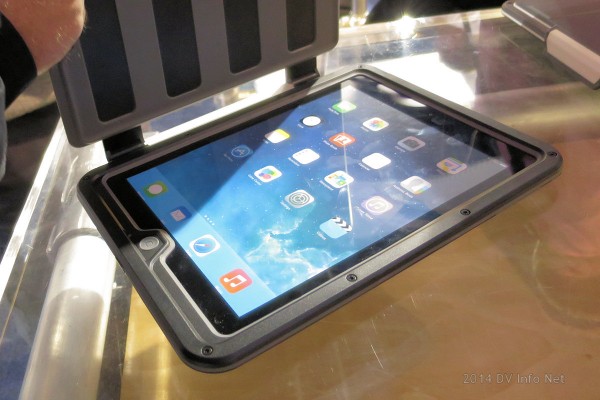 The Vault also has a water-resistant membrane protecting the speaker and microphone ports while still allowing for their use. The rear camera is protected as well by a piece of optical glass. The case carries a lifetime guarantee by Pelican.
Garmin ventures forth from their firmly established foothold in the GPS products realm to enter the world of POV video camera systems with the Virb and Virb Elite. The Virb is a shockproof and waterproof 1080p video camera with a fixed wide-angle lens, built-in color display, 16 megapixel CMOS sensor, and a rechargeable battery with three hours of endurance. The Virb Elite is the same camera, in white, with GPS and WiFi added on.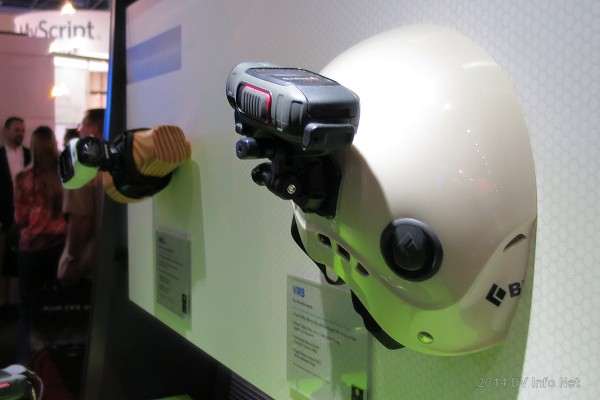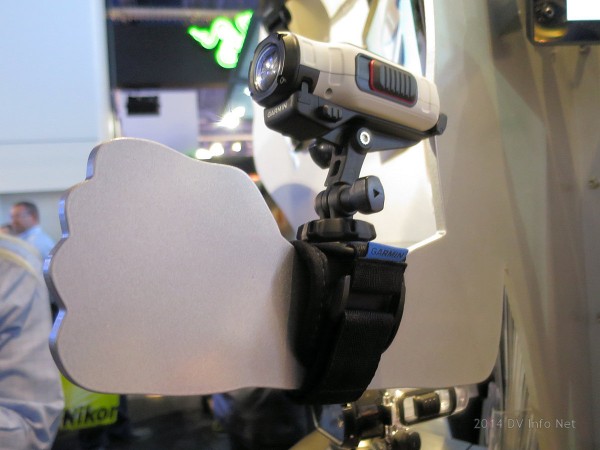 That large sliding switch on the side is the rec / pause control. Frame rates include 1080p30, 960p48, 720p60 and 480p120. There's a dive case available, and Garmin offers a variety of camera mounting options such as the helmet, wrist and chest supports seen here in the pics above and below.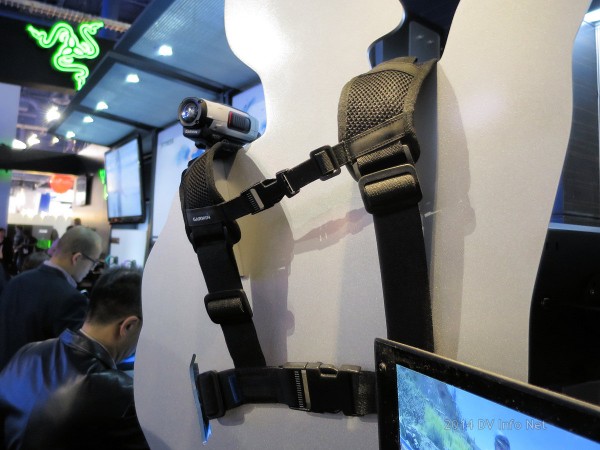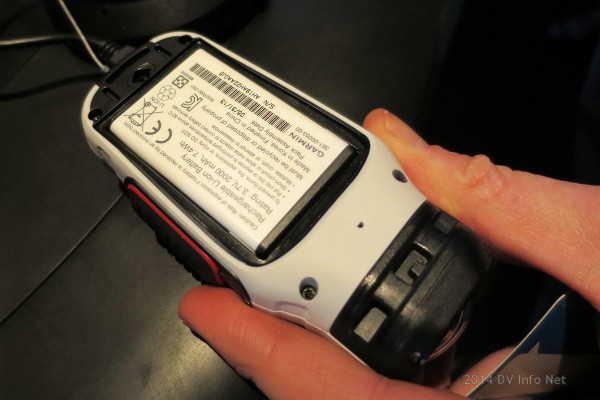 This 2000 mAh battery is easily removable and can be quickly swapped out for another. The recording media, a MicroSD card, lives just beneath the battery. The camera has a built-in mic and there's an option to connect a stereo mic with a USB to stereo-mini adapter. Garmin also offers a free desktop editing app called Virb Edit.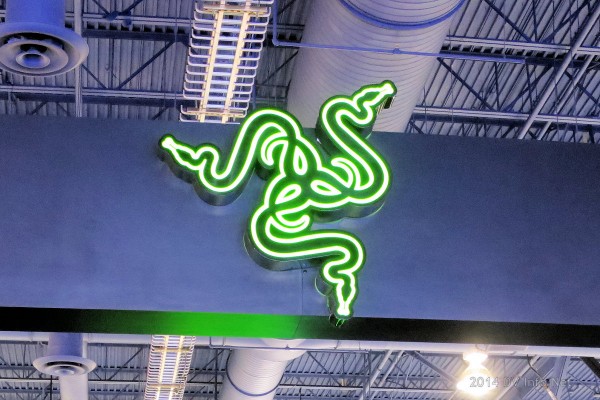 Like some kind of weird alien beacon, this strange green glowing logo shone above an almost totally blacked out booth. I had caught a glimpse of it while visiting Garmin (see two pics up). What the heck was it? I had to investigate.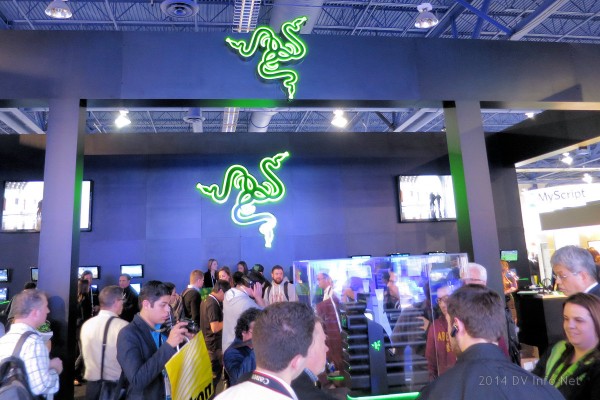 There's no company name flying from an overhead banner like you see at every other booth. Just this big green… tattoo… or whatever you want to call it. Turns out this is Razer, the brainchild of CEO Min-Liang Tan, who may or may not come from outer space himself. Okay, so I'm probably the only person at CES who has never heard of Razer, but I'm not much of a gamer, and gaming systems and accessories are their speciality. But wait… what's that thing under glass?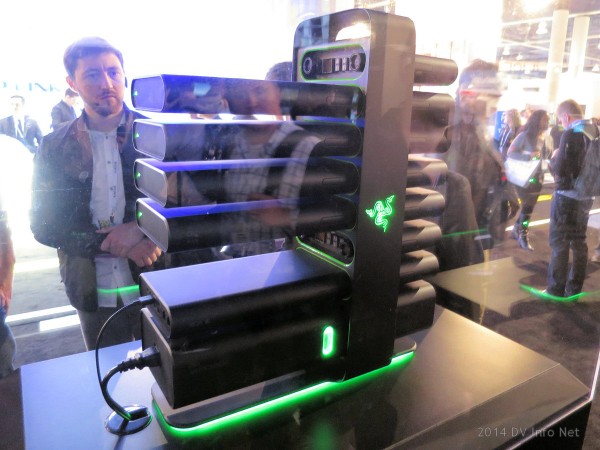 I found a tolerant and congenial rep to tell me what it was that I was looking at. It's called "Project Christine" and it's a concept for a modular PC gaming system.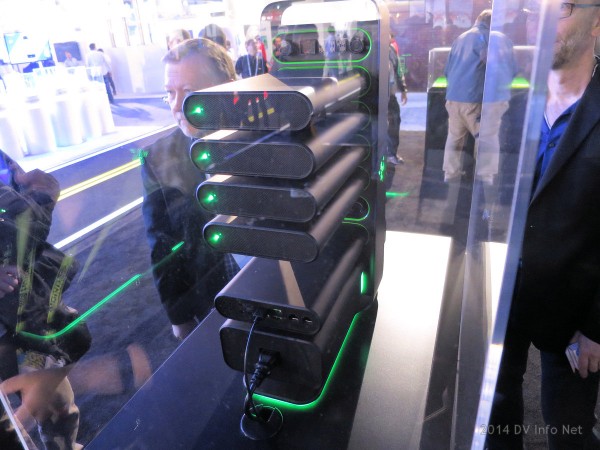 The modular design is based around a vertical "backbone" and features interchangeable plug-in components, such as the CPU, GPU, memory, drive bays and more. The system is liquid cooled by a proprietary Razer technology, but all of the components are intended to be swappable and reconfigurable.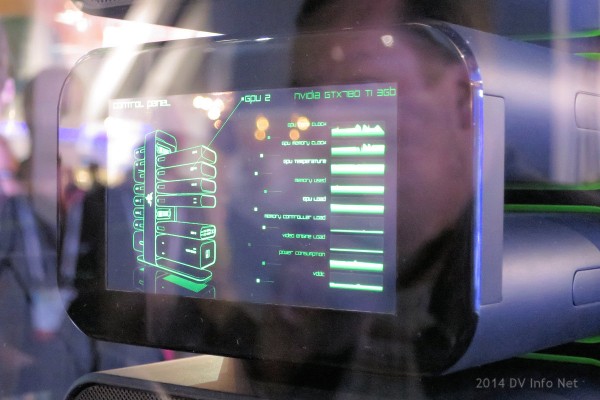 A status display on the front panel tells you what's what… system temperatures, CPU load, memory usage, etc.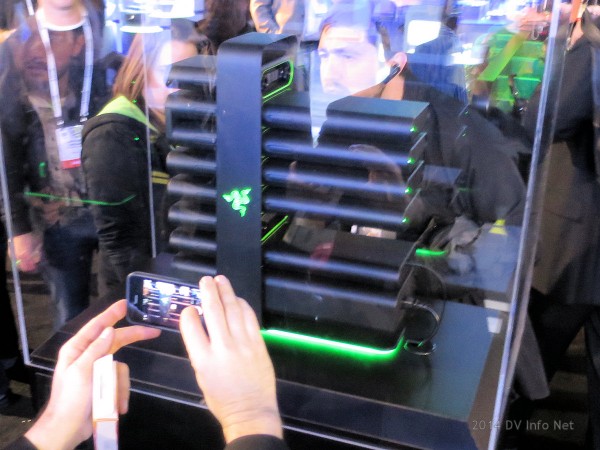 It drew quite a crowd. Razer has a habit of bringing concept pieces to market if there's enough interest, and it's safe to say there was plenty of interest in Project Christine at CES.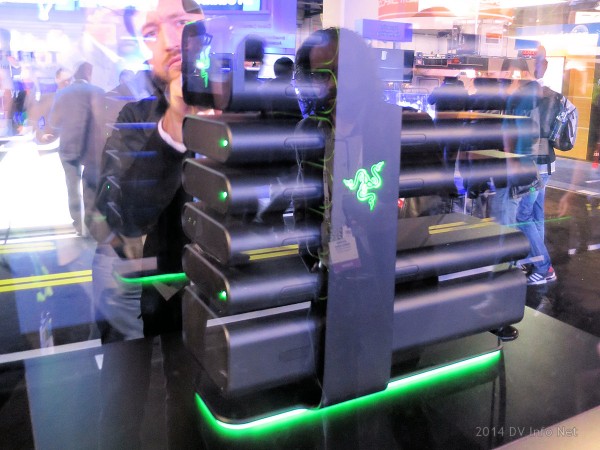 As I said, I'm not a gamer, but right away I thought that a reconfigurable system like this would be ideal as an NLE in the edit suite. Most gaming systems are properly spec'ed for the requirements of video editing with very few changes. Here's hoping that Razer sees the potential for adding the NLE market to the target audience for a PC such as this.
That's the end of the show for me. I have no idea how many things I missed at booths that I didn't get to visit, but I saw more than enough to soak up in two days. Jim and I walked out of the LVCC with a lot to talk and think about. CES2014 was a great experience, and it's got me jazzed to come back in April for NAB. Hope to see you there!
About the Author
After completing his degree in Radio-Television-Film at the University of Texas, Chris spent a few boring years waiting for the digital video revolution to arrive and for the internet to become mainstream. Things started to get interesting in November of 1997 when he launched The XL1 Watchdog, his first web site dedicated to digital video technology. In January of 2001, that site morphed into DV Info Net — the Digital Video Information Network. More than a decade later, the longevity of DV Info Net is exceeded only by its popularity and reputation as one of the leading technology information resources in the broadcast and professional video market.