Page Seven of DV Info Net's coverage of CES2014 continues here, or you can go back to Page One.
This page: GlideCam | Wacom | Nanuk | Xi3 | Weifeng — click on any pic to see a 4x larger version.
Down the aisle I spotted the GlideCam banner. These guys bring their entire line of camera stabilizers to NAB every year, but I'm not used to seeing them at the Consumer Electronics Show. I had to pay them a visit and see what they were exhibiting at CES.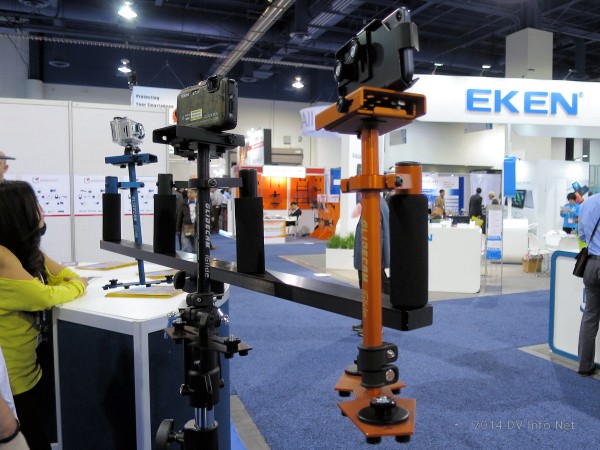 GlideCam brought their compact little iGlide Handheld Stabilizer for compact cameras to the show. You can get it in a choice of colors — black, orange, blue or olive — and it's ideal for the small POV camcorders such as GoPro, or the little point & shoots that all do HD video now like the Nikon Coolpix seen here. There's even an iPhone mounting adapter.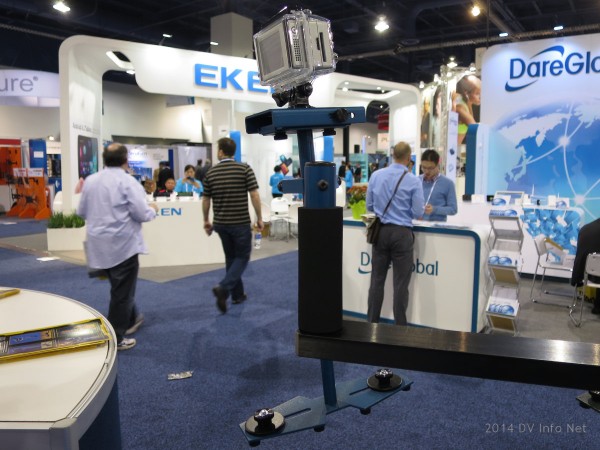 It's interesting to see an NAB regular like GlideCam, which is known for their full-size stabilizer systems, at CES with a product that caters to the consumer market. To me, the arrival of the iGlide further legitimizes what we already know: that the trending wave of POV camera video is growing stronger all the time.
Jim noticed the Wacom booth and wanted to stop in and see the latest iteration of his much-loved Bamboo stylus. I think some video editors might not be aware of how handy a Wacom touchpad and stylus can be in the NLE environment. With a bit of practice, a first-time stylus user can gain much greater precision over a mouse, making it quite handy on a crowded editing timeline.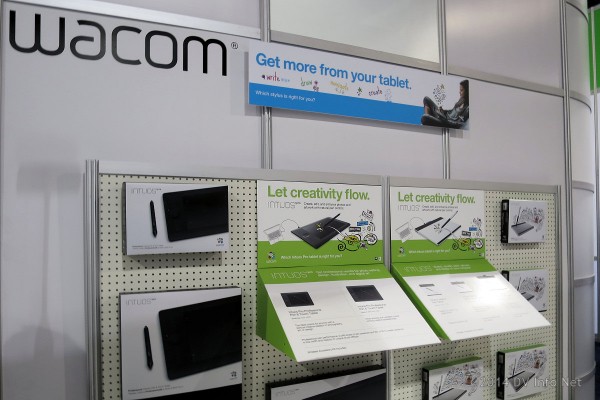 Wacom's Intuos line of touch pens and drawing pads were designed specifically for creative professionals. In the digital film and pro video market, Wacom products offer the precise control needed for shot diagraming and storyboarding, and post-production requirements such as color keying, text layout, masking, rotoscoping, key frame control and much more.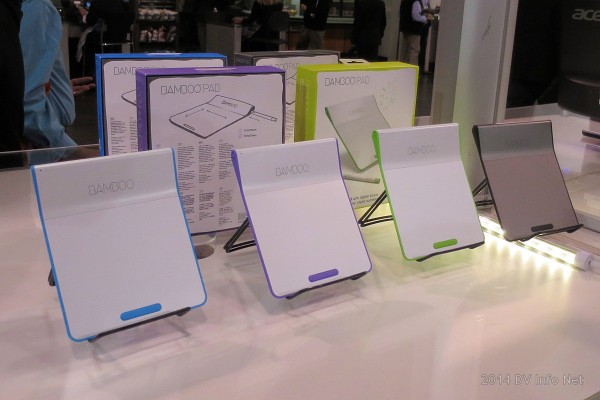 Even the consumer level Bamboo line of Wacom pads and pens can be useful in an NLE application, and they're not much more expensive than a full-featured wireless mouse.
Nanuk cases have been around for a little while now but I've never had an opportunity to take a very close look at them. Nanuk will be exhibiting at NAB, but I wanted to take the opportunity at CES to get familiar with all the little details that make them unique in the hardshell protective case market.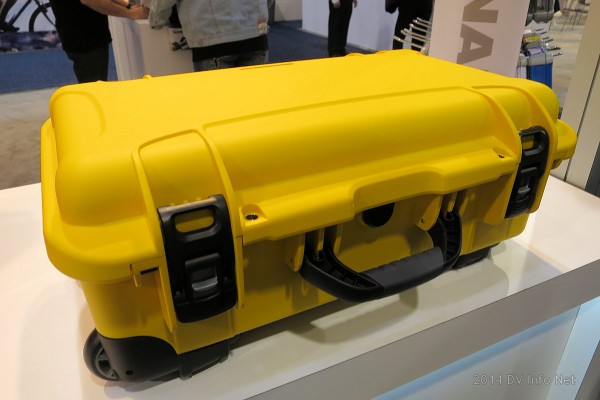 This is the Nanuk 935, the smallest of their three wheeled cases, and it's just about the same size as a Pelican 1510. There's a range of color choices (including the stately and omnipresent basic black, but this yellow case shows the details better for photo purposes). Nanuk's entire line is waterproof at three feet for 30 minutes.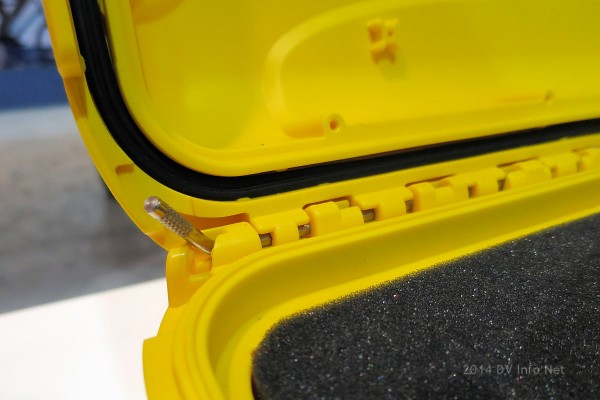 To hold a case lid in the open position without slamming down inadvertently, all Nanuk cases have integrated lid stays molded into the hinge. The large seal running around the lid insures that Nanuk's entire product line is waterproof at three feet for 30 minutes.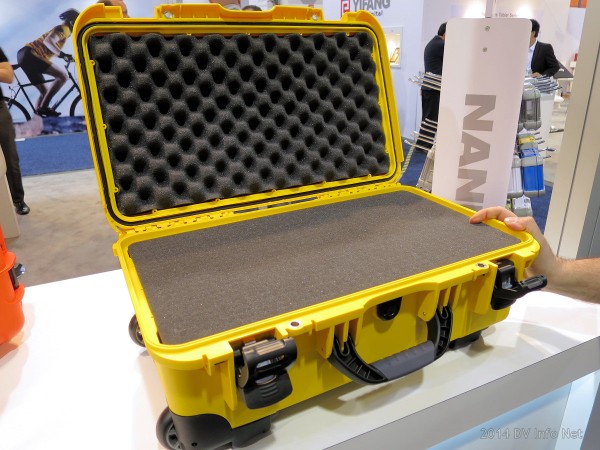 There are several options for the interior, one of which is a pluck-and-pick foam insert that has two separate levels so you can customize the depth to accommodate unique shapes. Nanuk's case latches, a patented system called PowerClaw, allow for one-handed opening and closing.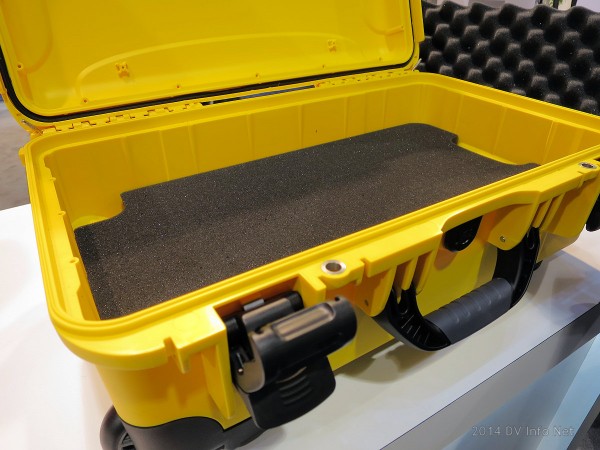 The case can be purchased empty if desired. Note the integrated bezel surrounding the lid and the main case body. It has pre-tapped threaded inserts to allow for an optional waterproof lid panel and full customization of the interior, such as hard-mounting electronic components for example.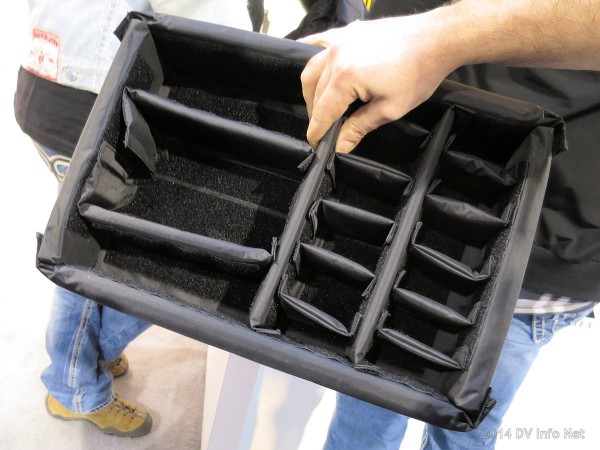 Or you can have a fully padded, removable interior shell with changeable velcro dividers.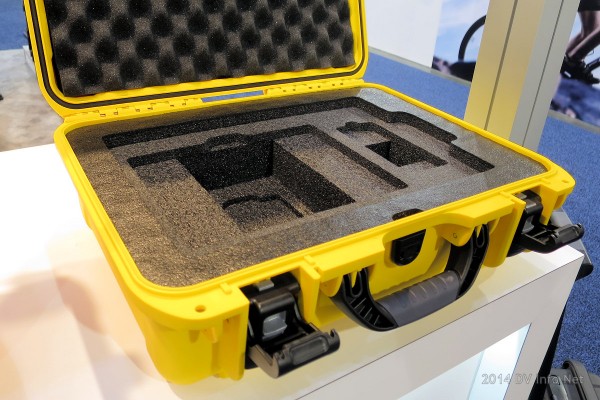 Nanuk also offers a service to create custom laser-cut interior foam inserts to your specifications. And they can print your logo or artwork on the case exterior if you want to add your own branding.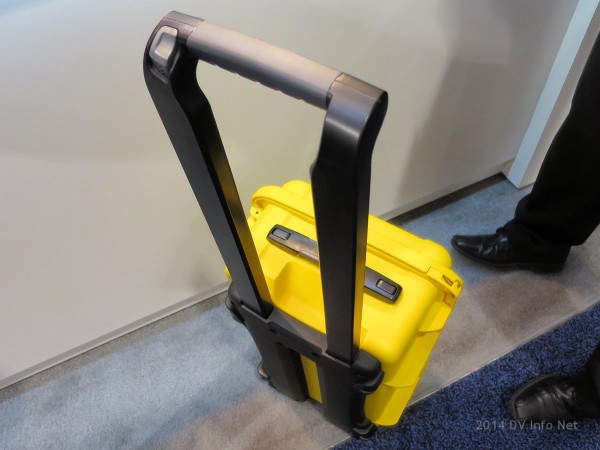 There's another case company that has a flat plastic plate for a pull-up handle. Those always flexed a bit too much for my taste. I like Nanuk's handle; it's very sturdy and hardly bends.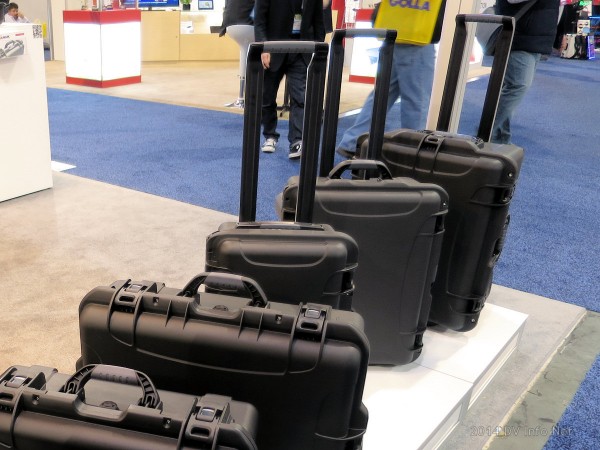 All three wheeled cases — the ones in this photo with their handles up — are new from Nanuk. The 935 we've been looking at is the one on the left. The other two are the 950 and 960 models.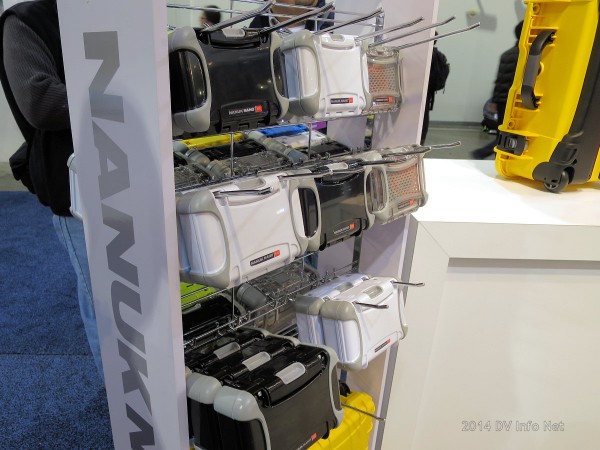 The Nanuk Nano line is also new. These little cases are ideal for smaller electronic items that need to be kept waterproof, such as pocket cameras, POV camcorders, audio recorders, solid state media, etc. The Nanuk Nano 310, 320 and 330 will be available in April, just in time for NAB. I'm looking forward to seeing these guys again at that show.
The "X" stands for variable, as in variable configurations and applications. The "i" is for information, which is what computing is all about. And the "3" equals cubed, and that's the unique shape of this miniature PC. The Xi3 corporation had a large and fascinating booth at CES, and their brilliant combination of powerful computing technology and very small modular components received a lot of interest at the show. They were super busy, which is always a good thing at an expo.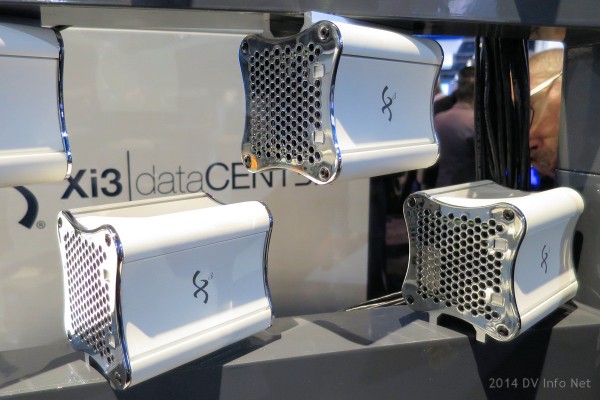 Measuring less than four and a half inches per side, the X7A and X5A computer systems from Xi3 Corporation are not only extremely compact, they're also tremendously energy efficient as well, with a draw of only 20 watts. The miniaturized internal architecture consists of three interconnected but separate boards: one for the CPU and RAM; another for power, video management and network connectivity; and a third for the SSD and external ports.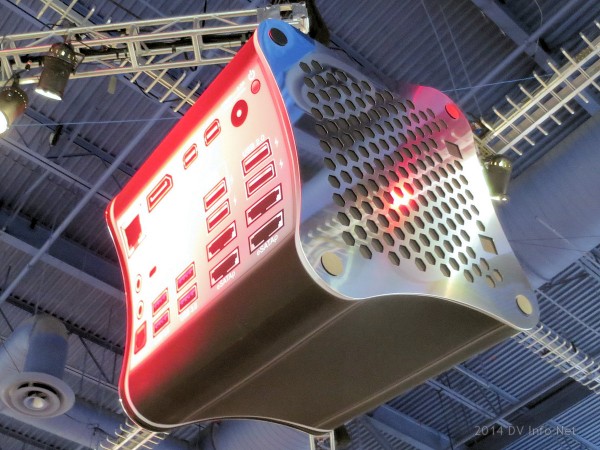 The X7A is intended for pro applications, and Xi3 CEO Jason Sullivan definitely has the filmmaking and video production markets in mind for this little machine because they recently exhibited it at the 2014 Sundance Film Festival. In a recent company press release, Sullivan said "our modular computers are the perfect engine for real-time and offline creation and production of film, video, professional audio and still imagery. In fact, the X7A can handle all of the rendering, compositing, and simulations of Macs and PCs that are as much as ten times larger and use up to ten times the amount of electricity—but it costs less than those bigger machines."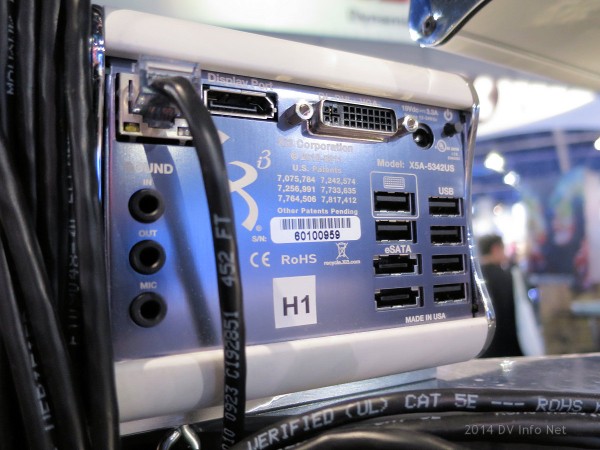 The X7A has a 3.2GHz quad-core processor; the X5A (above) has a 1.8GHz dual-core. The aluminum chassis on both units is recyclable and you can choose from ten optional case colors if you like. You can expand upon the built-in SSD by adding an external 1TB or 2TB hybrid drive that attaches easily to the softball-sized computer. The drives are stackable; several of them together with an XA7 creates a configuration that's still quite a bit smaller than the average desktop PC.
The Weifeng Group is a Chinese operation that makes a wide variety of low cost photo and video accessories. They have a particular video tripod system, the WF717 Video Tripod Fluid Head Kit, which has received quite a number of enthusiastic reviews on Amazon. Weifeng tripod kits are sometimes re-branded under the alternate name "Fancier," but they're still the same things. Whether you refer to them as Fancier or Weifeng, their product line appears to be quite adequate for the relatively low cost, if you're looking specifically for inexpensive consumer or prosumer grade sticks and heads.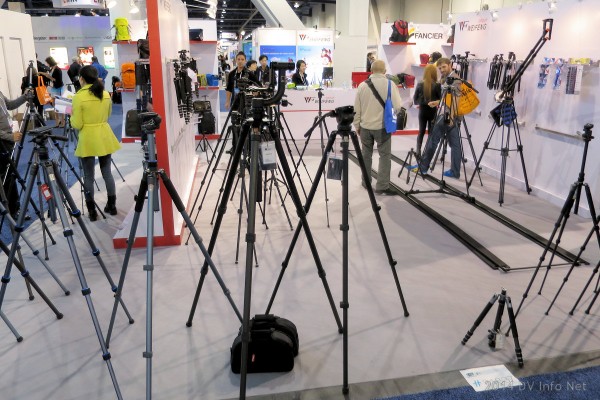 Fancier / Weifeng brought their entire product line to show at CES… tripods galore, plus all of their other video and photo gear. It's a pretty broad range of products and they had at least one of everything there.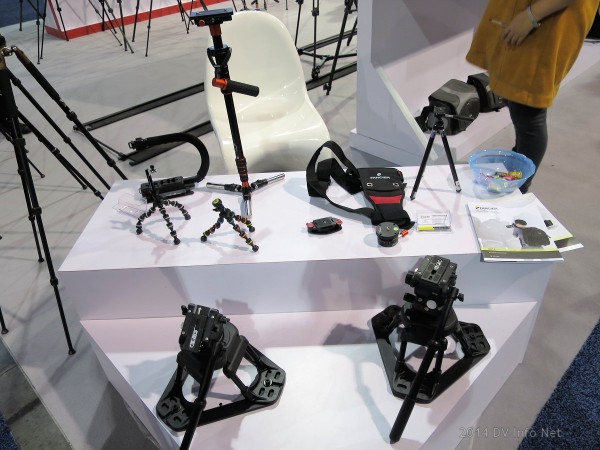 Big or small, photo or video, all manner of tripod heads and stabilizers and various types of camera supports were on display at Weifeng booth. Their decent customer feedback and positive reviews seem to make them ideal for hobbyists or those on a tight budget.
Much more to see on the following page…