The annual Consumer Electronics Show, held early in January each year in Las Vegas, is an event I try to attend about every other year. The exhibit floor is huge, spilling out of all four halls of the Las Vegas Convention Center into the ballrooms and private dealer suites of several large hotels in the area. There's no practical way to see everything on display during the four days that the exhibits are open, and I'm usually limited to two days, because quite frankly that's about all I can handle. My big trade show trip every year is NAB, the National Association of Broadcasters expo, which normally involves at least five or six days in lovely Las Vegas. And honestly, that's my per annum quota, my tolerance threshold for the year for the rarefied trade show atmosphere of the LVCC and the dry desert air of Nevada in general. So a quick bi-annual trip to CES doesn't put me too far over my hall-pounding limit, and it usually provides a worthwhile sneak peek at the pro video technology coming down the road a few months later from NAB while providing a pretty good hint at the direction in which the consumer marketplace is about to go.
Two days isn't nearly enough time to soak in all there is to experience at CES, but I did see a lot of pretty cool stuff. The single most prominent trend that jumped out at me this year was the proliferation of 4K monitors from all of the major manufacturers. Ultra-High Definition video is definitely the big push, and even though the volume of content creation and the distribution framework are nowhere near the level of mainstream output, it seems that the display technology is rapidly gaining some degree of maturity. I looked at a number of 4K displays, but that's not all there was to see at CES. Over the next eight pages, I'll show you what I found to be significant from a video production perspective, or just personally interesting, in no particular order, from the short time I had on the show floor.
Page 1: Gibson | Sony | Canon
Page 2: Crosley | GoPro | TCL | Misc.
Page 3: Samsung | Toshiba
Page 4: Panasonic | Celestron
Page 5: Sharp | LG | FLIR One
Page 6: SoloShooter | Marshall | Nuvola | Holga
Page 7: Glidecam | Wacom | Nanuk | Xi3 | Weifeng
Page 8: 3D Printers | Pelican | Garmin | Razer
You can click on any of the images on these pages to see a much larger version.
There were a number of outdoor exhibits on approach to the LVCC Central Hall from Convention Ctr. Dr., and the Gibson tent was one of the largest. At first glance you might not think that Gibson has anything to do with pro video, but they actually do…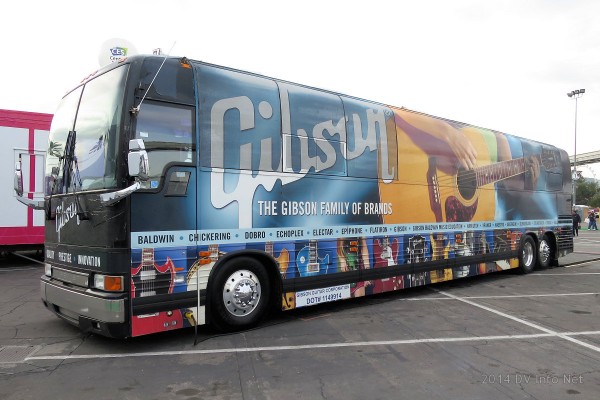 This stylish Gibson Brands tour bus goes well with Gibson's stylish outdoor exhibits tent.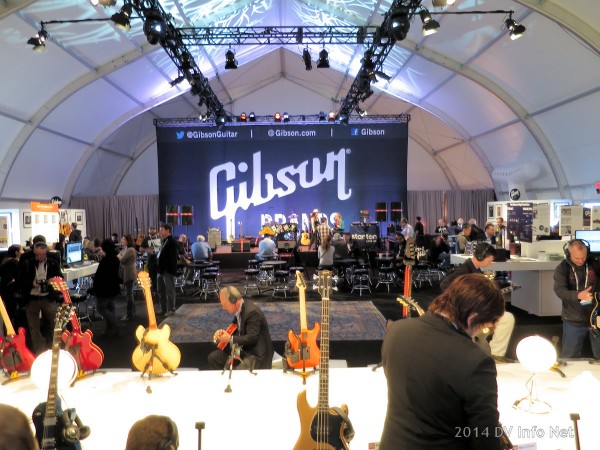 Inside the tent, all of the Gibson family of brands are on display, along with a stage for the occasional live music jam, and plenty of guitars that attendees were welcome to touch and try.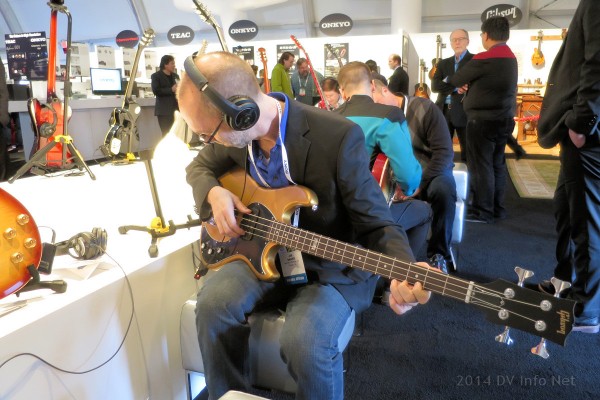 My buddy Jim Baker, a producer at Blue Barn Pictures in Brooklyn, checks out a Gibson bass in the copious touch & try area.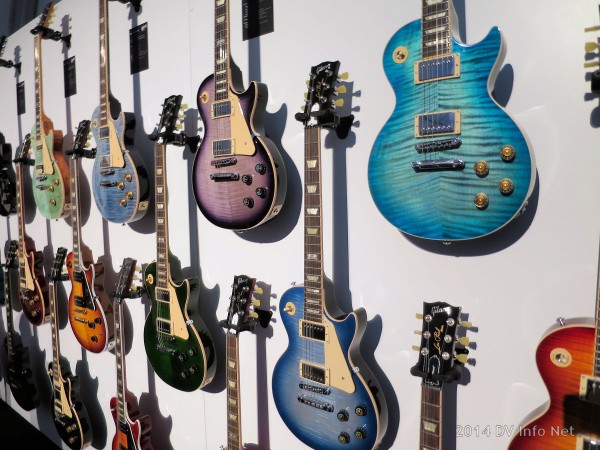 A solid wall of Les Paul, in all colors of the rainbow… just beautiful.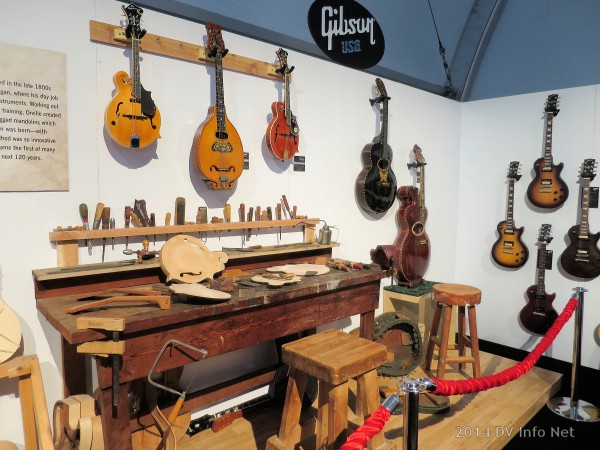 A nicely staged luthier's workbench and some gorgeous vintage acoustic masterpieces.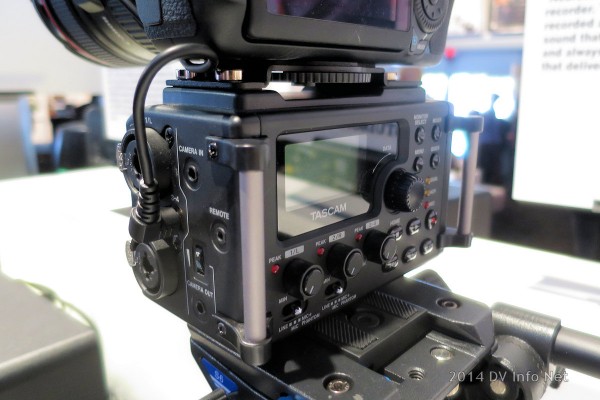 There's a pro video connection, after all! A Tascam audio recorder on display with a Canon DSLR. Tascam is one of Gibson's brands.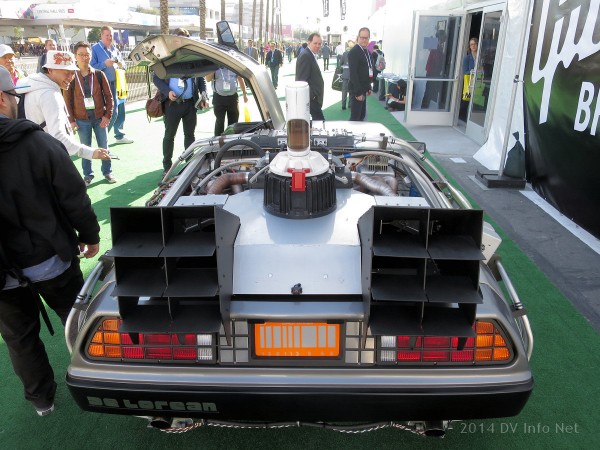 Outside the tent, just for fun, is one of the DeLorean movie props from the Back To The Future movie franchise. Christopher "Doc Brown" Lloyd was on hand the day before for a photo op.
Ensconced at the back of Central Hall, the gigantic Sony booth always makes a good place to start a Central Hall CES crawl, because from there you can work your way forward to the front entrance. This booth is so big, it's easy to lose track of time here.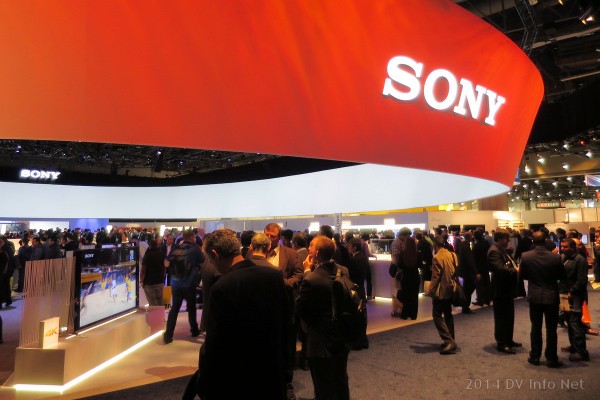 It's a huge booth… one of the biggest at CES. You could spend a couple of hours in here easily.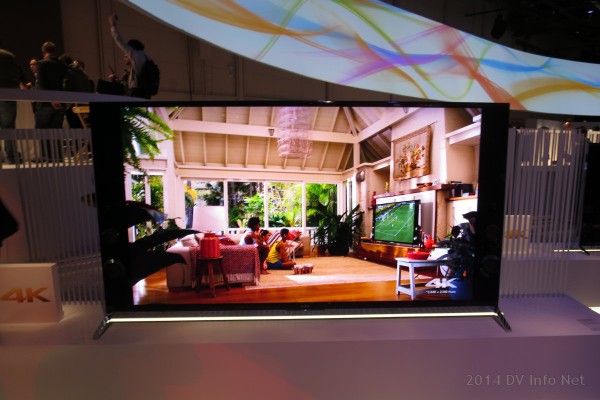 Sony's 4K displays were everywhere. This one is featured right by the main information counter where they can show it off.
This is the nifty little Sony CyberShot QX10, billed as an add-on lens for your smartphone but it also functions as a stand-alone camcorder with a built-in Micro SDXC card, which you can remotely monitor with your smartphone.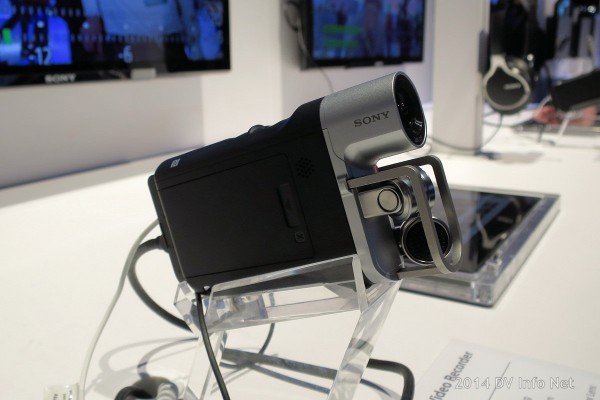 Here's the Sony HDR-MV1. Sony calls it a "music video recorder." It has a fixed Carl Zeiss Tessar lens with a 120 degree field of view, and a 120 degree X-Y position stereo microphone. Memory Stick Micro and Micro SDXC recording.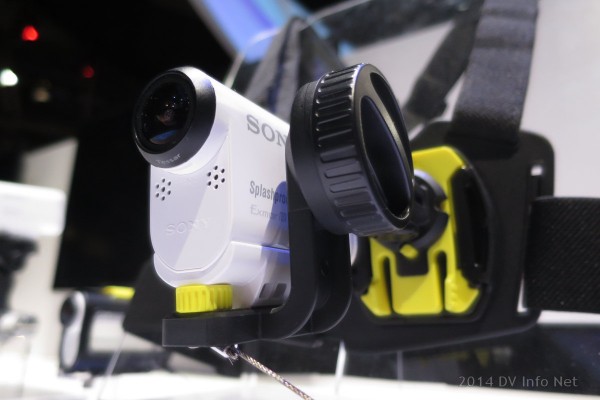 The Sony Action Cam HDR-AS100V features a 50Mbps consumer version of the XAVC codec and is supported by a wide variety of POV-friendly accessories, such as this chest-mounted harness. It's also controllable and viewable by smartphone.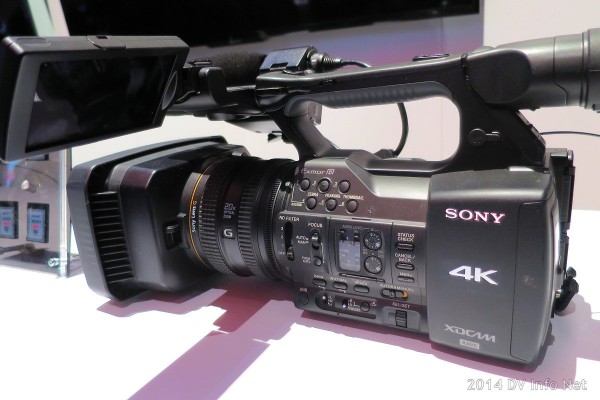 More to the pro side of acquisition with the Sony FDR-AX1, with progressive recording at 4K 60p at 50Mbps and 4K output over a single HDMI jack.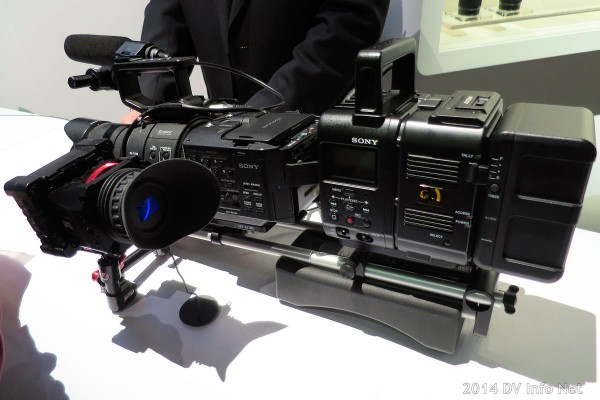 It's nice to see some NAB familiarity at the Consumer Electronics Show with this Sony NEX-FS700R, with a Super 35mm CMOS sensor, 240fps super slow motion recording in Full HD, and optional 4K Raw recording capability.
Another immense booth at the back of Central Hall is Canon USA. Once again, it's easy to get lost within it, and wander around looking at everything they brought to the show. Here's just a small taste.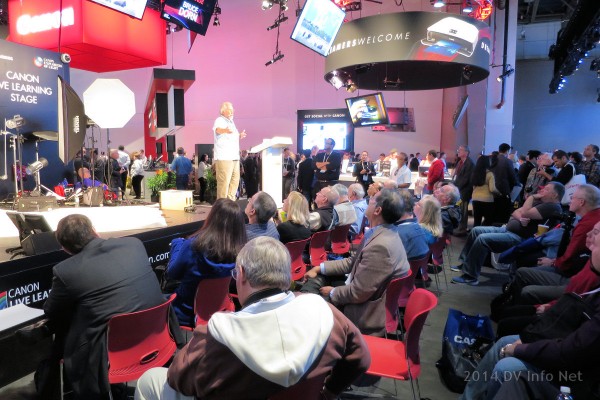 Bruce Dorn holds his packed audience spellbound (as usual) during his time on stage with Canon's Explorers of Light live learning program. Go, Bruce!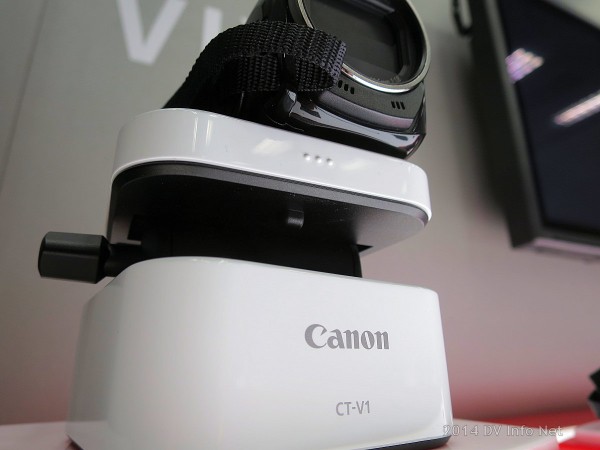 Two new items from Canon's new product announcements at CES — the Canon VIXIA HF-R52 HD camcorder, on top of the Canon CT-V1 Wireless Pan Cradle.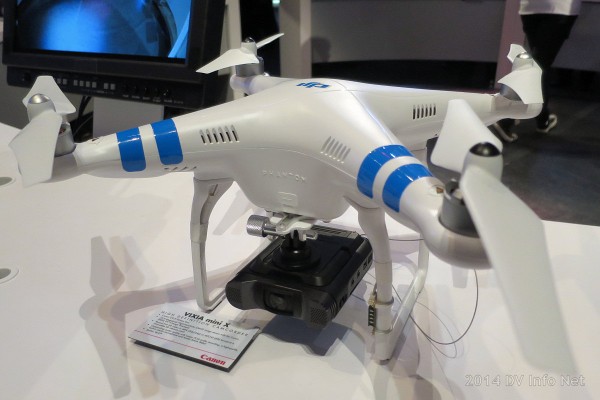 This is the first time I've ever seen a quad copter in a Canon trade show booth. That's the DJI Phantom 2 with the newly announced VIXIA Mini X personal HD camcorder slung below it.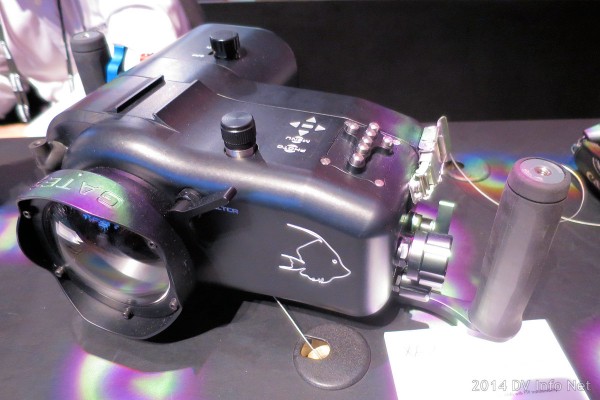 This thing is a Gates underwater housing for the Canon VIXIA XA25, so you can take it deep-sea diving.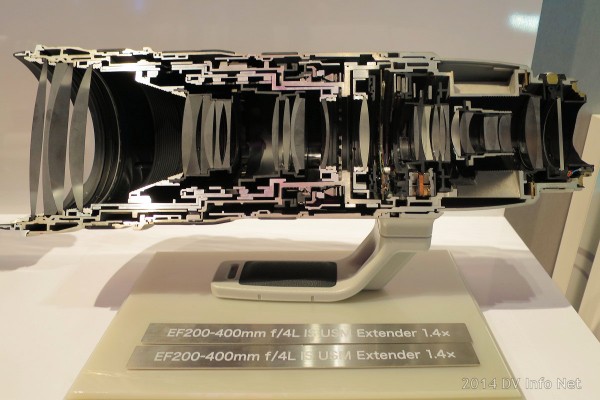 Hmmm… the Canon EF 200-400mm f/4L IS USM Lens in vivisection. It almost hurts to think that they would saw one in half rather than just give it to me completely intact.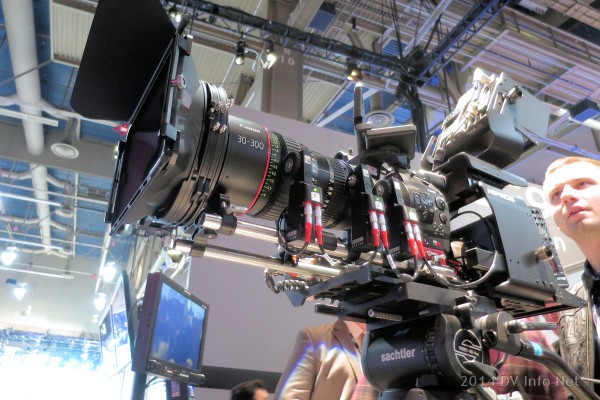 More shades of NAB. Canon brings the heavy iron to the Consumer Electronics Show. This is the Canon EOS C500 4K Cinema Camera, all decked out on a sled, with a Canon CN-E 30-300mm Cinema Zoom Lens to pave the way ahead.
Much more to see on the following pages…